A Girl Scout Troop Leader Has Disappeared with $15,000 Worth of Cookies
It's only slightly harder than stealing candy from a baby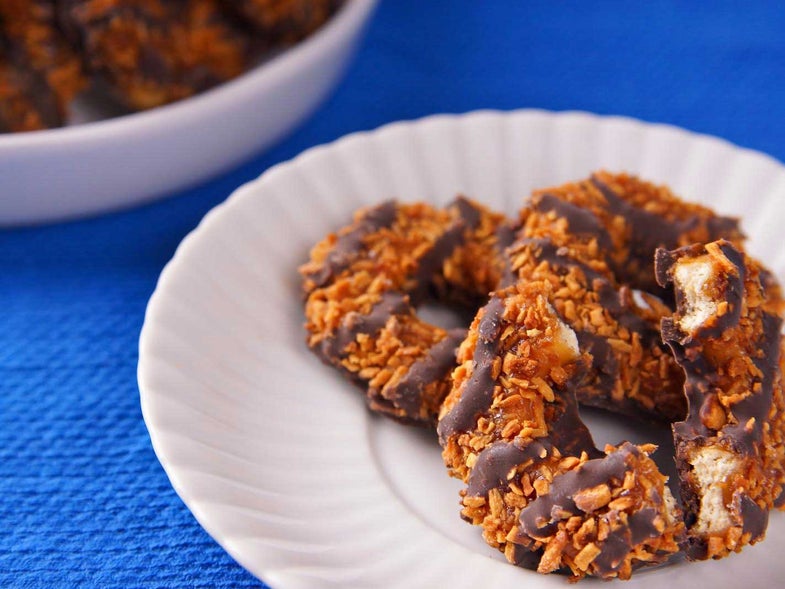 American news has been ridden with scandal the past few weeks, from the abrupt firing of FBI director James Comey to the House's narrow passage of the American Healthcare Act. And speaking of leaders gleefully robbing their constituents, a Girl Scout troop leader in Pike, Kentucky has allegedly made off with an estimated $15,000 worth of cookies.
According to Munchies, one Leah Ann Vick has been indicted on felony theft charges by a Kentucky grand jury for stealing the sugary snacks. To visualize that, one box of cookies goes for roughly $10 on Amazon, meaning that Vick possibly stole almost 1,500 boxes of cookies.
Vick, the former troop leader of the Wilderness Road Chapter, apparently made off with the tasty treats when they were dropped off to the chapter by the national branch. She then promptly disappeared with the snacks, and as District Attorney Rick Bartley told the Appalachian News-Express, "anyone who has tried to contact her about them has not been able to contact her." Say what you will about the ethical dilemma of robbing innocent children, making off with over a thousand boxes of cookies is a logistical triumph in itself.
With a whopping 4 addresses associated with her name, Vick has thus far eluded capture, leaving a trail of unanswered questions in her wake. How did she pull off the heist? Was she motivated by greed or revenge? Will the cookies be sold to the highest bidder on the black market? Sadly we don't have the answers, but we do have cookie recipes to make if you've developed a craving after all that cookie talk. And unlike Girl Scout cookies, these won't get stolen. Hopefully.
Update: The local NBC affiliate reports that Vick has since been arrested and faces 10 years in prison.
h/t Munchies