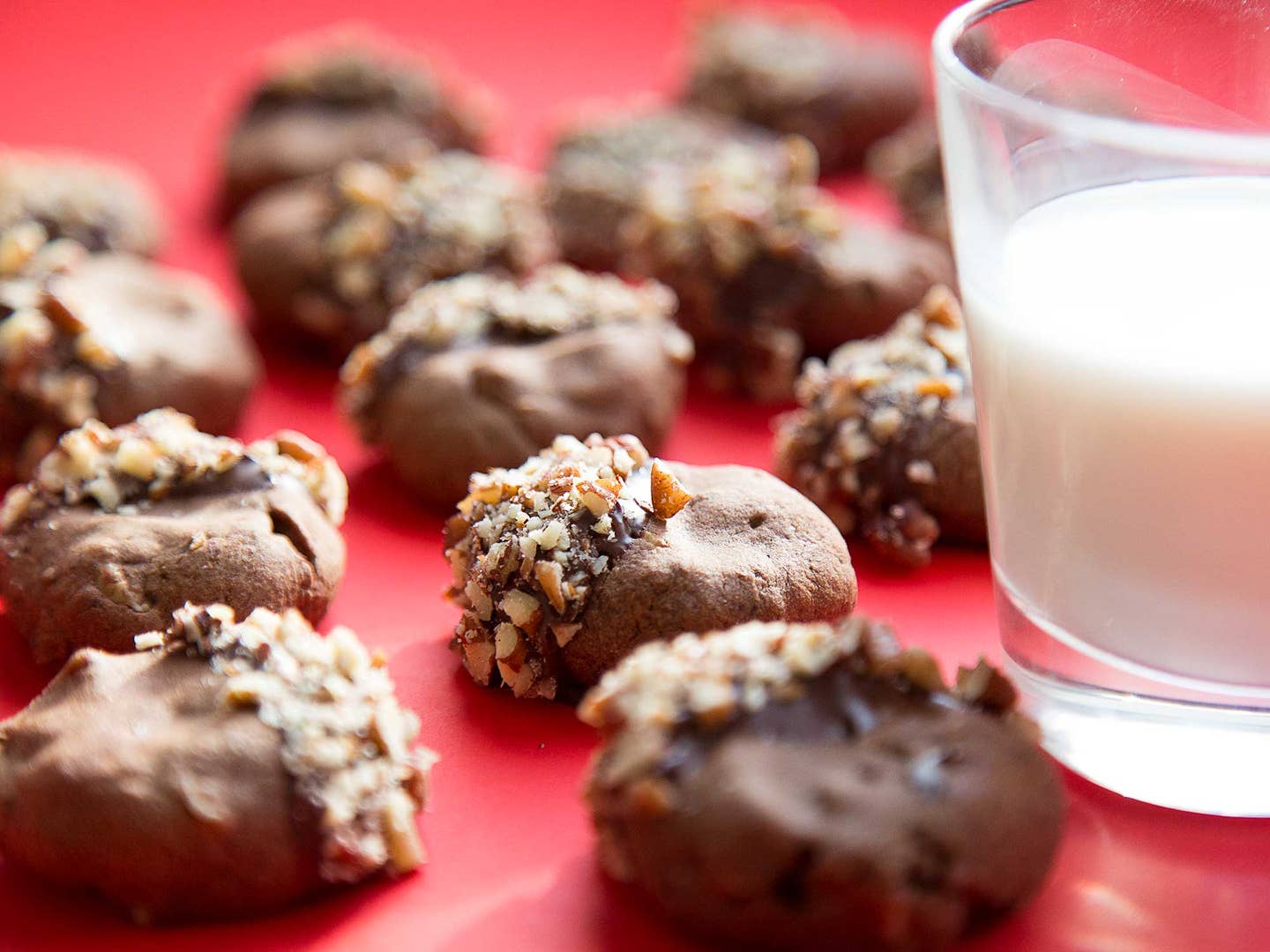 Recipes
50 Old-School Cookie Recipes You Can't Beat
Trying to improve upon the Tollhouse chocolate chip cookie is futile—here's proof.
We have cookie recipes that use everything from green tea to guava paste, but sometimes you just want to keep it simple. For those occasions we've rounded up our favorite holiday and classic cookie recipes, from chewy chocolate chip cookies to nutty gingerbread cookies.
You can't get much more classic than chocolate chip cookies. In our version of the old-school Nestle Toll House cookie—our Platonic ideal of the chocolate chip cookie—sheets of dough are layered with chopped bittersweet chocolate to make a cookie with crisp edges, a moist center, and a perfect distribution of chocolate. Or try one with a crunchier bite to it. Our chocolate chocolate cookie has layers upon layers of chocolate for the ultimate chocolate chip cookie experience.
If you aren't looking for chocolate, we've got you covered. Dusted with cinnamon-sugar, snickerdoodles are always a crowd-pleaser. Many of our favorite cookies are sweet, soft, and chewy—our rich peanut butter cookies certainly fit the bill. Spicy linzer tea cookies are great for adding a bit of sweetness and a rush of spiciness from yuzu after having warming holiday drinks.
It just isn't Christmas without festively decorated sugar cookies. Cut into shapes like trees and stars and decorated with icing, sprinkles, dragées, and more, they're almost as fun to make as they are to eat. Classic sugar cookies use a buttery flour, egg, and sugar dough. Replacing wheat flour with rice flour lets you make your cookies gluten-free. Danish tin-style cookies are great for preparing for the holidays ahead of time.
The Perfect Chocolate Chip Cookies
Chocolate Chocolate Chip Cookies
Meyer Lemon Sandwich Cookies
Dorie Greenspan's Chocolate Chunker Cookies
Dorie Greenspan's Chocolate-Cornflake Haystack Cookies
Mexican Chocolate Icebox Cookies
Umbrian Snowflake Cookies
Chocolate-Almond Spice Cookies (Basler Brunsli)
Spicy Pineapple Linzer Cookies
Mexican Butter Cookies with Sprinkles (Galletas con Chochitos)
Salted Chocolate Rye Cookies
Edouard's Chocolate Chip Cookies
Date-Filled Semolina Cookies (Makroud)
Sugared Rosewater Marzipan Balls (Kaber Ellouz)
Chestnut and Goji Berry Rugelach
Smoked Almond S'mores with Whiskey Marshmallows
Glazed Cinnamon Oatmeal Cookies
Sweet Pretzel Butter Cookies
Gluten-Free Gingerbread Cookies
Gluten-Free Sugar Cookies
No-Bake Chocolate-Oat Cookies
White Chocolate-Macadamia Nut Cookies
Shortbread Cookies (Punitions)
TKOs (Chocolate Sandwich Cookies)