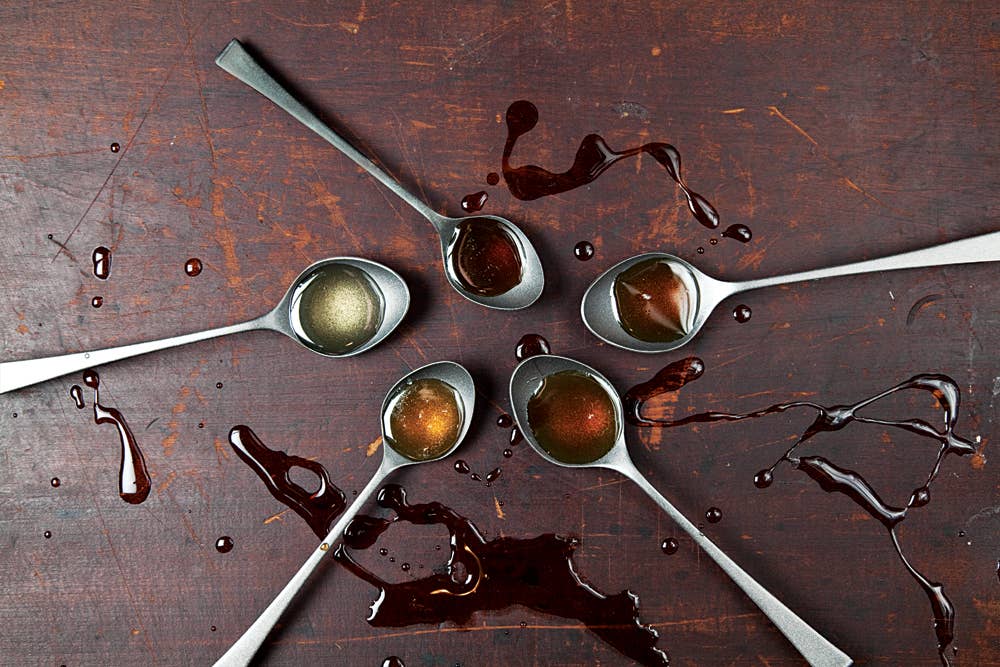 Culture
What Happens When an All-Star Pastry Chef Kicks White Sugar Out of His Kitchen?
For starters, the dessert menu gets a whole lot more interesting
For Miro Uskokovic, the Serbian-born pastry chef of Gramercy Tavern in New York, sugar always meant one thing: a pure-white crystal. Then almost two years ago, he was diagnosed with Crohn's, a chronic inflammatory disease that targets the lining of the digestive tract. He started to explore how sugar affected his digestive symptoms, which led him to question what it was doing for his guests.
"Refined sugars require multiple steps to process," he says. "The sugar is bleached so that it's purified, but is also stripped of minerals. It's an empty calorie...and our bodies absorb it immediately."
So he decided to overhaul the way he used sugar in his kitchen. Step one: Get rid of the refined stuff. "White sugar is stripped of everything," he goes on. "It's just sweet. There's nothing to it." Health was only his secondary focus; even more important to Uskokovic was exploring a range of sugars with all kinds of flavors. "Pastry chefs use white sugar because it creates a consistent product, and flavor [of a dessert] gets altered by other things. But why not flavor with every component as a building block?"
With the support of executive chef Michael Anthony, the restaurant replaced all its refined sugars and corn syrup with non-GMO and organic white, brown, and powdered sugars, all the way from the savory and pastry kitchens down to the bar and coffee menus. Which meant changing everything Uskokovic and his team did in the kitchen.
These days at Gramercy Tavern, the sugar selection rotates with the seasons. In the summer, coconut sugar bolsters the flavor of coconut custards. In autumn, pear and apple desserts get enrobed with sorghum and maple. In deep winter, a gingersnap is kissed with dark molasses.
About half of Uskokovic new sugar is minimally processed white and brown. The rest come from small purveyors throughout the United States and around the world, and are used in very specific applications.
American maple and sorghum syrups are two of Uskokovic's mainstays. The maple—from Catskill Mountain Sugar House—acts like corn syrup, adding viscosity and aeration potential to things like pancake batter, helping eggs triple in volume with a good whipping. The sorghum, comparatively, won't give as much lift, but it brings a unique twangy sweetness: "Sugar, like wine, has terroir to it," Uskokovic says, "depending on where it comes from. It has different flavors, so it adds different notes to dessert."
Along those lines, he prizes rare date jaggery, which he sources from Kalustyan's market. Imported from Bangladesh in small pucks, the dark-yet-dainty, highly aromatic palm sugar is so moist and floral, Uskokovic claims, you can "eat it like candy." The jaggery highlights the dates in the batter of his sticky toffee cake, and adds even more moisture. It also gets used in rice puddings and custards.
As he tinkered with recipes, Uskokovic found that he "had to do things that our teachers and mentors taught us not to do." He had to completely change the way he made meringue, beating the sugar and whites together for a long time, rather than the traditional process of gradually adding sugar in delicate pours. Less refined sugars take longer to dissolve in egg whites, butter, and other ingredients, which meant adjusting the procedures and cooking times for nearly every recipe on the menu.
For something as "simple" as simple syrup, the classic one-to-one sugar-to-water ratio resulted in a color, consistency, and sweetness reminiscent of maple syrup, due to the natural molasses retained in the unrefined sugar granules. Bartenders added more water to compensate, and when guests questioned why their cocktails were tinged with tan hues, the bartenders gave them the low down.
"It's been very educational," Uskokovic says of his transition from white-sugar-chef to organic-sugar advocate. "It wasn't easy. There are many dots to connect." Almost two years in now, his Crohn's symptoms have disappeared, which he attributes to his growing understanding of healthful eating in general. He's worked to source local, organic, high-quality dairy and minimally-refined grains as well, to make sure all of his desserts are as nutritious as possible, on top of being whole and flavorful.
And while he doesn't want to see sugar crucified, he now stands even more firmly behind the plates he turns out. "The taste is better, but more important is the quality we serve our customers," he says. "It gives me peace of mind."
More From The Sugar Files