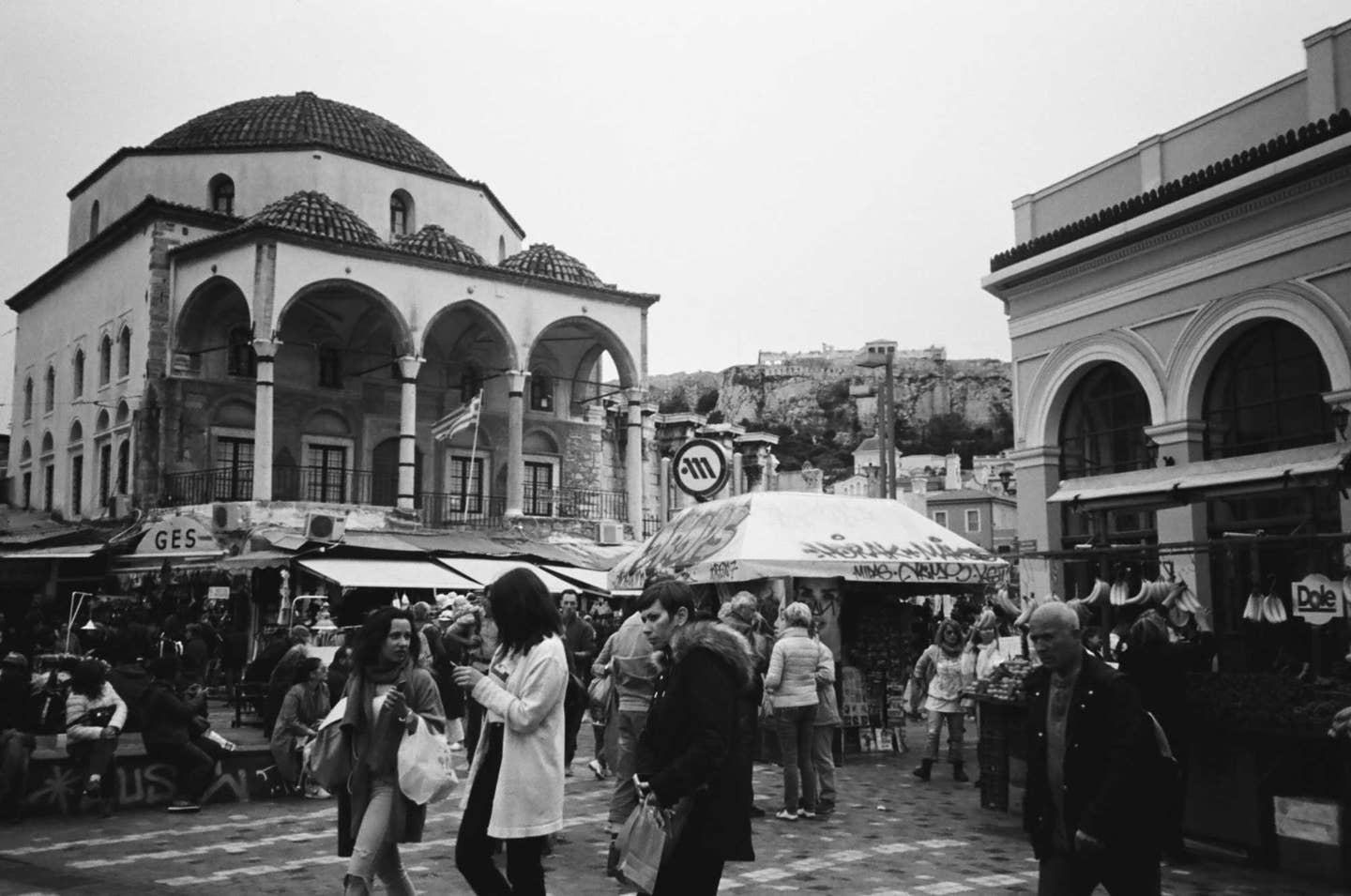 Travel
Forget Mediterranean Blue; Athens Looks Best in Black and White
These modern photos of the Greek city could almost as easily come from 60 years ago
When I asked my dad if he had any 35mm film cameras that I could borrow for an upcoming trip to Athens, he laughed at me. "Get black and white film," was the only tidbit of knowledge I got from him. "It'll be less visible when you mess it up."
But I had already been thinking about going the monotone route. I've snapped my way around Greece plenty: as a tourist, a resident, and a reporter. And even though I love Greece's brilliant colors and sun-drenched coastlines, the most striking images I've seen of the country are in black and white. When I worked at the city's Benaki Museum, I used to spend hours scrolling through our social media accounts where we'd post archival photos of old Greece. There was something so familiar about those photos from the 30s and 40s. Perhaps it's the fact that Greece's history is present no matter where you go. And that in a place steeped in so much tradition, today's Athens and yesterday's don't have much to divide them.
Sure enough these photos, shot while ambling around the Acropolis, wandering through the Zappeio, and listening to the Evzones clacking their heels against cobblestones slicked smooth by the years, could trick you into thinking they're decades old—once you get past the modern cars anyway. An Instagram filter is one thing, but there's nothing like hoisting a weighty film camera through a timeless city to send you back 80 years.
So here are scenes from the graffiti-plastered backstreets of Monastiraki, past some of my favorite bars and cafes and murals, and around the Acropolis and Syntagma Square. I shot my way around one of my favorite spots behind the Panathenaic Stadium in Pagrati, and even toted the camera to the fairly new Stavros Niarchos Cultural Center. At all of these places, I was moving more slowly than I would have if I had my digital camera. Everything was more deliberate because I had to be more selective in what I photographed, but it also let me take in more of what was going on around me.
When I got the photos back, I discovered, to my relief, that I hadn't messed it up completely. I also found that I had managed to capture something that I had seen in the Benaki photos. It's not just the aged look and feel. It's the rough edges and ancient urban grit so rarely captured in modern photographs of the city, yet so essential to what it's really like to be in Athens.