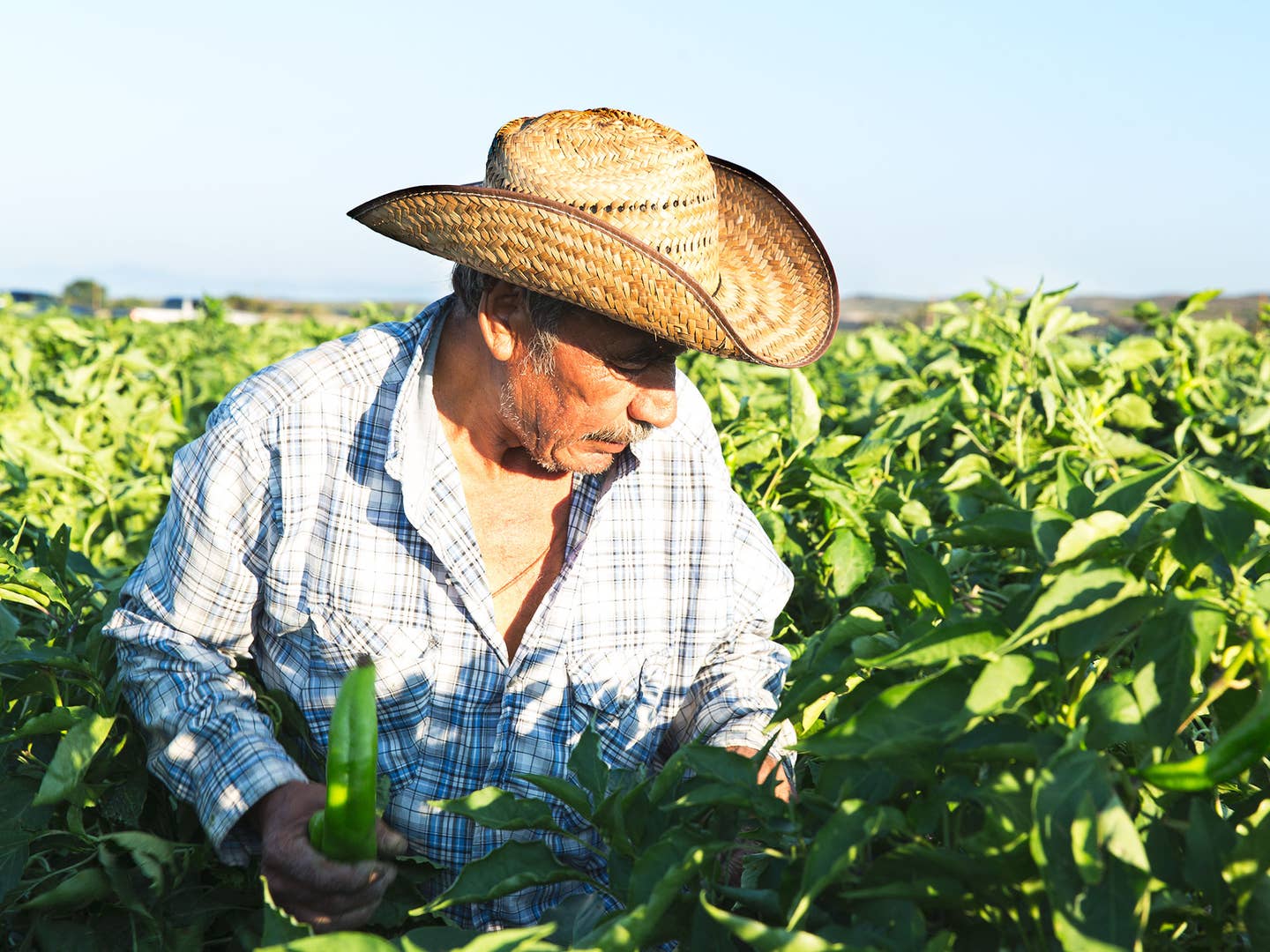 Travel
Inside New Mexico's Hatch Green Chile Obsession
Every fall, the southwestern state smells like (fire-roasted) green spirit. David Tanis explores the fiery pepper that's come to define the local cuisine
It's not hard to get hooked on New Mexico green chile—it happened to me when I lived in Santa Fe, and it's not a habit I'm likely to quit.
The stuff is is everywhere in New Mexico, a normal part of daily life and the local fare. You'll have green chile with your breakfast eggs. Your chicken enchiladas will be topped with green chile. And green chile stew made with pork, beef or lamb is part of your weekly rotation.
So, what is it? The fleshy pepper, five or six inches in length, has been cultivated throughout New Mexico for quite a long time. Native peoples there still grow some of the older heirloom varieties, and there are tried and true newer regional varieties planted all over the state. But when we say "green chile," as in "can I have a side of green chile with that," we are referring to green New Mexico chiles that have been fire-roasted, peeled, chopped, and made into a sauce—not just a dish of sliced jalapeños. Though mild green chile is available, the usual kind is pretty darned spicy. Restaurant menus have the disclaimer "our chile is hot!" to forewarn tourists. Locals just expect it that way.
In the late summer, when the chile harvest begins, green chile is in the air—literally. Chile-roasting operations pop up at roadside stands and in supermarket parking lots. The aroma of roasting chiles is carried on every breeze, smoky and sweet. It is an annual ritual for families that arrive to buy their supply—usually the minimum purchase is a 20-pound bag. Most people buy much more so they'll be sure to have enough to get through the winter.
Your bag of chiles is dumped into a cylindrical perforated steel drum, rigged to spin over the blasting flames of a large propane burner. In a matter of minutes, the chiles' skins are blistered and blackened, ready to peel. Your job now is to take the roasted chiles home, pack them into little zipper-top plastic bags, and store them in the deep freeze, ready and waiting. Most cooks peel them just one thawed bag at a time. In olden times, roasted green chiles were home-canned, and some people still do it.
The majority of New Mexico green chile is grown in the southern part of the state, where the climate is perfect for it—long hot sunny days and cool nights. The epicenter of production is near the village of Hatch, New Mexico. Genuine Hatch chiles. Ring a bell? They're known to be the real deal.
During all the time I lived in northern new Mexico, trips to the southern side of the state were few. I had never visited Hatch to taste the chiles so close to harvest, so I was thrilled recently when the opportunity arose to attend the famous annual Hatch Green Chile Festival.
Watch: New Mexico's Hatch Life
As we drive south from Albuquerque, the incredibly blue New Mexico sky is awash with dramatic clouds and brilliant light. A couple of hours later, we pull off the freeway and make our way toward Truth or Consequences, the eerily quiet little town formerly called Hot Springs and famous for its mineral and lithium baths and spas. The area's finest hotel, the historic Sierra Grande Lodge, now owned by Ted Turner, furnishes all rooms with private hot spring soaking tubs. The hotel restaurant serves modern New Mexican fare and features bison from Tuner's vast sustainable ranching operations. This will be our headquarters for the next few days, installed in an upscale casita with a kitchen and a cactus-filled courtyard. Hatch is only a half-hour away, but we delay gratification till the following morning. We're distracted by starlight and the silent night.
It's early rising, if we want to see the Green Chile parade, which we definitely do. In downtown Hatch, the streets are lined with local families and tourists, eager to see the Green Chile Princess throwing candy and all the rest. Music begins and the VFW float goes by, honoring veterans of the area, followed by the source of the music, a highly disciplined marching military brass band; some native American dancers; young cowgirls on horseback and mounted caballeros in full regalia; the 4-H Club's float; an ornate religious float with children holding statues and paintings; the vintage tractor brigade and the low-riders with ultra-fly hydraulics maneuvers; and finally, a long flank of police force cars and fire trucks with sirens going full volume.
At the nearby Festival grounds, crowds are descending. There are vendors galore, all selling chile paraphernalia or chile-infused treats of all kinds, and there's a country band playing live music. There's cold green chile beer on tap in a roped-off saloon section. Many of the booths have roasters going and the sweet-smoky perfume of charring green chiles drifts through the high desert air. The true stars of the festival are the local farmers, most of whom have grown Hatch chiles their entire lives.
We meet Preston Mitchell, the great-great grandson of Joseph Franzoy, a pioneer in the Hatch chile story. His locally revered ancestor was a frontrunner in the transformation of Hatch from a tiny hamlet surrounded by small cotton and wheat farms in the early 1900s to a chile-growing area that now produces millions of pounds of green chile each year. Mitchell seems to have his family's passion for chile in his DNA and has an online business selling fresh and frozen chile. His grandparents, uncles and cousins are all chile farmers from the surrounding area.
Mitchell is a good person to query on subject of Hatch chile and subterfuge. To be called Hatch, the chiles must be grown in the Hatch Valley. But since the name Hatch has cachet among chile-lovers, "Hatch-type" chiles are now grown in Colorado, Arizona, and Texas. Some are grown across the border in Mexico and there are even so-called Hatch chiles being produced in China. Lawmakers have passed ordinances allowing true New Mexico chiles to be labeled as such, but there is still heated litigation regarding who can legally call their chile Hatch, and that little war is ongoing.
Whether Hatch-bred chiles have intrinsic terroir-driven flavor or the nomenclature is a marketing ploy, I leave to others to discuss. I do know that Nate Cotanch, the man behind the Brooklyn-based Zia Green Chile Company, has an ardent fan base of displaced New Mexicans who need their Hatch green chile fix. Cotanch buys direct from Mitchell, who ships him fresh chiles weekly, straight from Hatch. His company's T-shirt logo says "Saving City Folk One Green Chile at a Time." Nate sells fresh-roasted green chile at Brooklyn's Smorgasburg every weekend during the season and also packs his freshly made green chile sauce in jars. Having deep family roots in New Mexico, he takes great pride in his product and his mission to spread the green chile gospel on the east coast.
On the last day of our visit, we all meet in the fields at dawn for an up-close inspection of Hatch green chiles of every kind. The fertile desert soil has the Rio Grande as its water supply, and vast fields of chiles are planted as far as the eye can see. We're waist-high in the plantation, comparing the large, fleshy, moderately hot Big Jim to other local favorite varieties like the spicy Sandia, the all-purpose Joe E. Parker, and the super-hot Lumbre. The horticultural labs at nearby New Mexico State University are constantly developing new strains of green chile for Hatch farmers to cultivate.
With so much emphasis on green chiles, it's easy to forget that at some point all green chiles ripen and turn a brilliant red. There's a short window when fresh red chiles can be roasted and peeled, but most ripe red chiles are used dried, sometimes braided into garlands called ristras. The end result with dried red chiles is the sauce called "red chile," as in "can I get a side of red with that," but that's another story.
We're advised not to leave Hatch without a stop at the acclaimed and amazing restaurant called Sparky's, to sample the burger they call "the world-famous." The place is fabulously over-decorated with roadside-attraction statuary and antique bric-a-brac of every type. It doesn't take reservations and the line is exceedingly long, but we are about to discover that the wait doesn't matter. This Hatch green chile cheeseburger is the stuff of dreams: fat, juicy and topped with a generous amount of mighty spicy roasted green chile.
Of course, we are still not sated. Back in our little hotel kitchen, we concoct green chile margaritas and green chile guacamole, and one last batch of green chile enchiladas. We're slipping bags of frozen green chile into our luggage.
I feel the wave of nostalgia that surfaces whenever I return to New Mexico. As we head back to the airport, I'm checking real estate listings. For a moment's fantasy, a little house in Hatch seems like a fine idea.