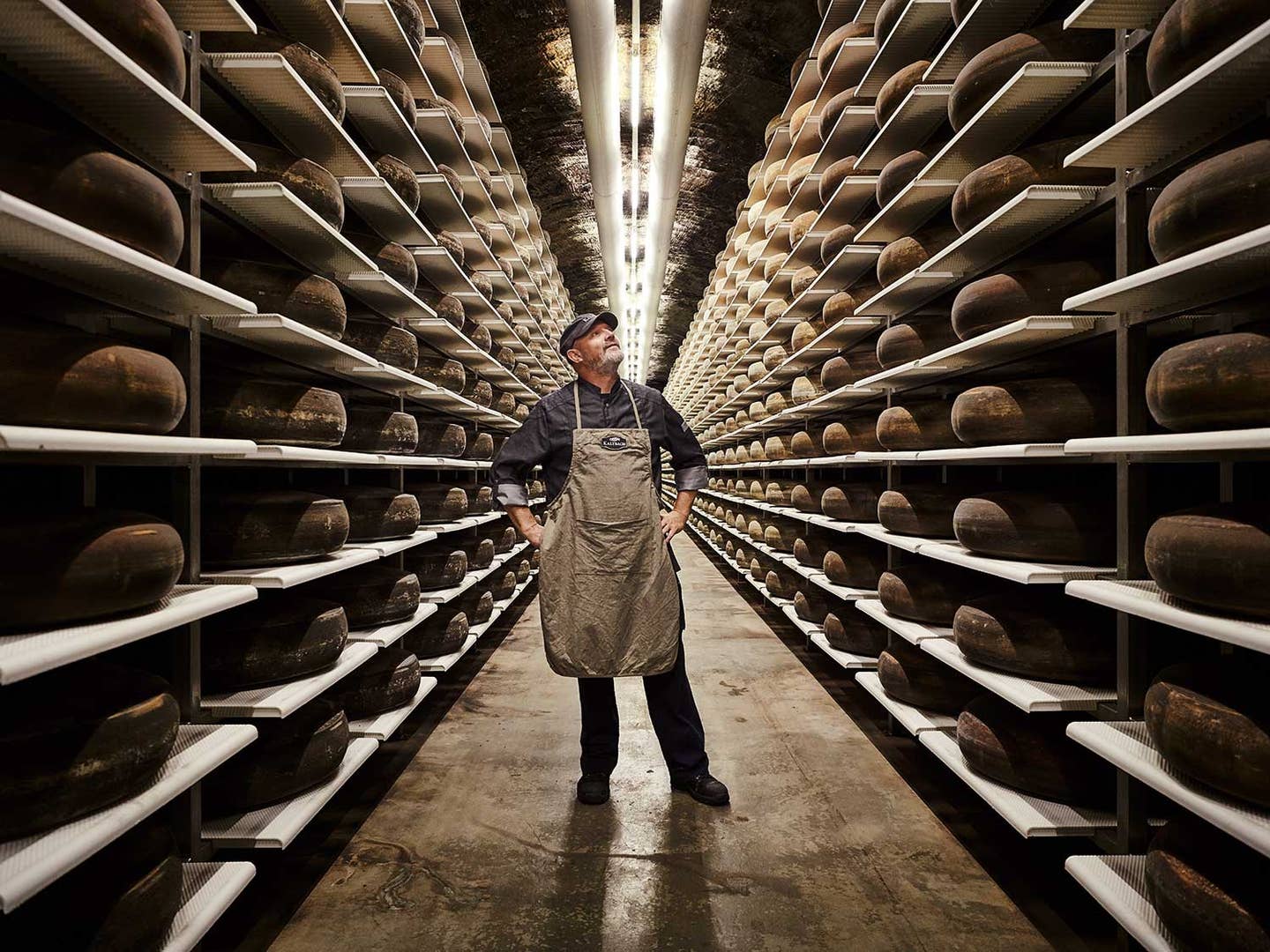 Travel
How a 22-Million-Year-Old Cave Became One of the World's Best Cheese Cellars
While some companies have built state-of-the-art facilities mimicking cave environments, Emmi celebrates its natural treasure, the Kaltbach Cave
Archaeologists have found evidence that the residents of Switzerland have been producing cheese since the Iron Age. In a small village tucked in an Alpine valley surrounded by meadows with grazing cows, the Kaltbach Cave is an immense sandstone labyrinth that was formed some 22 million years ago from a prehistoric seabed. Its name means "cold river," and there is an actual river running through it, which helps foster ideal conditions for ripening some of the world's finest cheeses, including Kaltbach Le Gruyère AOP, Kaltbach Emmentaler AOP, and Kaltbach Le Crémeux.
Located about a half-hour drive from Lucerne, serious cheese lovers can visit this peaceful region marked by beautiful lakes and green hills to explore its rich history. At ground level, it is the quintessential image of Swiss countryside, dotted with traditional village dairies producing Emmentaler and Gruyère cheeses in AOP (Appellation d'Origine Protegée) designated areas that guarantee high quality and authenticity. However, it's deep within the walls of the Kaltbach Cave where one might say the stories of these local cheeses become really interesting.
Inside the cavern, the mineral-rich air, consistent humidity, and cool temperature—which stays in the low 50s year-round—create the perfect atmosphere for aging cheese naturally. The porous sandstone actually helps maintain the humidity levels—giving off moisture when the air is too dry, and absorbing it when it becomes too saturated. This natural process gives Kaltbach cheeses their distinctive texture and flavor. Surprisingly. though, this specific cave's aging potential was discovered by chance in 1953, when cheesemakers were forced to store wheels of cheese in it due to a lack of space.
Fast-forward to the present, more than a half-century later, and Emmi's discerning affineurs handpick the highest-scoring cheeses for cave refinement. Only wheels getting a minimum of 19 out of 20 points make it to the cave, and once there, they'll spend up to 300 days being carefully tended to by cellar masters, who wash, turn, and test the wheels methodically. During this process, only pure water and cultures are used to care for the cheeses, and over time they'll develop a distinctive dark-brown to black colored rind, which is a marker of optimal natural aging from the cave microflora.
Fortunately, you can sample the complex flavors of authentic Kaltbach cheeses right here in the U.S. Here is a guide for selecting these fine cheeses.
Emmi Kaltbach Le Gruyère AOP
You'll recognize these wheels by the unmistakable brown patina of their rinds. Made from cow's milk, Gruyère is a beloved melting cheese great for gratin-style dishes, upgraded mac-and-cheese, and croque monsieur sandwiches. It's also fantastic for Swiss comfort foods like fondue and rösti hash browns. You can also simply slice it for a snack or add it to a charcuterie board. During the 12-month maturation process, Kaltbach Le Gruyère AOP develops a smooth, slightly flaky texture with a pronounced crystal crunch and earthy flavors such as dried stone fruit, spice, black tea, and hazelnuts.
Emmi Kaltbach Emmentaler AOP
Named for the Emme River, Emmentaler cheese is a medium-hard cow's milk cheese easily recognized by its unmistakable holes. Some consider it the most Swiss of Swiss cheeses, and it's a classic pick for grilling, melting, and eating on its own. Cave-aged Kaltbach Emmentaler has a natural black rind and AOP status verifying it is made from the original recipe. It has earthy flavors, intense nuttiness, and herbaceous woodiness. Melt it over a burger to add complexity or pair it with a Riesling or Zinfandel for an easy snack.
Emmi Kaltbach Le Crémeux
The newest of the cave-aged selections, Kaltbach Le Crémeux is a semisoft cheese with a creamy consistency perfect for cheese boards and snacking. The texture, which is similar to that of a soft-boiled egg in ramen, has a melt-in-your mouth quality and sweet, buttery, caramelized flavors. It pairs wonderfully with tart fruits like pomegranate, raspberries, blackberries, and pineapple, as well as savory nut mixes and olives. Nosh on it with caramel-covered popcorn or keep it simple with wheat crackers and chilled white wine.