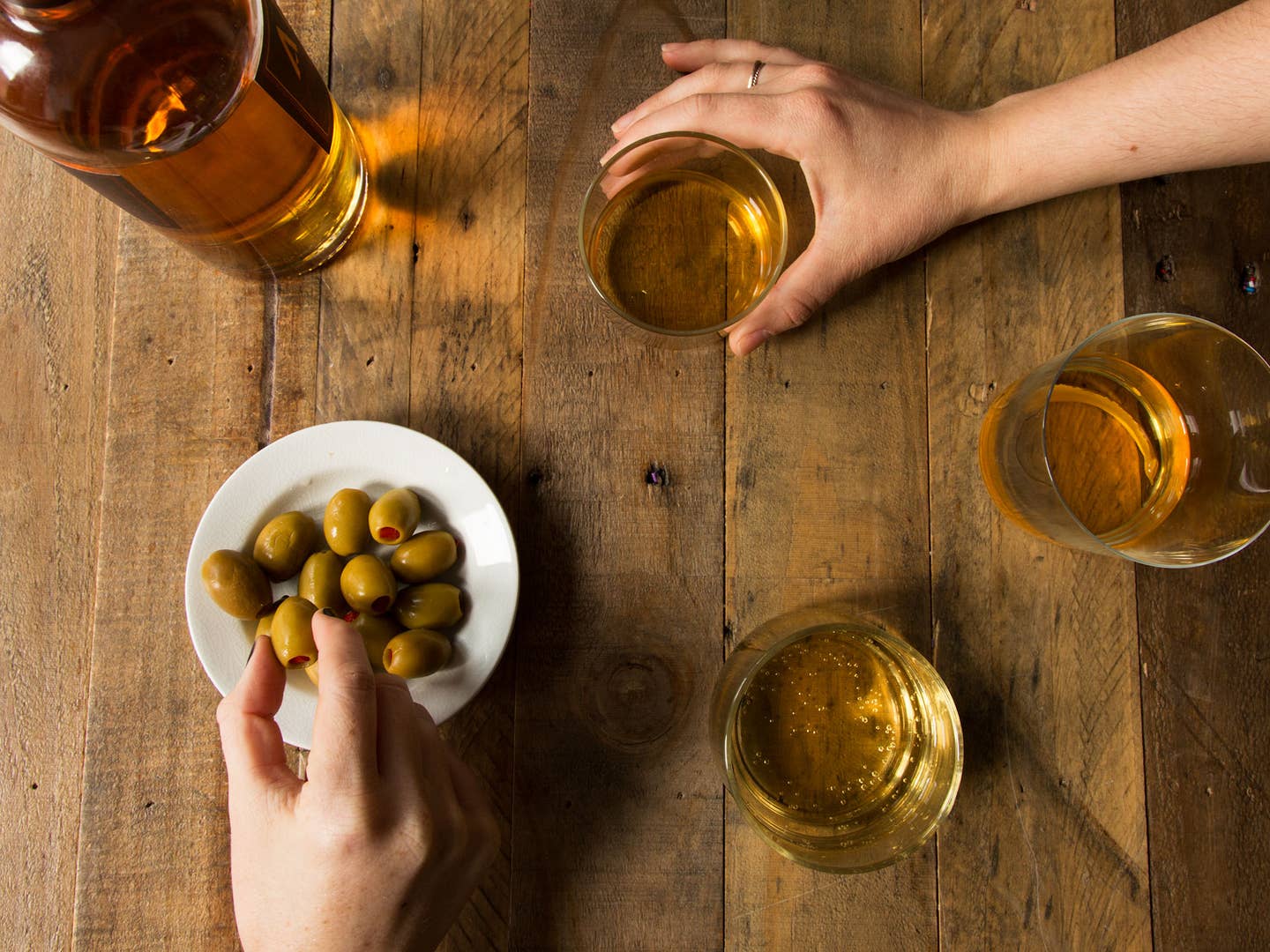 Travel
How to Day Drink like a Spaniard
Forget your bottomless mimosas and pitchers of beer. It's time to get into the vermouth habit
At the Mercado de San Fernando in Madrid's hipster-leaning Lavapiés neighborhood, day drinking is a family affair. Every Sunday afternoon, locals crowd the market's grid of vintage deli counters that are repurposed to sell everything from the traditional jamón iberico to sushi rolls to paperbacks stacked tall like cuts of meat. But the most crowded stalls are the bars, where adults slug glasses of vermouth lightened with a little soda water and an orange peel when they're not spooning bites of Day-Glo yellow paella into the waiting mouths of their offspring. The scene resembles what Brooklyn's Park Slope might be like if its open-container laws were a little less restrictive.
Though I was aware of the habit in advance, the prevalence of vermouth still came as a surprise during my recent trip to Spain. It was suddenly everywhere, from the Madrid market to ancient open-air bars in Seville to Granada tourist traps. Each spot comes with its own variations. Seville's heat was met with a refreshing splash of extra soda, while Granada's chilly altitude meant an apéritif served straight, dark, and pungent. And there was always a snack nearby—bits of chorizo, fried seafood, tortilla española—to go alongside it.
This ritual of tomar un vermut—literally, "taking a vermouth"—is to Spain what grabbing an espresso is to Italy. It's a social activity undertaken pretty much whenever over the course of daylight hours, preferably with a friend or three. The beverage is less an intoxicant than a way to pass the time. It accelerates your afternoon rather than ending it, unlike New York City's excessive bottomless mimosas. In Spain, excess is not the point; enjoyment is.
Spaniards know how to day-drink with relentless aplomb. Their beverages of choice—whether low-alcohol vermouth, precise glasses of Rioja, or almost offensively light beers—enable this superpower. While we throw back thick bloody marys and headache-inducing prosecco mixers, we could be having a lot more fun with something less heavy.
Luckily for us, the time is right. Vermouth has recently shed its formerly fusty reputation in the U.S.; bars have begun serving it on its own, and small vermouth producers are popping up around the country. But we remain somewhat lost as to how to consume it. It's time for us to adopt the social traditions that come along with vermouth and drink it the way Spaniards do: all day, every day.
One of vermouth's many advantages is its flexibility. At the Basque restaurant Huertas in Manhattan's East Village, beverage director Nate Adler pours two types of house vermouth: red and white. As Adler explains it, vermouth isn't limited to a single format. "There are no regulations as to origin, what goes into it, what the alcohol by volume is," Adler explains. Vermouth is simply wine, usually with brandy, plus bitter herbs and roots like gentian and angelica. "You can drink it all day long," Adler says.
Huertas's red vermouth is served both straight up and in cocktails: There's the Tinto del Verano, a fizzy mainstay with a splash of soda; the Fumador, with cherry syrup; and a sherry Negroni, which doesn't actually include any gin. It's not just about straight vermouth, but about representing the full gamut of drinks found across Spain. "We wanted to recreate that cultural experience," Adler says.
Following Spanish tradition, you might want to stick to sunlight hours to drink your vermouth. But you don't have to fancy it up to enjoy it.
"I love throwing in a dash of bitters and splash of soda and a peel of whatever citrus I have laying around," says Bianca Miraglia, the founder of Uncouth Vermouth, a Brooklyn-based vermouth maker that works with Huertas. "If I want something that's kind of like sangria but not disgusting, I like vermouth with lambrusco in equal parts. That's a really great daytime cocktail."
Sangria, the Spanish wine cocktail we know best, albeit in a badly Americanized form, has a cloying reputation; the kalimotxo, cola added to red wine, is catching on as well, but it still hides behind sweetness. Vermouth has nothing to conceal.
Vermouth doesn't care how or when you drink it—in fact, the earlier the better, so as to fit more into the day. It doesn't care what you mix it with. It's not about finding the perfect craft cocktail formula or the precise appellation of French wine. Vermouth is chill, perfect for sunny summer Fridays when you can drink and picnic like you're in Spain even if you don't have a vacation planned—and you'll still make it out afterwards.
Madrileños appreciate vermouth's slight insouciance. At Bar Barroso, one of those popular counters in the Mercado de San Fernando, a portly, balding gentleman will tip a two-foot-tall bottle of Cocchi into a glass, splash tonic from a bottle, throw in an orange peel, and serve it up. One afternoon, he tilted the bottle too enthusiastically in a rush to serve his waiting patrons and the vermouth splashed everywhere over the metal counter. It sat stickily for a long time, in which the bartender poured and served several more glasses, before being wiped up.
In Madrid:
Bar Barroso
Mercado de San Fernando
Calle de Embajadores, 41
Madrid, Spain
In Manhattan:
Huertas
107 1st Avenue
New York, NY 10003
Kyle Chayka is a writer living in Brooklyn.