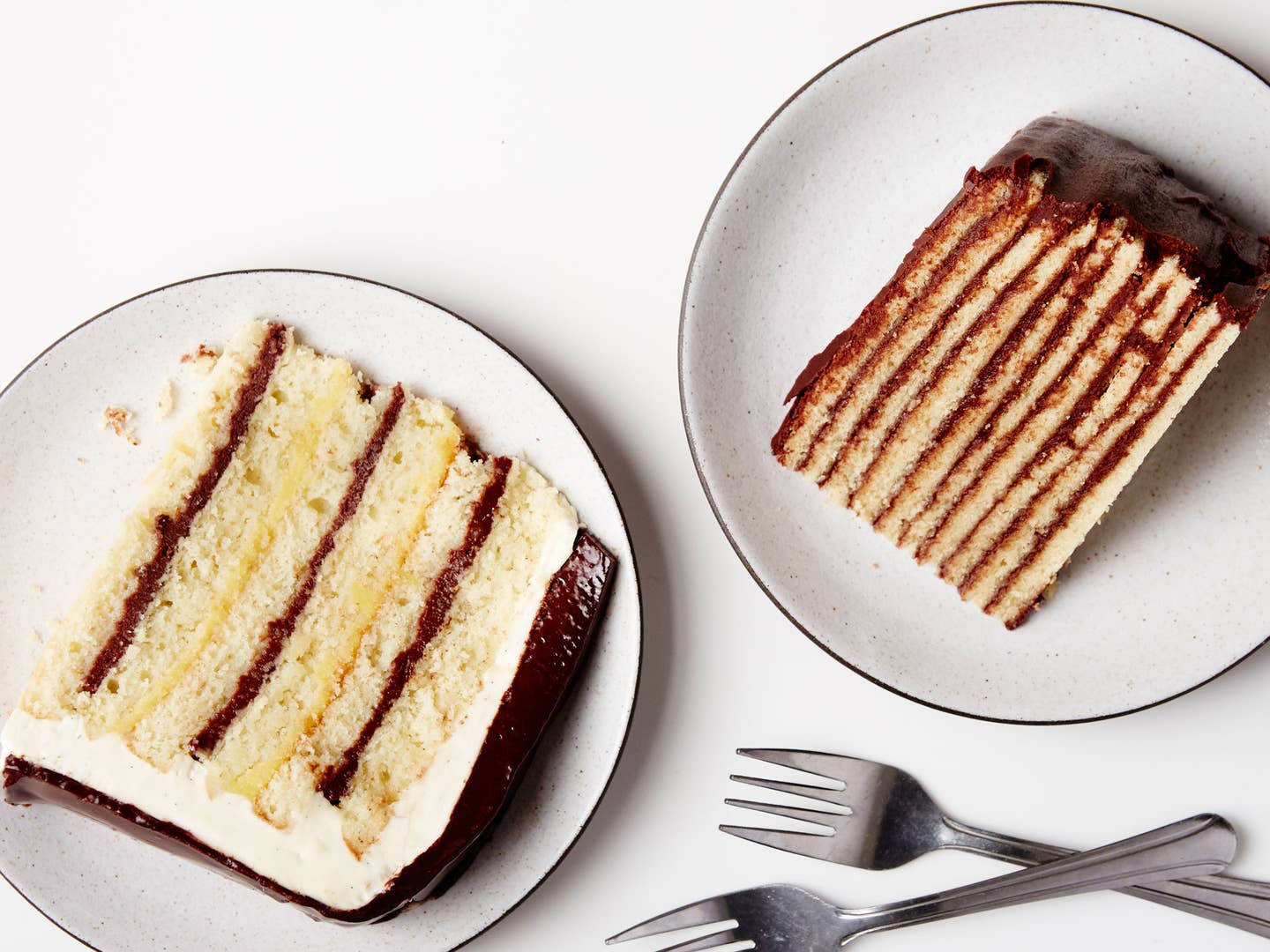 Culture
How Maryland's Official State Cake Got its Stripes
Lean Eskin peels back the layers and mysteries of the Smith Island cake
Smith Island Cake stands tall, smoothly coated in chocolate icing—no swirls, no rosettes, no bling. Sliced and plated it reveals its genius: pencil-thin layers of pale cake, stacked and spliced with ample icing. It's delicious. And mysterious. I've always wondered, how did this glamorous cake come to dominate a remote, depopulated island?
Curious, I climb aboard the Captain Jason II, which shoves off from Crisfield, Maryland, each day at 12:30, bound for marshy Smith Island in the Chesapeake Bay. I step off at Tylerton: population 46, a clutch of crab shacks, weathered pilings, and neat white houses, each topped by a single fat seagull. There are no roads, but I don't have far to go. At the end of the pier sits the home of Mary Ada Marshall, Smith Island's renowned cake lady. She sells hers mail order, and lobbied to get the cake named Maryland's official dessert in 2008.
Mary Ada, 68, shows me how it's made. Not one to work "from the stump," as she calls it, she opens a box of Duncan Hines Classic Yellow Cake Mix. "Way back when my grandma was little, they had to pre-sift, pre-measure, pre-this, pre-that," she says. "I like modernization." She drops in eggs, evaporated milk, water, and oil, then flicks on the KitchenAid.
She spoons the batter into eight pans, filling them no more than a few millimeters deep. "If I get to the end and I don't have enough," she says, "I go back and rob one pan." She slides the pans into her double oven, letting the cakes turn golden at the edges ("like a vanilla wafer"). Now icing: She heats powdered sugar, cocoa, evaporated milk, and butter into what she calls, with TV-chef poise, "a rich, creamy, slathering chocolate." While the icing is still hot, she smooths and stacks. "I just like them," she says, of the cakes she's been making since she was 11. "And they're usually pretty tasty."
In summer, Smith Island attracts tourists to its salty shores, but on this winter night, with no return ferry, I am Tylerton's only visitor. Mary Ada unlocks the front door of Drum Point Market, which she's run with her son for some 20 years. I buy a crab cake and a cake slice. In the house I've rented, I crisp up the savory cake, then focus on the sweet one. The flavors—chocolate and vanilla—hardly count as novel. But there's something thrilling about all those skinny strata. And something familiar. They remind me of a Hungarian Dobos torte—thin stripes of pale cake, each lavished with chocolate and stacked tall—the dessert that I, granddaughter of Hungarians, grew up eating on special occasions. Smith Island Cake has a twin. A fancy, far-flung, European twin. It's like The Parent Trap—only tastier.
The wi-fi flickers, but I piece together the basics: József Dobos, a dapper, mustachioed gourmet-about-Pest, introduced his confection in 1885. It was constructed from layers of sponge cake, insulated by cocoa buttercream and sealed with a crown of caramel, which helped keep the cake moist and increased its shelf life. With refrigeration rare, most pastry went stale within a day; the Dobos torte lasted ten. Dobos wowed the Austro-Hungarian Empire, he shipped his cake across Europe, and, in 1906, he released his secret recipe, hoping it would spread. Had it spread as far as Smith Island?
I find a flashlight and walk back to Mary Ada's house. Seated in the living room I ask her husband, Dwight, about island life. "When I was young there was more people here," he says. At its peak, the island had 800 residents, six stores, three schools. "It was thriving," he says. "It was a whole world in itself."
Dwight, like most island men, worked the water. "Catching crabs and fish and oysters and clams and terrapins and all this stuff—it's fun," he says. "It's like you're finding treasure in the water." Mary Ada, like most island women, picked crabs and cooked the local cuisine known for its crab cakes, wild duck, fig preserves. And cake.
"My grandmother made it," says Mary Ada. "My mom, my sister. It's just a Smith Island thing." She remembers the cake with fewer, thicker layers; competition has spurred today's bakers to build to 8-, 10-, 12-, or even 14-story versions. Others say the cakes have always been baked slim, slathered in icing, and stacked high. That's how they stayed moist during the days that the men trawled the waters.
The Marshalls have never heard of Dobos torte. But I've learned that in the 1930s, in New Orleans, Dobos was reformatted as "doberge." It left its telltale stripes, many believe, in the "little layer cakes" of Georgia and Alabama, and the "seven-layer cakes" of South Carolina. Could it also have been the blueprint for Smith Island Cake?
Caroline Ragsdale, owner of Caroline's Cakes in Annapolis, producer of the Dobos documentary A Cakewalk in Budapest, and something of a József Dobos fangirl, swears the answer is yes. "If I had to put my life savings on it, I'd say that Smith Island Cake came from the Dobos torte," Ragsdale told me before I went to Smith Island. "It's the great-grandfather of all multilayered cakes." Susan Stiles Dowell, co-author of Mrs. Kitching's Smith Island Cookbook, thinks not. "It's a 400-year-old culture on the island," she says. "The foodways, they're isolated." Some wonder if the cake, like the islanders and their unique drawl, dates to 17th-century Cornwall.
If the cake has changed little, island life has changed a lot. "Time's moved on," says Dwight. "Everything never stays the same." Erosion, troubles in the water trade, and the lure of the mainland have left about 200 full-time residents. The Marshalls' daughter and three sons all settled off-island. "There's no children being born," says Mary Ada. "There's no marriages. Someday, we're not going to be here."
In the morning, I stop by Mary Ada's sweet-scented kitchen to pick up a cake, one of four she's baked predawn. On the wall is a framed clip from The New York Times covering the campaign to make Smith Island Cake Maryland's state dessert. When it passed, she says, "I thought I'd won the Super Bowl." It brought some work to the island, and inspired entrepreneur Brian Murphy to open Smith Island Baking Company in the largest town, Ewell. The bakery—which recently moved more than 1,000 Lemon Creams via QVC—has since moved to the mainland. Says Murphy: "We really do consider ourselves custodians of a treasure." Mary Ada begs to differ, and dismisses cakes baked off-island.
Balancing the heavy cardboard box, I climb onto the ferry along with the six lone children who live in Tylerton. They scramble off at Ewell for school. On the trip back to the mainland, I stare at the choppy white foam riding the gray wake. I mull over Smith Island Cake and its secret twin. Maybe the American cake is an adaptation of the Hungarian torte. Maybe each developed separately, in similar ways. Maybe, as some historians have it, both are descendants of the pancake, which has long been piled into "stack cakes" on both sides of the Atlantic.
No explanation, however, loosens the bond between the tall cake and its low-lying home. The cake represents Smith Island—a place anchored to its unique past, a place worrying about its tenuous future, a place that can be conjured in an instant via a sticky, many-layered bite.