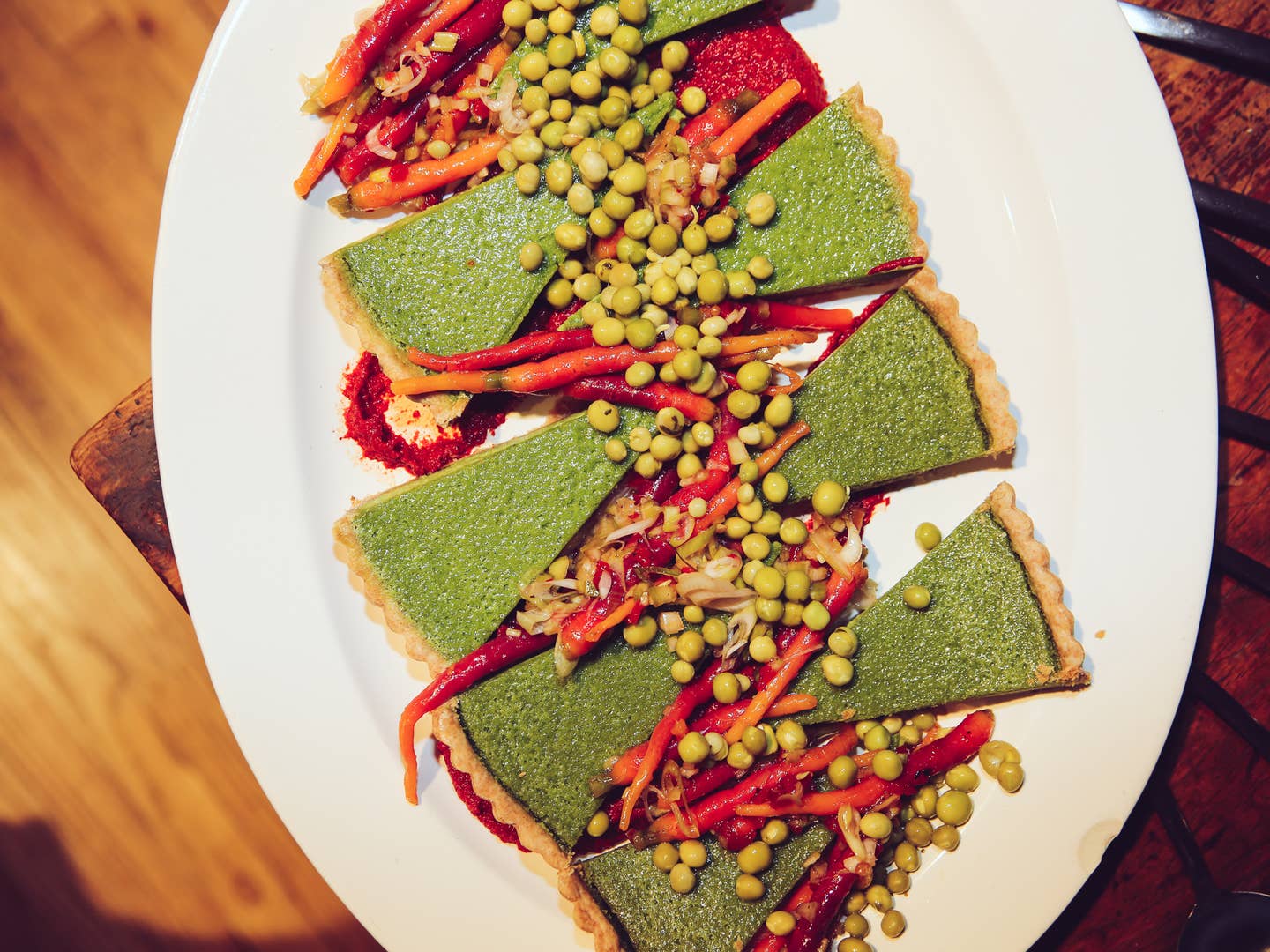 Culture
How We Came to Love a Green Custard Pie
John Fleer, chef at Asheville's Rhubarb, put barbecue sauce on our oysters and pea purée in our pie at his SAVEUR Supper
We've had chess pie spiced with warming ginger, chess pie inundated with chocolate and showered with cornbread crumbs, and chess pie straight-up: unfussy, sugary, and rich, what all good desperation pies aspire to be. And we're used to seeing this simple pie, a straightforward custard of eggs, butter, and sugar, in shades of beige or brown—which is why when John Fleer, chef at Asheville's Rhubarb restaurant, showed up to a SAVEUR Supper with a jade-colored beauty that he claimed was a chess pie, we had our questions.
It's a spring pea chess pie, he said—"like your typical chess pie, except with a little less sugar, and pea purée added in"—and after our first bite, we realized we never should've questioned him. Topped with pickled peas, carrots, and a purple carrot romesco, this dish hit the salty and the sweet, the crunchy and the creamy, the bright and the rich.
And Fleer never stopped impressing, as he served dish after dish that elevated classic Southern dishes without making them feel haughty. Spoonbread was bulked up with nutty benne seeds, oysters were topped with a mignonette made with fatty drippings from a barbecued hog, and that pie—we don't need to go on anymore. This is the kind of cooking that made Fleer, who turned the foothills of the Smoky Mountains into a food destination through his work at the iconic Blackberry Farm, which he then took with him to Asheville, a sage on Southern cuisine: humble, but smart. It's award-winning food, served by a chef who would never remind you of that. And hey, why can't you add peas into a pie or benne seeds into spoon bread?
If there's anything Fleer taught us, it's to not ask questions, and to just eat. We'll never question a green pie again.
For more scenes from the party, see below.