Recipes
Chocolate Chess Pie with Cornbread Crumble
Crunchy cacao elevates the crust for this updated take on the Southern classic.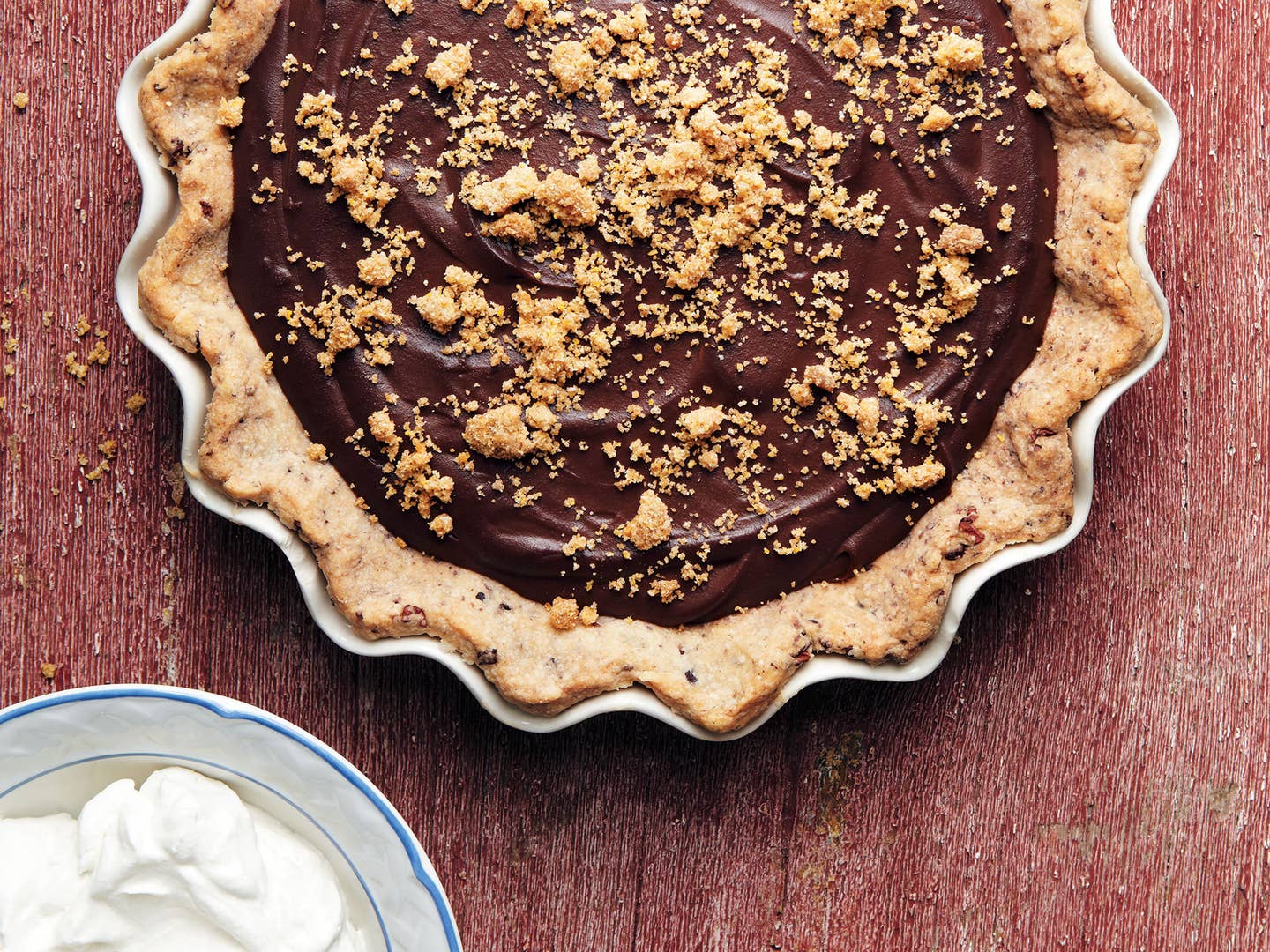 Chef Scott Crawford of the French-style bistro, Jolie, in Raleigh updates the simple Southern custard pie by adding cacao nibs to the butter crust and sprinkling a nutty cornbread crumble on top. Check out 25 more pie recipes that make the world go round.
Ingredients
For the Cacao Nib Crust
1 1⁄2 cups flour, plus more for dusting
1 tbsp. sugar
1⁄2 tsp. kosher salt
12 tbsp. unsalted butter, plus more for greasing
6 tbsp. cacao nibs
2 tbsp. ice-cold water
For the Cornbread Crumble and Chocolate Custard
3⁄4 cup brown sugar
3⁄4 cup masa harina
1⁄4 cup fine cornmeal
3⁄4 tsp. kosher salt, divided
10 tbsp. unsalted butter, cubed and chilled
1 1⁄4 cups sugar
1⁄2 cup cornstarch
6 tbsp. cocoa powder
6 eggs
2 1⁄2 cups milk
1 1⁄4 cups heavy cream
5 oz. semisweet chocolate, roughly chopped
Instructions
Step 1
Make the crust: Combine flour, sugar, and salt in a food processor; add butter and pulse until pea-size crumbles form. Add cacao nibs and water; pulse into a smooth dough. Flatten into a disk; wrap in plastic wrap and chill 3 hours.
Step 2
Heat oven to 375°. On a lightly floured surface, roll dough into a 12-inch circle; fit into a 9-inch pie plate. Trim edges and crimp; chill 30 minutes. Using a fork, prick the dough all over; line with parchment paper and fill with pie weights; bake 15 minutes. Remove paper and weights; cook 15 minutes more.
Step 3
Make the crumble: Heat oven to 300°. Combine sugar, flour, cornmeal, and salt in a food processor and pulse until combined; add butter and pulse until pea-size crumbles form. Transfer to a parchment paper-lined baking sheet and bake until golden brown, 30 minutes. Break up into coarse crumbs, then cool.
Step 4
Make the custard: In a 4-qt. saucepan, whisk sugar, cornstarch, cocoa powder, salt, and eggs until smooth; stir in milk and cream. Cook over medium until thickened, 10–12 minutes. Stir in chocolate until melted, then pass custard through a fine sieve. Pour into cooled pie crust and top with crumble. Chill before serving.
How to Whip Cream by Hand for Your Chocolate Chess Pie