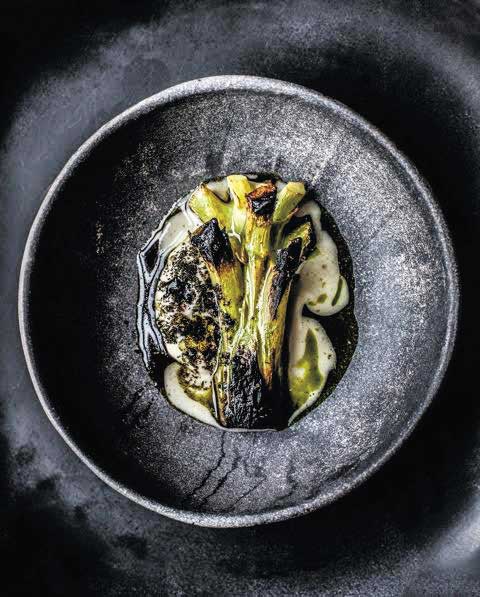 Culture
The Brutalist Aesthetics of Aaron Turner's Anti-Cookbook
IGNI may be the most beautiful cookbook we've seen in years
There's something grotesque about the oyster. Its veins shine in crisp almost-black-and-white, and its ropy edge curls lazily over its jiggly belly in a slick coat of brine. It sits on a fraying gray fabric sample on a plate that could've been poured from concrete. Only a single leaf of some spinach-like thing gives any color to the image; I think Pantone calls it Haunted Forest. This is the photo that accompanies Aaron Turner's recipe for roasted oysters with seawater emulsion in IGNI, the new cookbook documenting the life and times of Turner's Australian restaurant of the same name. It's typical of the book's art style, which favors raw over cooked, black and white over color, strange geometries over recognizable (let alone appetizing) food. The frontmatter pages are printed black with white type. Maroon marginalia breaks the restaurant's first year (the book's subtitle) into stark timestamps to focus on lines like: "19-01-2016 (day before opening): I threw up this morning, in the shower, just as I always do before opening." There's a word for this type of design. IGNI may be the world's first brutalist cookbook. IGNI is an odd choice for an American release. Though the Australian press has heaped praise over Turner's intricate and expressive live-fire cooking at IGNI, and Loam before its sudden unexpected closure, few Americans have ever heard of him. The recipes, which call for ingredients like saltbush berries, marron birds, and fruit woods for lighting fires, are pretty much impossible to replicate. The thing costs $45. Who is this cookbook for?
Yet since the book arrived on my desk a few weeks ago, I haven't been able to shelve it away. For all its stark, grey-toned weirdness, IGNI is a stunning work of art, and the most beautiful cookbook I've seen in years.
As narratives go, Turner's Hemingwayish prose gets the job done, documenting the spiritual and physical toll of sustaining an ambitious high-end restaurant. (The first chapter ends, "Fuck cooking. Fuck everything.") But what really sets IGNI apart is Julian Kingma's photography set in Vaughan Mossop's design. As Turner, who has the looks of a young Nick Offerman, tells SAVEUR's editor-in-chief Adam Sachs, "I thought the world had enough of the beautiful side of cooking. I wanted to show what it was like to come back to restaurants after falling out of love with cooking, and trying to fall back in."
Take a quick visual tour of the world's great brutalist buildings. Their harsh, angular forms are stunning, but it's hard to focus on one for too long; your eye strains to look away. Similarly, reading through IGNI isn't hard, but it is distinctly uncomfortable, and it takes the gritty aesthetic that brought us Faviken's curled grouse talons on a plate and Paul Liebrandt fisting a fish to higher and more interesting levels. When animals spread across the page in IGNI, they're not ingredients; they're corpses. By contrast, the monotone portraits and candids of the restaurant's staff capture intimate human moments, but even these are static with an almost pained distance. Best as I can tell, all these young tatted folks are still alive, but they're captured in a memorial to a time that's now dead.
When Kingma opts for color, it's eery, even extraterrestrial. The spiny underbelly of a spanner crab doesn't look like it's from this planet; nor does the violet, fire-wrinkled skin of a desiccated bosc pear. When these ingredients are set on the weighty angular dishes from Made OF Australia's Anna-Marie Wallace, they hardly even seem like organic matter. For a book about the pains of trying to fall in love with food, you couldn't ask for a better backdrop.
Even though IGNI comes from an Australian publisher, it's not hard to see the American cookbook design trends it's reacting to. Lush, saturated food-porn shots are so ubiquitous these days they're basic, and all you have to do is search "celebrity chef cookbook" to fall into an ocean of smiling white teeth.
Do you want to buy a chef memoir directed by Darren Aronofsky? That depends on what you want to get out of IGNI. For what it's worth, if you're the kind of person who spends $45 on a cookbook, you can probably adapt Turner's recipes to a home kitchen pretty easily. (The roasted oysters are basically just that—roasted—and dressed with a simple vinaigrette and some greens.)
But the real reason to dig into IGNI is the reason we still love those hulking brutalist monsters of the '60s: it grants us a new perspective to appreciate beauty.