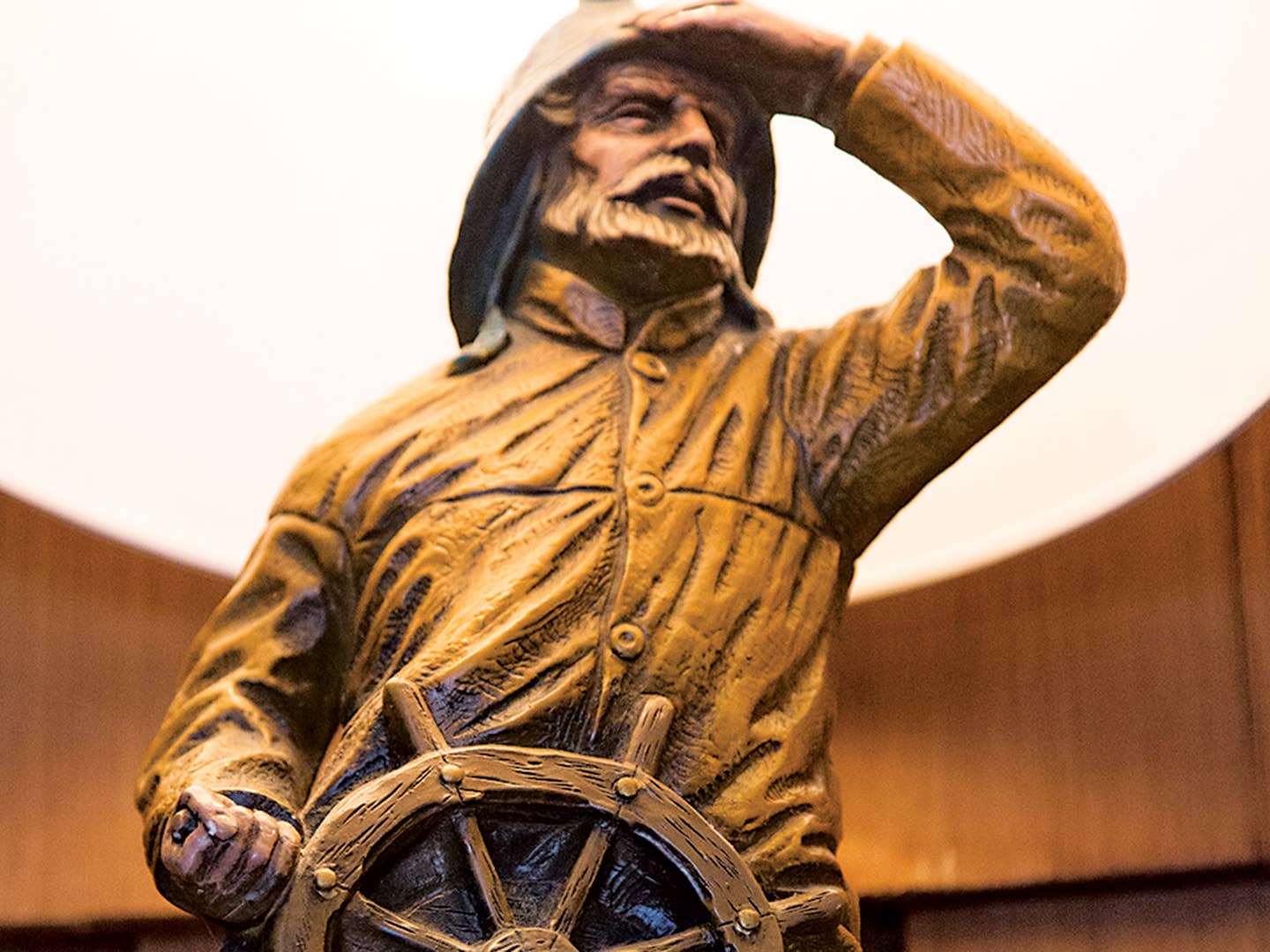 Travel
In Search of the Perfect Clam Chowder
A shellfish obsessive scours Long Island for a better bowl of soup
"If he wants to talk to you about chowder, he'll get in touch," said the bartender who answered the phone at Cliff's Elbow Room. Then she hung up. Three unreturned messages later, I came to terms with the fact that Cliff didn't want to talk.
Cliff's cedar-shingled dive is something of a North Fork, Long Island, landmark known for its shell steaks, which are marinated and broiled to a degree of black char that lies beyond the redemptive power of any Instagram filter. I had eaten two bowls of Cliff's transcendent, Manhattan-style clam chowder—as in red with tomatoes, not cloudy with cream—the stuff that's long been denigrated by New Englanders as worked-up vegetable soup from the borough that bears its name. Cliff's version has been served in round, heavy bowls on plates lined with doilies practically forever, and I needed to know more about this paradox of mediocre-looking excellence: The broth was clam bouillon gray, practically overcast with ground bivalves, the opposite end of the Manhattan chowder spectrum from sauce red; its celery and onion were less sliced and diced and more hacked apart, like by one of those high-powered infomercial choppers gone haywire. Yet it tasted the way Manhattan clam chowder should taste, broadly sweet with glutamate-rich clams, as if its constituent parts had been on a slow simmer together forever until they reached a soupy alchemy. The only problem was no one wanted to tell me how that alchemy worked.
I already knew a little. I grew up on Long Island, cooking in waterfront clam bars with kitchens the size of tin cans and with stoves that really had no business holding two 30-gallon stockpots. I spent a decade lugging bushel bags, prying shells apart with a heavy-bladed knife, and rendering chopped chowder clams into thousands of gallons of red, white, and clearish varieties, all with brackish culinary backstories. I waited in line for egg sandwiches at delis with the dwindling ranks of the sunburnt, stoned clammers ready for their shifts on the bay. A store in the next town sold nets, tongs, and custom shellfish rakes. I was so enamored with the T-shirt hanging in its window depicting a happy littleneck with his fist raised high and the words CLAM POWER that I bought one in each color.
One summer long ago, a burly shellfish deliveryman who more grunted than spoke cornered me at the rundown clam shack by the boat basin where I had been appointed "chef." He giddily declared our house Manhattan—transformed into a kind of benthic, clammy food miracle by our steam table, the flavors layering and growing deeper each simmering hour—the only authentic chowder he had ever eaten.
I've eaten chowder in everything from foam cups to bone china, and certain things have become apparent: A lot of tomato-pasty, appallingly bad Manhattans are served in old-school canteens and luxe steakhouses alike, particularly (and ironically) in its namesake borough. But on the outer reaches of Long Island, there are still far-flung keepers of the metaphorical cauldron. These people, often helming small, humble establishments within throwing distance of the water, swear by their well-weathered Dexter Russell shucking blades, their archaic celery shredders. The chowder at Cliff's was a shining example, and I was certain I could find it elsewhere, hiding in plain sight between the Salads and Appetizers columns on menus throughout Long Island. So I got in my car and headed east.
My trail started at Peter's Clam House in Island Park, on the South Shore, where the deep-fryer oil burns a little too hot and the chowder is as shiny red as the plastic tray it's served on, and went as far as a Montauk pancake house called John's, where short stacks arrive topped with banana-slice eyes. On a good day, John's chowder could win awards—and it has—but the staff wasn't too forthcoming about the recipe, other than to tell me the clams were local.
I encountered similar tight-lipped circumspection at Chowder Bar in Bay Shore, adjacent to the ferries that lumber over to Fire Island. Lynda Nenninger and Patricia Robinson have owned Chowder Bar since 1988, paving its minuscule lot with decades' worth of crushed chalky white and iridescent purple shells. Their meaty Manhattan includes enormous swaths of clams delivered by diggers who still work the bay.
"We've been in business for so long, we get priority," Robinson explained of her bivalve sourcing. They use half canned crushed tomatoes, half whole, and while there's an order in which ingredients are added to the soup, that's about as far as a "proprietary recipe" goes.
"That's how people are," said Charlie Manwaring, a fish-monger. "When you've got a good recipe, you don't want the public to have it."
Manwaring has been with Southold Fish Market for 28 years; he started filleting fluke at age 12 and finally bought the place in 2000. He's the kind of guy who says he's going "up island" and means nearby Riverhead.
The market sells a staggering number of new soups with recipes that are constantly being tweaked, from crab bisques to gumbos, but the parameters for its Manhattan clam chowder, made in 40-quart batches, haven't budged in years. Beyond the standard vegetables and tinned tomatoes, the recipe includes rendered salt pork and rough-chopped chowder clams from the Peconic Bay, which is just about visible if you stand on the hood of your car in the parking lot and look south.
Manwaring believes that good Manhattan clam chowders aren't fussed over, that chef-like tinkering can lead to an astringency that muffles the clean, lean taste of good clams. "There are new, high-end places trying to make fancy stuff," he said. "But it's a down-to-earth soup."
And yet: High-end doesn't necessarily mean mediocre Manhattan. Toward the tail end of my journey, I found myself at Aquagrill in New York City's Soho neighborhood. Chef-owner Jeremy Marshall has been the de facto torch-bearer for Manhattan clam chowder in its home base for the last two decades. From the beginning, the chef stripped out shortcuts like soup bases and add-ons like carrots and bell peppers in favor of what is essentially a high-wire balancing act between clams and tomatoes. Marshall deconstructs behind the scenes, not for modernity's sake but to ensure consistent cooking. His Rhode Island-dug clams spend a little time in the walk-in ("so they're actually Manhattan residents before we make them into soup," Marshall says). Next, they're steamed in one pot, vegetables sweated out in another, potatoes boiled separately, and then everything is combined to order. An opposite approach to those from the old-guard clam shacks, for sure, but it bears the correct hallmarks of a killer chowder, its heartiness fine-tuned by the natural saltiness of the clams and little else.
After tasting a dozen chowders up and down the island, I sought insight from folklorist Nancy Solomon, who recorded the oral histories of the dwellers of Long Island's bay houses, the freestanding structures, some a century old, built in the tidal marshlands of the South Shore. Kitchens in these homes often had a pot of chowder on low heat, she told me, with new components added as soon as the new hauls came in. A mix of old stock and new ingredients.
That's the technique I tried to replicate when I got back home, picking and choosing from the recipes I'd come across. I omitted carrots, which appeared about half the time, and made a shockingly red tomato broth that mellowed when simmered with pork and vegetables. The next day I used it as a kind of base—sort of like using a flavor-bearing sourdough starter—to which I added bacon and fresh herbs. I never let it boil, and it was delicious.
The real alchemical force behind great Manhattan clam chowder, I found, happens when the last batch informs the next one, when the clams that have been on that slow simmer forever meet up with fresh topnecks and vegetables you've hauled in that day—even if that haul is from the supermarket and not the open waters. I'm a believer that all soup is better the next day rather than fresh off the stove, but this is particularly the case with the Manhattan, when the briny clams and long-simmered stock land together with fresh vegetables and smoky bacon in the same bowl. It's a reminder of the way chowder parties and clam bars have for centuries operated at their best. Great chowders are less of a soup, I learned, and more of a continuum.