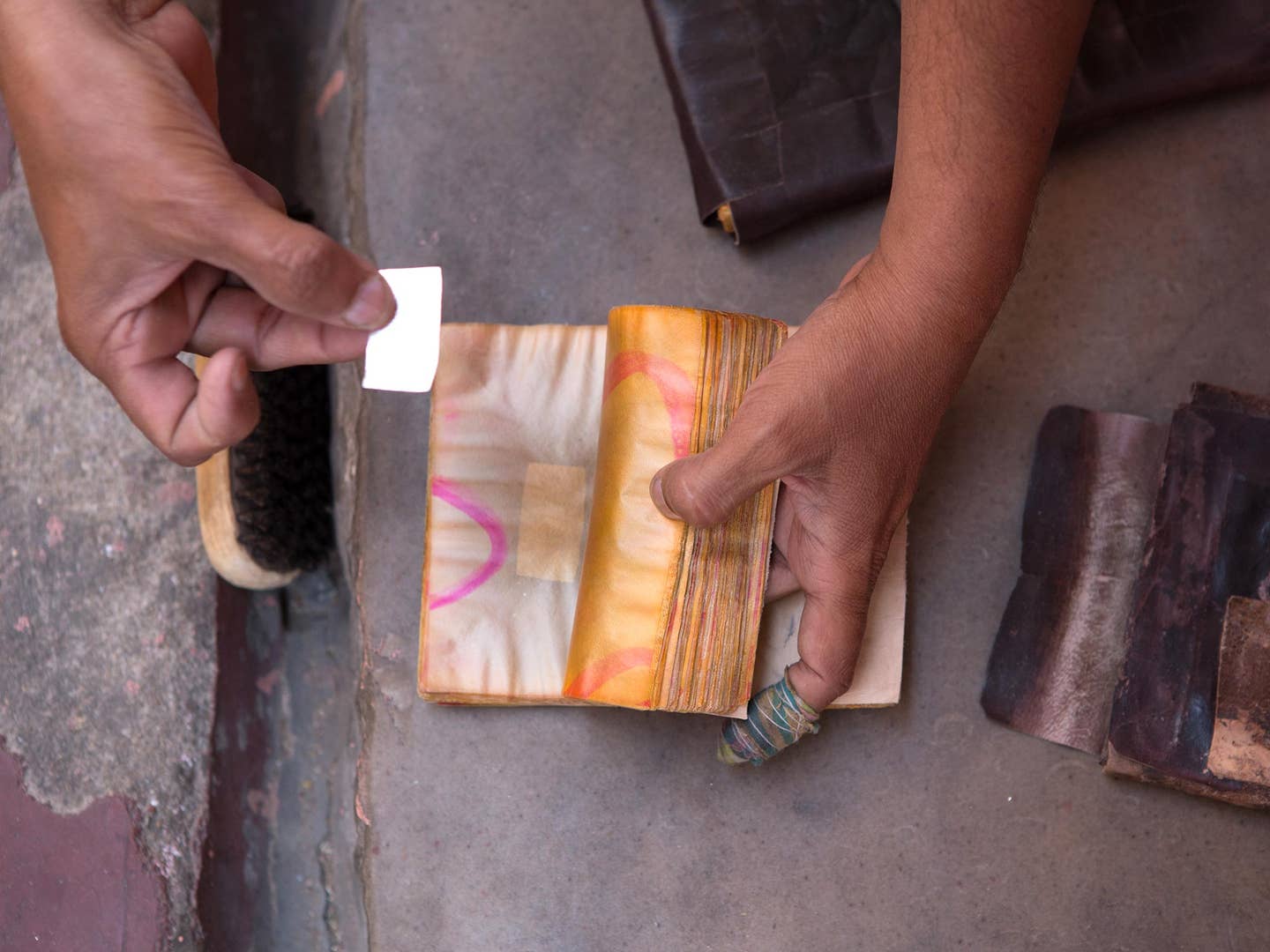 Travel
The Silversmiths Behind India's Richest Sweets
For generations, Muslim craftsmen in Jaipur have been pounding silver into gossamer sheets to decorate desserts for a city with a serious sweet tooth
At first, the ambient noise in Panigaron ka Rasta, a dusty side street in central Jaipur, was jittery. But then the tap-tap of mallets issuing from open-air workrooms synchronized as the pannigars picked up on each other's beat. These Muslim craftsmen spend all day painstakingly pounding pure silver and gold into chandi ka vark, foil so thin it can be spread or rolled over mithai, the richly diverse delicacies beloved by Indians everywhere, but particularly the sweets obsessives of the desert state of Rajasthan.
Some men beckoned me into their stalls to demonstrate how each piece of precious metal is slipped between translucent sheets of paper, which are stacked in worn leather booklets, and then whacked repeatedly until the prized metal flattens. It's like pounding a scallop of veal for Milanese, but with far more finesse and speed, although I did note that some of the men wore protective bandages on their forefingers.
The culinary use of decorative foil in cities like Jaipur dates to the Mughal Empire in the 16th century, when a good chunk of the Indian subcontinent was ruled by Turco-Mongol conquerors from Central Asia. Mughal cuisine was strongly influenced by Persia, so courtly recipes tended to be sumptuous and complex, enhanced with cream and yogurt, exotic fruits, and nuts. It was also common for these dishes to be garnished with fragrant flower petals and edible slivers of gold and silver. (At the time, it was also believed that eating metal was good for your health and sex drive.)
Much of the traditional artisan work in India is still organized by caste or sect. Vark craftsmen, like their Mughal ancestors who introduced the use of edible foil, belong to a minority religion. As the caste system limits upward mobility, the silver-pounding tradition has long supported a Muslim community in a predominantly Hindu state. Though these days, the livelihood of these humble metalworkers is threatened by automation and impure imitations, such as sheets of toxic aluminum pressed to pass for silver.
For now, their artistry still has an important patron. Across the city, in one of the main shopping districts, families crowded in front of the display cases at Laxmi Mishthan Bhandar (locals call it LMB for short), the venerable pastry shop and tea room that specializes in vark-covered sweets. When the maharajah of Amber moved his capital to Jaipur in 1727, he invited a caste of confectioners to set up business in Johari Bazar. One of their descendants opened LMB in 1954.
All sorts of mithai were neatly piled on trays. They were elaborately composed of ghee and cream and rose-scented syrup, liberally coated with nuts, chocolate and candied fruits. Sticky gulab jamun, laddo, lassi, halwa, supari (mouth fresheners). So many unfamiliar to me, all prepared daily for a city with a sweet tooth as big as a temple elephant. Uniformed staff attended to orders, weighing out treats and composing gift boxes, as children smeared fingerprints on the glass and mothers argued the merits of each variety. Vark-covered sweets are popular to serve at weddings or during a festival period like Holi and Diwali, but Rajasthanis often don't wait for a special occasion to indulge.
By the time my turn in line came, I was still undecided. "Which ones, miss? Do you like pistachios? Almonds, perhaps?" Tongs hovering, the attendant pointed to his favorites.
Customers behind me grew impatient, so I hastily chose a few silver-coated candies because they looked pretty. On the street, I bit into one. The silver stuck to my fingers, and not surprisingly, tasted metallic. I still found flakes on my clothes days later, but felt richer for it.