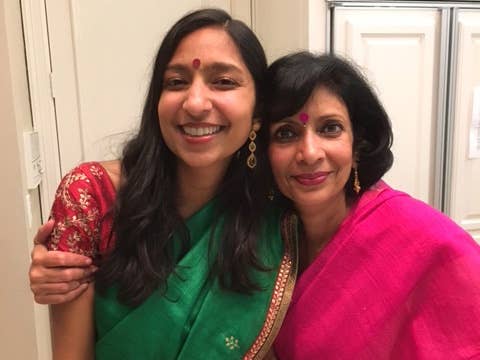 Culture
Why I'm Writing a Cookbook About My Mom, an Indian Food Genius
For food writer Priya Krishna, no chef is more resourceful and creative
Last month, I returned home to Dallas for three weeks to test the 100 recipes that will make up my eventual cookbook, Indian-ish. Spread out over 21 days, that amounted to four to five recipes a day, plus the cleaning, grocery shopping, and general exhaustion that comes with attempting to make a dinner's party worth of food every day for almost a month.
Why go back to Dallas? Aside from my parents having a kitchen that is easily three times the size of my own, my book is devoted entirely to recipes written and developed by my mom: a woman who grew up in India having never learned how to cook (considered very out-of-the-ordinary at the time), immigrated to America with my father right after their arranged marriage, traveled the world as an engineer for an airline software company, and watched a lot of PBS cooking shows.
But my mom has always been curious about food. As a kid, she spent her afternoons perched on her grandmother's kitchen counter, watching her grind spices and roll out fresh rotis. When she came to the U.S., she synthesized those childhood memories, lessons from her favorite television shows and travels, and her daughters' very American tastes into a cuisine all her own. She made pizza with roti bread, sandwiches crusted in curry leaves, saag paneer with the paneer swapped out for feta cubes. As a food writer who's eaten my way through many, many restaurants, I can still say I've never tasted cooking as creative and unique as hers.
Every weeknight until the day I left for college, my mom cooked her heart out for my dad, my sister, and me after working long days at the office. I wish I could say, at the time, that I was as appreciative or awed by my mom's cooking as I am now. But I wasn't. Growing up, I hated that my family's weeknight meals didn't look like everyone else's. My friends ate grilled chicken and spaghetti with tomato sauce for dinner. We had masoor dal and aloo gobhi. My friends took their dinner up to their rooms. We were forced to eat dinner together, no exceptions.
My outlook is different now. After writing about food for years, I've realized just how influential my parents—especially my mom—have been in making me who I am. I source recipes from her. I develop story ideas with her. I even co-byline articles with her. I got to thinking that there could be a book here—one that covered my mom's fascinating culinary evolution, told through my familial lens.
The theme of an American-raised daughter of Indian immigrants telling the story of her upbringing through food runs through a number of recent cookbooks: The Juhu Beach Club Cookbook by Preeti Mistry, Vibrant India by Chitra Agrawal, and My Two Souths by Asha Gomez. These books aren't encyclopedic guides to every facet of Indian cuisine, but stories of a type of cooking that changes and evolves over time. One that straddles cultures and identities, just like the people making them.
Which is how I ended up in my parents' kitchen in Dallas, where every morning, I set out to make four recipes during the day, plus one or two more when my mom got home from work and could supervise. After that, I'd sweat through a nerve-wracking tasting session, in which my mom told me which recipes were good to go, and which needed additional tweaking. (My dad, bless him, did the dishes every single night.)
Oftentimes, after I had spent hours cooking, my mom would taste a dish, make a face, and immediately pick apart where I had gone wrong. I switched coriander seed for fennel seed more times than I can count. I burnt so many red beans. I spilled an entire bottle of turmeric on the counter, resulting in my dad having to bleach every single one of our kitchen towels.
My mom frequently yelled at me for not pre-measuring my spices before I cooked, which often resulted in a smoking pan of charred cumin that would later require hours of soaking. There were more than a couple of times that my mom and I would have to retreat to our corners, go silent for five minutes, and then return to cooking once we had cooled off.
When I was growing up, I can't remember a single instance in which my mom burnt cumin, or stained her crisp white shirt with turmeric, or failed to put out a nourishing dinner for her family in 20 minutes, immediately after coming home from a busy day at work. At one point, after four consecutive failed attempts at making a red bean stew called rajma, I asked my mom, "How did you manage to do all this when we were kids?" She responded, "I literally have no idea." Then, she added, "It had to get done, so you just do it."
Getting a dish right felt almost unreal. To be able to roll perfectly soft, round aloo parathas, or to capture the tangy comfort of my all-time favorite soup, kadhi. There were so many moments, too, where I felt in awe of my mom's creativity. How did she think to turn Tuscan ribollita into a peppery, Indo-Italian dal, or to supplement her red pepper sabzi with roasted peanuts?
My mom and I have never been best friends. Growing up, I never appreciated how hard she worked for her family, and how effortless she made it seem. But for three weeks, she and my dad essentially put their lives on hold for me. So they could write recipes for me, grocery shop with me, do dishes for me, and support me. Not because of any favors owed, but because they were my parents, and that's what they've done my whole life. It had to get done, so you just do it.
Sure enough, at the end of October, we had 100 turmeric-splattered, hand-annotated recipes. And after years of my mom feeding me—in spite of my complaints, in spite of her busy schedule, in spite of her complete lack of training—finally, I got to feed her.