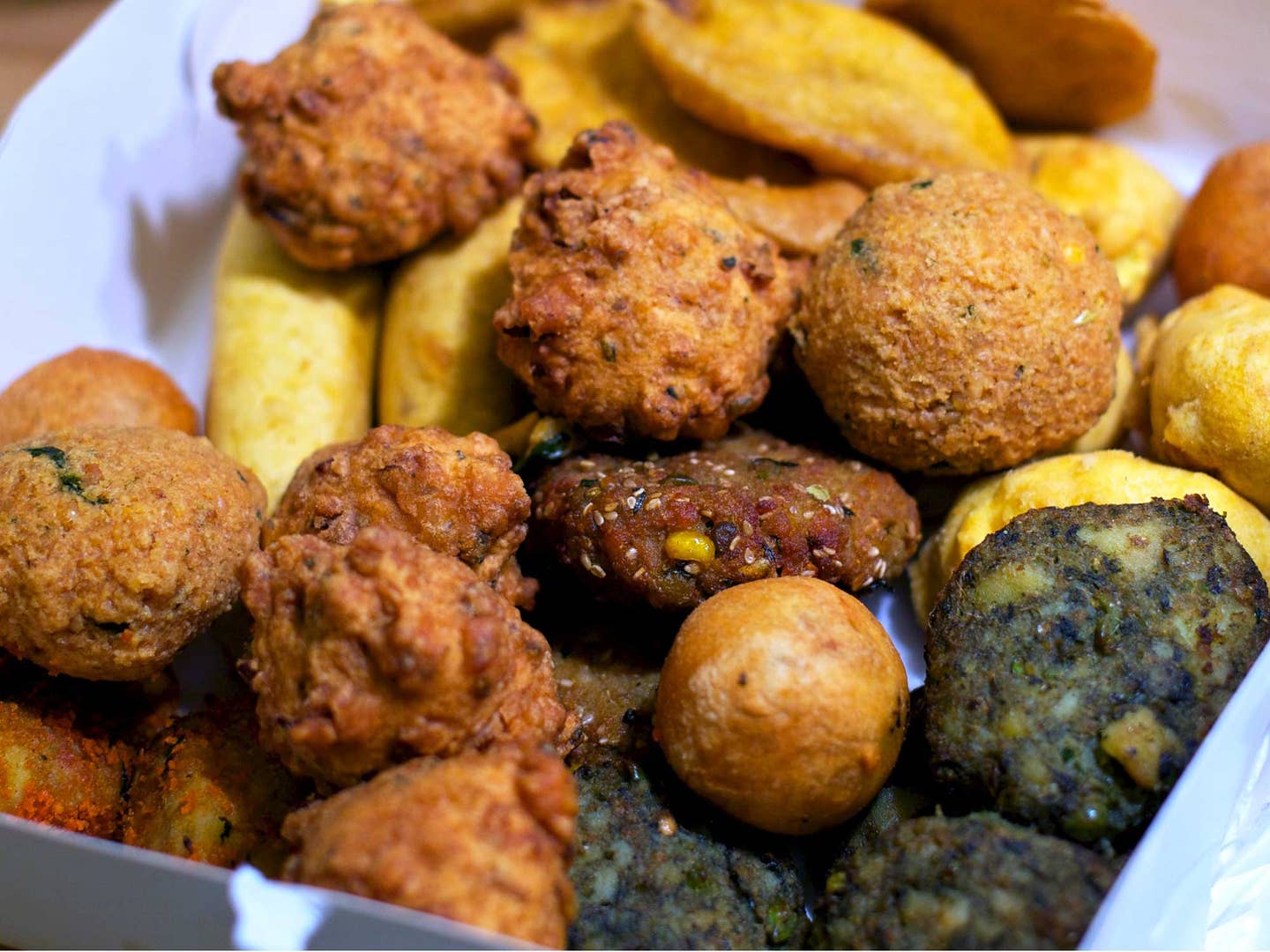 Travel
A Field Guide to Eating in the Snacker's Capital of India
Indians take their snacks seriously, and much of that snacking culture comes from the state of Gujarat. Here's how to navigate the great wide world of the carby, the spicy, and the deliciously fried
In a country that often puts vegetables and pulses before meats, snacking throughout the day is common practice in India. Snacks are also the most common accompaniment to chai, a several-times-a-day ritual within the country. It's no surprise, then, that Indian snacks are serious business. And the food of Gujarat—a region in the western part of India—is the basis upon which much of that snacking culture is built.
While most Indian regional cuisines—even vegetable-centric ones—have at least a few meat and seafood dishes, Gujarati food is nearly 100% vegetarian­. That's thanks in large part to the high population of Jains that practice a strict, animal-free diet. Absent animal protein and fat, snacks are the building block of Gujarati meals. And those snacks hit every food category that Indians love—spicy, carby, and frequently fried. As a result, they have become beloved all across the country.
Despite being avid lovers of Gujarati snacks ourselves, my father and I are not Gujarati. So we called upon one of my dad's friends, Manisha Shah, to lend expertise and insight into the grand lexicon of the region's mini meals—this guide is in large part thanks to her encyclopedic knowledge of all things Gujarati.
Some Snacker Ground Rules
There are a few central qualities shared by nearly all Gujarati snacks:
They are all vegetarian. As mentioned, Gujarat is a mainly vegetarian society, so this one is a bit obvious.
They are often eaten in place of breakfast. Unlike many other Indian regions, there are no formal breakfast dishes in Gujarati cuisine. So if you're eating breakfast at all in Gujarat, it's likely a hodgepodge of snacks combined to build a meal.
They go big on carbs. Because they often function as meal-replacements, they're designed to fill you up.
Nasta is my hair after a long time in the sun: dry and fried. This category of snacks is super-portable—kind of like the Indian version of a bag of chips—and popular among Indian schoolchildren as a mid-morning treat.
Muthia: A circular roll made of chickpea flour. "Muthi" means "fist" in Gujarati, a reference to the way that the dough is rolled into a fist-like shape before fried. The star spice here is bittersweet, earthy fenugreek, known—like so many other ingredients beloved by Indians—for stimulating digestion.
Khakhra: Round, ultra-thin crackers made from a mixture of wheat flour and moth (sounds like "moat") beans—a legume native to India. You can spice khakra with any number of seasonings, but I enjoy it with a dollop of chutney right on top.
Farsan (Appetizer Snacks)
Farsan is similar to nasta, except that it encompasses raw and/or steamed snacks in addition to fried ones. These are frequently served as appetizers in a typical Gujarati meal.
Batata Vada: Translates to "potato fritters." Tiny, spicy, dangerously poppable balls of starch.
Patra: A unique sweet/spicy/sour dumpling-esque creation—the product of a chile-filled rice batter being spread onto taro leaves, rolled, and then steamed or fried.
There is no formal name for this category, but these dishes are the ones that are most often lentil-and-rice based, and therefore hearty enough to function as standalone meals.
Dhokla: A savory snack cake made with fermented chickpeas and rice and topped with curry leaves, mustard seeds, and coconut. Dip in green cilantro-mint chutney for ideal results.
Handvo: A veggie cake containing all the staples of the Indian diet: rice, lentils, and any vegetable imaginable (squash! carrots! peas!). Handvo could be stuffed into a Martin's potato roll and function very nicely as a vegetarian burger.
Like eggnog or cranberry sauce in the United States, these snacks are exclusively cooked during specific holidays. That said, you may just be able to snag one during the off-season at a sweet shop.
Gujiya: Around Diwali (the festival of lights, in fall) and Holi (the festival of colors, in spring), gujiya—a sweet, fruit-and-nut filled pastry—can be found in any shop. The neat crimping on the outside makes it one of the prettiest Gujarati snacks, too.
Mathiya: A Diwali-specific specialty similar to pappadum. Mathiya combines a bunch of different kinds of lentil flours with sugar and carom seeds—the dough balls then get stretched out, fried and served as fresh as possible.
Priya Krishna is a freelance food writer and the author of Ultimate Dining Hall Hacks. Follow her on Twitter at @PKGourmet. Shailendra Krishna is her father and mango whisperer.
Watch: How to Make Gulab Jamun