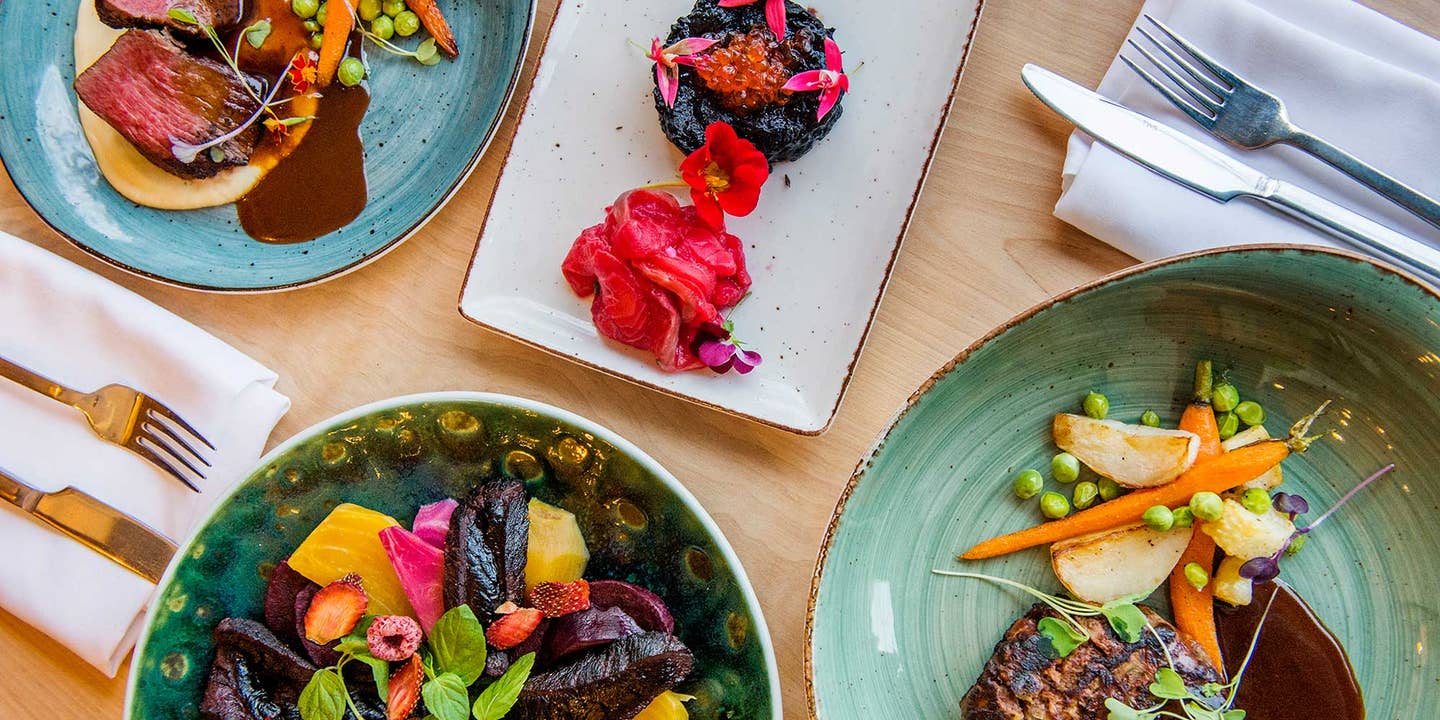 Culture
How Three Indigenous Chefs in Toronto Are Paying Homage to Native Cuisine
Local chefs are embracing their First Nations heritage and making waves in Toronto's food scene
Speaking from behind the stove in his hallway of a restaurant, Pow Wow Cafe, chef Shawn Adler has one message above all about serving the food of his Indigenous heritage: "It isn't a trend; it's a culture." In the Kensington Market neighborhood of Toronto, Adler serves the Indian tacos commonly seen at the pow wows he went to growing up Anishinaabe (a large group of culturally related Indigenous tribes in Canada), but his fine-dining training and Native studies degree bring depth and intricacy to a food that has rarely claimed its proper space in urban dining.
In Toronto, Adler and two other Indigenous chefs—Joseph Shawana of Kū-Kŭm Kitchen and Johl Whiteduck Ringuette of NishDish Marketeria and Catering—each work to celebrate traditions that have previously been ignored or purposefully stamped out, using their heritage and native ingredients to inform their menus.
Born in the fall of 2016, Pow Wow Cafe is the brick-and-mortar version of the Indian taco stand Adler used to set up at music festivals, stuffing Indigenous and Indigenous-inspired ingredients into deep-fried pieces of bannock, the common bread of Canadian First Nations people adapted to colonizer-supplied ingredients—much like frybread in the U.S. There were a few restaurants around town serving Indigenous foods, but nobody was doing Indian tacos, and he knew from the success of the stand that he was onto something. (Regarding the name "Indian tacos," Adler says it's an unfortunate misnomer that just happened to stick, especially among generations like his grandmother's. But when it comes to the food, he insists that is what they are called—in the world and in his restaurant: "It's not a racist remark, just an uneducated one. But you go to any pow wow in North America, and you'll have some version of the Indian taco.")
The menu at Pow Wow Cafe is small, with just three appetizers and four types of tacos, but it shows a deliberate integration of Indigenous ingredients: the seafood taco with salmon, mussels in dill corn chowder, sumac tartar sauce, cedar mustard, and, for dessert, maple cornbread with crystallized wild ginger and birch syrup.
The dessert is elaborate and evokes more of Adler's fine-dining background (he's owned a half-dozen restaurants) than it does a humble taco spot. It would, perhaps, fit in even better at Kū-Kŭm Kitchen, a high-end restaurant where refined techniques and visually delightful plates meet Indigenous ingredients, manned by chef Joseph Shawana. Shawana grew up on the Wiikwemkoong Reserve on Manitoulin Island in central Ontario, foraging with friends for walnuts, picking apples and berries, and watching his mother cook entire meals over open fires. Subsistence living still informs his culinary outlook: "You just take what you need to help you survive." From his mother and grandmother, he learned about medicinal plants, inspiring him to serve cedar tea, a refreshing cup of evergreen aromas that he considers a cure-all for coughs and colds. The restaurant occupies a modern room in midtown Toronto, spare save for a colorful mural that dominates the back wall, depicting three Indigenous women standing in a stream as fish dance around them.
Those fish are represented on a plate of three tartares at the restaurant, including one that brought Kū-Kŭm Kitchen a bit of trouble. "Activists got word that we were serving seal meat," Shawana recalls. "And that blew up." The seal, served raw along with buffalo and salmon meat, is dark and iron-y; nutritious and flavorful; a bit oily but rather lean. And, importantly, to Shawana, it's part of a long tradition for Canada's native people. Unlike historic pelt harvesting, however, which has long been met with ire from animal rights activists, the annual commercial seal hunt is a highly regulated and humane practice. "Everything just went to a thousand real fast," he says of the chaos. Luckily the counter-protesters came through just as furiously, keeping the restaurant packed every night with customers ordering braised bison legs wrapped in caul fat, venison stew with bannock, and rainbow trout sourced from the island Shawana grew up on, served alongside roasted corn succotash.
The restaurant is a departure from Shawana's previous cooking experience—he moved to Toronto in 2006 to step up from the burger-and-fries joints that made up the tourist-based economy of his hometown. He dropped out of culinary school because he was already moving up in the industry, eventually working his way up to junior sous chef at the Roger Center (home of the Blue Jays), where he was feeding 10,000 people a day. As he worked through various large restaurant groups, he eventually found a place where the owner—Ben Castanie, now his business partner—supported his ambitions. They did a one-off dinner for National Indigenous Peoples Day (a June holiday in Canada) in 2016, and it sold out the large space quickly and impressively. They planned to repeat it the next year, but in September, Shawana decided to ask Castanie to open a restaurant with him. They opened the following June, just in time to celebrate the holiday in their own restaurant.
Just a few months before that, Johl Whiteduck Ringuette watched 800 people gather outside the opening of his tiny, 21-seat NishDish Marketeria. Within the cozy shop, customers can flip through Indigenous-authored books, buy First Nations-made crafts, and purchase Native-produced foods as they wait for their meal. The counter-service café serves dandelion green salads, three sisters soup (made with the squash, corn, and beans that are the staples of Indigenous cuisine), and venison stew. At breakfast, bison, boar, and veggies come in wraps, omelettes, or sandwiches. And while the café might be small, it has strong roots: Whiteduck Ringuette, like Adler, is Anishinaabe, and comes from North Bay, Ontario, where his father hunted and fished and his mother cooked and baked with wild game, fish, and seasonal berries—often over an open fire. That upbringing, along with knowledge he gained from his medicine teacher, Mark Thompson, inform the chef's work as a First Nations "food sovereigntist." This, he says, means "identifying, sourcing, relearning, and reclaiming what the traditional Anishinaabe diet is." It includes the café and catering operation, public speaking, and planting medicine gardens, but also the founding of the Toronto Indigenous Business Association and the Ojibiikaan Indigenous Cultural Network—groups designed to help Indigenous restaurateurs and entrepreneurs like Adler, Shawana, and himself.
This progress, as Adler said, isn't a trend, but a rich moment in culinary history. "My mom, aunt, and uncle, their generation all went to residential school," he says. "They had our language, our foodways, and our culture removed." But he and his peers grew up attending pow wows, eating Indigenous foods, and dancing as their ancestors did—"things my mother made sure we were exposed to." He points out that the same renaissance is occurring across industries—the Polaris prize, the biggest music award in Canada, has gone to Indigenous performers two years in a row; multiple Indigenous artists made the shortlist for the Sobey Art Award; and 2018 saw Indigenous authors on every bestseller list in Canada. "In every profession, Indigenous people are getting to shine because of where we are in history. I'm happy to be a part of it."