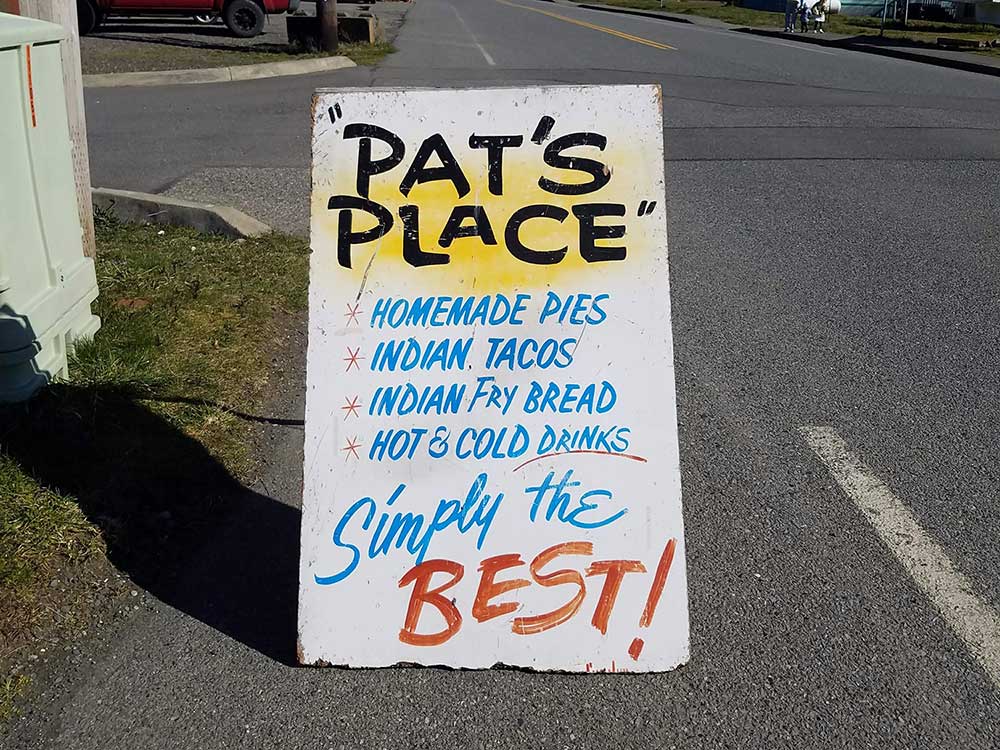 Travel
Redefining Fry Bread
Fry bread is emblematic of tradition but also of how native foodways have been changed and erased overtime
Pat's Place in Neah Bay, Washington sits on Makah tribal land at the edge of the bright blue Strait of Juan De Fuca, essentially the Northwestern-most point of the continental U.S. From the outside you might mistake it for someone's home; inside, family photos and Seahawks regalia line the restaurant's walls. The sounds and smells of bubbling oil fill the room. When you walk in, a man greets you with a smile as he furiously writes down orders. Pat's Place makes fry bread: a fried, slightly sweet dough about an inch thick, with the chew of a yeast donut.
The menu is short: You can have your fry bread plain, with homemade jam, vegetarian, or supreme. The obvious choice is supreme. Diced tomato, shredded cheese, iceberg lettuce, beans, ground beef, black olives, and jalapeños are precariously placed on top of your bread, hence the common monikers of "Navajo taco" or "Indian taco." Behind the counter, a woman mixes fresh dough to order, already sold out at half past noon, and carefully pats it out on the countertop, creating flurries of flour with each gentle palming. The recipe is deceptively simple—just flour, sugar, salt, baking powder, and lard or shortening—but fry bread is not a simple food.
Fry bread began inland, far from the water and evergreens, with the Navajo and their forced relocation from Arizona to Fort Sumner, New Mexico in 1864. The 300-mile march is known as the 'Long Walk' and relocated over 9,000 Navajo to arid desert where water wasn't potable and traditional food staples like corn, beans, and squash couldn't grow. The U.S. government provided rations, mostly canned and processed foods including the white flour, sugar, and lard that would ultimately become fry bread. While the Navajo were able to return to their land following an 1867 treaty, they returned to find their existing crops and orchards completely destroyed, a result of the American 'Scorched Earth Policy.' In the decades of replanting to come, fry bread would continue to supplement the traditional foodways that the Navajo, even at home, could no longer access.
As other tribes were forcibly relocated to reservations and given the same rations, fry bread spread throughout the West. "It's a food that shows our resiliency," says Andi Murphy, of Toasted Sister, a podcast based in New Mexico that explores the origins of indigenous cuisine. "A long time ago it was something we survived on. Today it is something that has so much food memory, it reminds people of their mom, their grandma."
But on a nutritional level, fry bread is more akin to a doughnut than a dietary staple, consisting of fried bleached white flour with added sugar and high amounts of fat. The U.S. Department of Agriculture estimates one paper-plate-sized piece of fry bread, without toppings, is 700 calories with 27 grams of fat. This complicates the dish's symbol and tradition, as health among indigenous populations has long been disproportionately poor. The Indian Health Service found that heart disease and diabetes are among the leading causes of death for Native Americans, who, on average, have a life expectancy of 4.4 years less than the rest of the U.S. population.
This is a result of high poverty levels on reservations, lack of access to healthful food, and discrimination in the delivery of health services. About 25% of Natives struggle with food insecurity, and are on average twice as likely to lack access to healthy foods. Of course, fry bread is not solely to blame, but its consumption is representative of the ways in which indigenous cuisine has been redefined post-contact as knowledge of older foodways has disappeared. This is what projects like Toasted Sister are trying to recapture—and she's found that she's not alone.
She recently interviewed Sean Sherman, chef and owner of The Sioux Chef, an Indigenous catering and education group. His cookbook, The Sioux Chef: An Indigenous Kitchen, recently won a James Beard Award for best American cookbook for its important work on reclaiming the Native culinary history that has long been buried. Murphy has also interviewed Mariah Gladstone, a home chef, using her kitchen to share indigenous recipes that extend far beyond fry bread.
Gladstone, of the Blackfeet in Montana, created a cooking series called Indigikitchen with recipes and instructional videos that teach people how to cook and eat a pre-contact diet. This means exchanging processed foods for ingredients sourced from the edible landscape, such as wild game or local berries that are traditional diet staples. Her project was "hatched out of the food sovereignty movement," says Gladstone. "Because of the systemized colonization of our diets and this multigenerational shift from traditional foods, a lot of people no longer know how to prepare healthy food. That's where Indigikitchen comes in."
She sees that the missing link in the food sovereignty movement is knowledge, because better access to fresh produce won't help if people don't know how to cook with it. Combining "indigenous ingredients and the modern kitchen, it brings a relevance to ancient foods in ways that foster a sense of connection, but with the nutritional benefits as well," Gladstone explains. "There is room for fry bread, but I want to provide people with a ton of other options."
With grocery stores often sparsely distributed on tribal land, Gladstone has sought to revive traditional food knowledge as a means of providing alternative ways of sourcing fresh food, which can include everything from hunting and fishing, to farming, and foraging for edible wild plants. "On my own Rez," she notes, "my dad's house is about 40 miles away from a grocery store." Beyond nutrition, her mission is also about recognizing where food comes from, promoting a stewardship of the land that goes hand in hand with healthy food and healthy people.
Murphy shares a similar experience: She grew up in the Southwest on the Navajo reservation, which has an area of about 27,000 square miles and, according to Murphy, "there are only 10-13 grocery stores that have fresh food, everything else is like a convenience store." On the stretch of coastal road leading to Pat's Place, there was similarly only a convenience store or limited general store for groceries. A proper grocery store required following that one road into another town.
When Murphy began talking to local Native chefs, she says, "I was surprised to learn how much of the environment is edible here in New Mexico. Now I'm thinking more about what my ancestors used to eat and it's not just fry bread, it's not just the commodity foods everyone talks about. It goes back much further."
Murphy also explains, however, that "you can't just turn away from fry bread and never it eat again." Gladstone echoes this, saying, "We owe our lives to fry bread." But both believe that it's best enjoyed in moderation, emphasizing the historic importance of the food, but also the importance of their people's health, focusing on other traditional and healthier foods that have been erased. As Murphy point out, "It's kind of like making doughnuts. Are you gonna make doughnuts every day?"