Culture
Meet the Youngest Winner of Paris' Grand Prize for Best Baguette
Mahmoud M'seddi, the 27-year old son of a Tunisian immigrant, talks success, youth, and 4 a.m. kneading sessions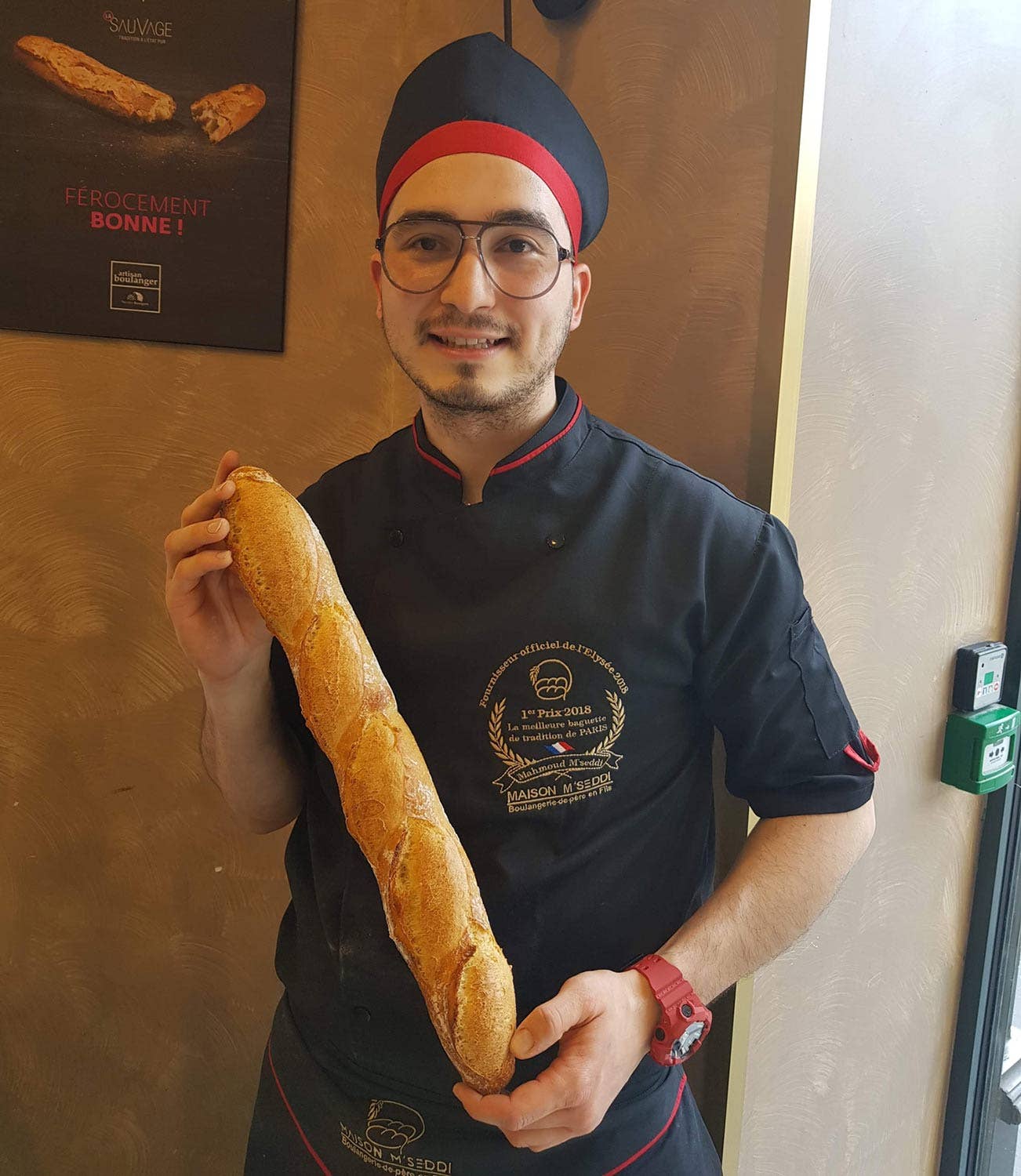 Mahmoud M'seddi answers the video call in a striking black chef's coat and hat, complete with bright red trim. His uniform is spotless despite the fact that—as I soon learn—he's been awake since 3:30 a.m., as he is every day, to ferment, mix, proof, and knead the dough for his baguettes.
M'seddi, the winner of France's 2018 Grand Prize for Best Parisian Baguette—and, at 27 years old, the youngest recipient to date—is dynamic, amiable, and somehow still humble, considering his newfound fame. He owns a small, artisanal bakery in Paris' 14th arrondissement, and beat out 180 other bakers this April in the city's exhaustive competition judged by a panel of baguette experts. (Yes, you can be a baguette expert). The annual tournament grades the baguettes on aspect (appearance), cuisson (baking), mie-alvéolage (texture), odeur (smell) and goût (taste), not to mention strict qualificatory guidelines for size (between 55-65 centimeters in length and 250-300 grams in weight), in order to find a champion that wholly embodies French culture in a single loaf. Needless to say, this competition is treated with the utmost seriousness.
The son of a Tunisian immigrant, M'seddi speaks Arabic in addition to French and English, and he isn't the first winner of the prestigious award with roots outside of France; four title-holders in the past six years have either been an immigrant or the offspring of one, crafting the doughy symbol of Frenchness better than anyone else. But in a country being shaped more and more by its large immigrant population, these victories seem appropriate. As part of a government effort to promote the notion that everyone is equally French, no matter their origins, France does not collect any data on the race or ethnicity of its citizens. While this official attempt at colorblindedness hasn't entirely hindered the racial tensions and Eurocentric sentiments that have plagued the colonizer nation, it is upheld with stereotypical stubbornness. So to the French, M'seddi himself included, a Frenchman won their sacred competition. Simple as that.
Even with the certificate to prove it, M'seddi doesn't like to brag about his win, and he seems almost offended when asked why his baguette stands out above the rest. "I can't say that I am better than others, no. Because it's all like brothers in the world of baking," he remarks, upholding the French tenet of fraternité with earnest resolve. The whole scene couldn't be more French if it tried.
M'seddi refers to his baguettes as his "tradition," a term reflecting both the strict 1993 French law that denotes the specific ingredients and practice for a baguette de tradition, and his father's secret recipe which he has proudly carried into the next generation. While M'seddi has made a few tweaks with the help of his chemistry degree, the family recipe has remained central in the success of his boulangerie. When the elder M'seddi phones in the middle of our interview, the younger quickly jumps off to chat with his father for a few minutes. M'seddi seems somewhat helpless against the loving pull of a man who he says taught him, inspired him, and shaped his career.
Since winning the prize, M'seddi now has the responsibility of delivering baguettes to President Emmanuel Macron at the Élysée Palace for the year. M'seddi is still in giddy disbelief at this recent honor, and he cannot help but laugh to himself when speaking about it. "When I saw the Élysée before, I saw it only on the TV. So when I go now, I feel like a child. It's like a castle," he grins broadly, sporting a similar expression to the one he made while taking a now-notorious selfie with Macron.
The perfection in M'seddi's baguettes stems from his exhaustingly rigourous daily schedule. He gets up every morning around 3:30 or 4 a.m., delivers his baguettes to the President at 6 a.m., works until 2 p.m., and then takes a nap until 4:30 p.m. After recharging, M'seddi returns to work until 8:30 p.m., occasionally returning even later to work on his "tradition" alone without the distraction of the other bakers. Now that he has a little more help around his shop, he is able to take Saturdays and Sundays off, but before winning the prize, he worked every day, relinquishing the late night clubbing culture of the raucous and amorous Parisian 20-somethings for early morning kneading. "I think when you are young, you make a choice," he says, absentmindedly drumming his fingers on the French flag on his chef's jacket. "I see friends make the wrong choice. They want girls, parties, they don't study. When I started, I didn't see my friends, I didn't see anyone. But now… I think I chose the right way."
M'seddi knows that very few young people like himself are so willing to throw themselves into bakery life. Breadmaking requires early hours, physical stamina for kneading and lifting pounds of dough, and a level of patience that few grown adults possess, let alone an energized millennial. Many of the French are worried that without a new generation to run them, the small artisanal boulangeries will be pushed out by chains with limp, pre-frozen copycats. But M'seddi has confidence that a life in the boulangerie is more attractive to young people than most others think. To M'seddi, the artisanal bakery scene is "like a new fashion now," populating Instagram feeds, television programs, and Facebook walls with images of those perfectly shaped, crunchy batons. With the rising media hype, bakery life seems utterly romantic.
M'seddi's path to success was not always a gluten-filled fairytale, though: New to the baking world in his twenties, and yet, at the same time, having grown up in it for his whole life, he was often underestimated, ignored, and told that he was too young—even by some of his own employees. But M'seddi has never been intimidated by the cynics or by the connotations of his youth. Instead, it only pushes him further. Now he plans the expansion of his baguette empire, speaking with a confidence that, after his latest success, no one can brush off as naïveté. In a few years, M'seddi hopes to open another shop in Asia, Dubai, or maybe New York: "Une aventure," as he says. He speaks about his age proudly, believing that it was the catalyst for his past achievement, a signal of all future triumphs, and a model for everyone else. "I think it's a gift because I am an example for young people," he says. "When I win, I show it's possible for all."