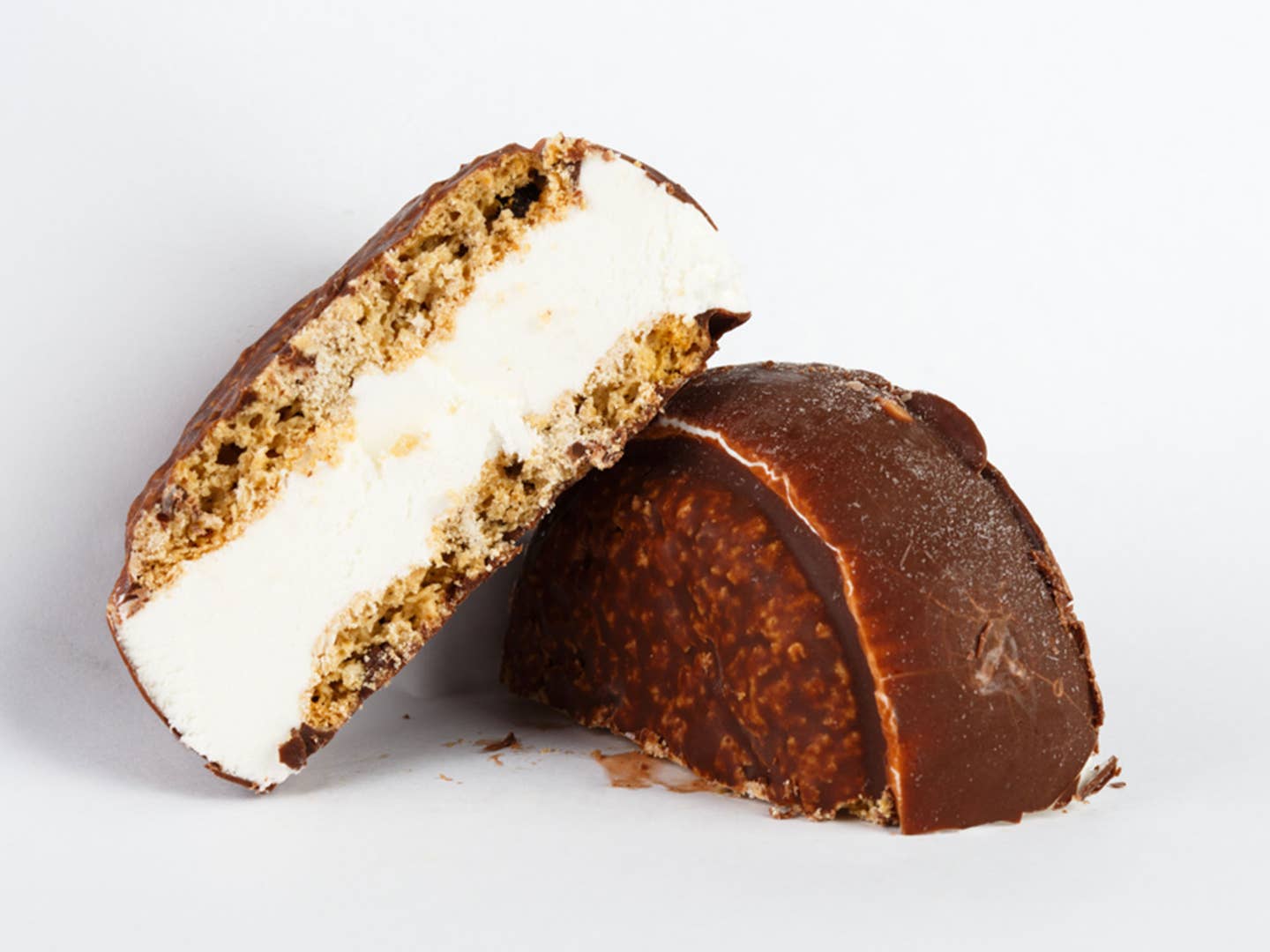 Shopping & Reviews
There's No Better Ice Cream Sandwich Than an It's-It
Step aside, Rice-a-Roni, this is the real San Francisco treat
To bite into an IT'S-IT ice cream sandwich is to evoke the faintest ghost of a lost San Francisco landmark—to remember the old ways in which people used to play, in a city that has transformed itself over and over again.
Invented in 1928 by George Whitney, an owner of the legendary Playland at the Beach (a San Francisco seaside amusement park), the IT'S-IT is a scoop of vanilla ice cream sandwiched between two oatmeal cookies then dipped into chocolate. The IT'S-IT—wholesome and creamy punctuated by a frozen-cookie bite—is an idea so good you wonder why no one had it sooner. I mean, someone probably already did. But it was the enterprising Whitney, nicknamed "The Barnum of the Golden Gate," who gave the snack that confusing yet eye-catching moniker, and made it the confection San Franciscans craved most when they went to the beach.
When Playland at the Beach closed in 1972, George Mavros took over and continued to make IT'S-ITs by hand from a different location in Ocean Beach, and so on until the torch was passed to the Shamieh brothers. By then, IT'S-IT weren't just a sunny day beach treat—they were from the city and for the city and thereby came to represent the city itself, so San Franciscans wanted them whenever, wherever—and the Shamiehs opened a factory in Burlingame to keep up with demand.
Seeing the sign of the IT'S-IT factory, visible from the 101, has always meant a return to San Francisco for me. Sometimes I'd pass it while driving a stank-filled van after days serving sushi in the middle of the desert, so folks like Paris Hilton could get decent salmon rolls in the VIP section at Coachella. Sometimes I'd be returning from a glorious camping trip in Big Sur, my jacket still smelling of campfire, or riding my motorcycle up from Santa Cruz during my short-lived time as a biker, or coming back from an adventure filled with flasks and flannels at the Arata's Pumpkin Farm Hay Maze.
No matter the circumstances, every time I drove past the IT'S-IT sign, usually strung out and gutted from working too hard or drinking too much, I knew that the city of San Francisco was close, and I rejoiced.
I didn't always feel this way. When I first came to San Francisco, I didn't know what an IT'S-IT was. I was 23 years old and had never been further west than Montana. My first years in San Francisco were a struggle, and I worked any job I could get my hands on just to stay in that magnificent city. I learned to appreciate cheap treats, tiny gifts, small blessings. I don't remember eating my first IT'S-IT, handed to me, I'm sure, by a friend who probably said, "Screw Rice-A-Roni, this is the real San Francisco treat"—a joke that I've now heard a hundred times. But I do remember that they became a staple for me, especially as I told out-of-towners about the many wonders of San Francisco.
Soon I found myself making sure that every visitor I had in San Francisco did three things: bought a copy of All Over Coffee by Paul Madonna, drank too much at Zeitgiest, and bit into the deliciousness of an IT'S-IT at least once.
Now I'm a vanilla man, myself. Since its inception, the IT'S-IT has expanded beyond vanilla into a wide array of flavors from strawberry to cappuccino to (of course it had to happen) pumpkin. And although I understand many folks who prefer the cool, crisp taste of mint or the energizing buzz of coffee, there's nothing like the classic, reliable simplicity of vanilla paired with the comparatively jazzier flavors of oatmeal and chocolate. No matter how you take it, though, there's no denying the fact that this dessert—or, a meal, if you live as irresponsibly as I used to—is the best San Francisco delicacy there is.
After spending eight years in the Bay Area, I've since moved back to the East Coast. I'm told that there are IT'S-ITs for sale, somewhere here in New York City, but I never seek them out. No: I wait. I only treat myself to that cold, chunky, chocolatey oatmeal bite—that glorious hamburger-thick ice cream sandwich—when I'm back in ever-changing San Francisco. If I'm lucky, I'm on the road, driving by that factory in Burlingame again, heading down the 101, fingers sticky with satisfaction.
Don't live in San Francisco and want to try one yourself? You can buy 24 IT'S-ITs for $22 from their website.