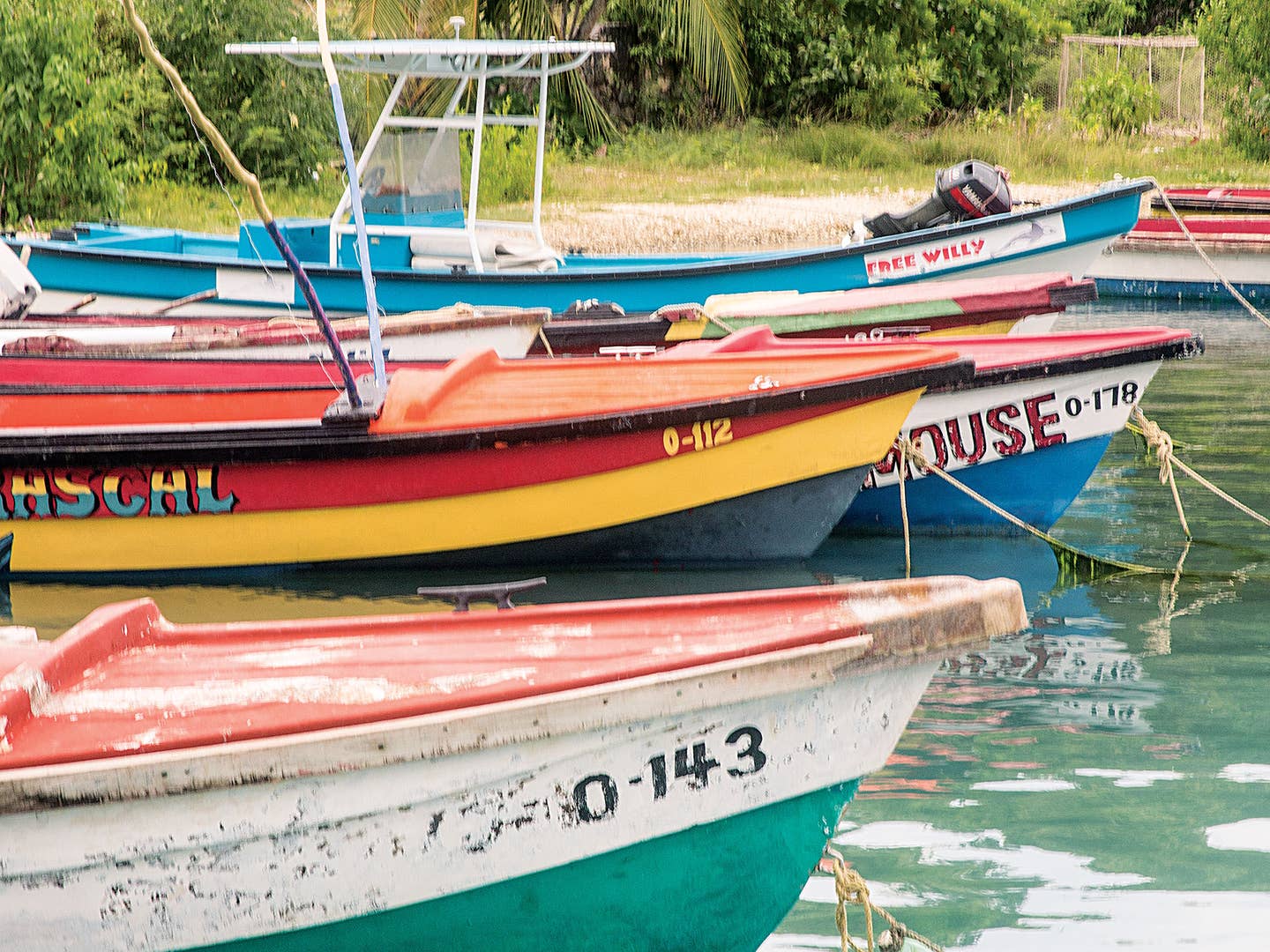 Travel
Reinventing Jamaica
How a music industry icon and a crop of visionary farmers are revitalizing the island's homegrown food scene
Good Taste Award Winner 2015: Jamaica, Transforming Foodways
I've developed a theory about Scotch bonnets," Chris Blackwell tells me, liberally spooning the raw, minced, scorching-hot peppers over the jerk lamb chops on his plate. "They keep the mosquitoes away. I never get touched." He offers me some as we sit for lunch under an enormous guango tree on the grounds of Pantrepant, his 2,500-acre farm in rural Jamaica. I oblige with a pinch, mindful of the heat these little peppers pack.
Blackwell is white, speaks with smooth British diction, and, as a former big-shot music executive who founded Island Records, casually begins stories with otherworldly phrases like "I saw Mick last night" (Jagger, of course, whose birthday he celebrated at a party in New York before flying in). But Blackwell was raised in Jamaica, and when he speaks about food, his undeniable Jamaican-ness comes through. Like every other islander I've encountered, he's quick to praise food not just for its flavor, but for its power. A few days before, Lanky, a fisherman in the village of Oracabessa on the north side of the island, insisted to me that black mangoes make you sweat. A farmer I met in Free Hill is convinced that the roots of the coco plant, a relative of taro, put "lead in your pencil" (tips for enhancing virility come up so frequently they start to feel like prescriptions for a problem I didn't realize I had). And then there are the yellow yams of Trelawny Parish, responsible, according to some, for sprinter and native son Usain Bolt's world-record-breaking speed.
So Blackwell's farm is part bustling green market, part spice rack, and part medicine cabinet. The onetime plantation has cattle and sheep, a small dairy, and a kitchen garden where Blackwell grows his beloved Scotch bonnets along with calalloo (a spinach-like green), herbs, lettuces, and dozens of other fruits and vegetables. His cooks use these ingredients in their versions of the island's iconic foods, all without written records or recipes. And in Jamaican country style, sometimes they brew potions, as I learned earlier that day when I was offered tea and got a giant plant I couldn't identify steeping in hot water. "Bush tea," Blackwell said, smiling.
Mama J, a shy, soft-spoken woman, runs the farm's kitchen (she was taught by Blackwell's personal cook, Talcie Neil, whose recipes she prepares) and her lunchtime feast comes late in the afternoon—according to life on Planet Pantrepant, lunch falls vaguely between afternoon swim time and smoking-pot-on-the-porch time. The charred bits of her grilled, piquant jerk lamb are the tastiest, and I gnaw her fricassee chicken, perfumed with thyme, to the bone. The thick savory gravy from the oxtail, stewed with onions and butter beans, pools under the rice and red beans sitting next to it on the plate—it's an ideal match. These are the Jamaican dishes you read about, the simple, old-style ones with sharp flavors. It's "street food," as Blackwell respectfully calls it, but here I am eating it on a gorgeous estate, rolling pastures unfurling in front of me all the way to the horizon.
For a nation that reveres its local ingredients, its people aren't eating as much of them as they used to. Over the past decades, food imports have steadily risen as domestic tastes have turned toward processed goods. At the many roadside snack shacks throughout Jamaica, sugary bottled drinks are plentiful; homegrown bananas and oranges, not so much.
"When I was growing up, there weren't the foreign options there are now," Blackwell says, with a forkful of rice. "It was all local food. Now Jamaican food is not as accessible to Jamaicans because of the imports, which in many cases are mass-produced and cheaper."
Blackwell, a hospitality magnate with six hotels on the island, is doing his part to make Jamaican food a central piece of the Jamaican tourism story. He is the cuisine's booster—supplying the kitchens at his resorts with domestically grown crops as best he can, and serving refined versions of Jamaican food without gentrifying it. "Jamaican food isn't suited to be 'designed' food," he says. "It's kind of a workman's lunch—some rice and peas, some plantain. When people give it a 'designed' aesthetic, it looks silly."
Other farmers, such as Chris Binns, are turning back to the land not just to promote Jamaican food, but to reinvent it. At his farm, an operation called Stush in the Bush ("stush" being Jamaican slang for chic), he and his wife, Lisa, grow standard Jamaican fare like ackee and okra, but also locally less familiar crops like arugula. For their on-site farm-to-table dinners, Lisa, raised in Brooklyn, uses local tomatoes to make sauce, smears it on grilled bread, and adds caramelized onions, corn, pineapple, and cheese for a novel Jamaican pizza.
After lunch, Blackwell disappears in his house for some hours, re-emerging at intervals throughout the afternoon for a quick chat or to listen to the music constantly playing through a Bluetooth speaker—he is currently into Chronixx, a local Jamaican reggae artist whom Blackwell has signed. Lion, a Rastafarian whom Blackwell lets live on the property, unburdened and unencumbered, stops by to say hello. "Lion knows all the plants," Blackwell says. "If you have an ache or pain, he'll go out and in thirty minutes have something to fix it. And it'll work."
At Pantrepant, dinner is late and light: a bowl of soup and some toast. Often it's Mama J's pepper pot soup, a spicy broth of puréed calalloo with hunks of Jamaican yam, served in frilly English teacups with saucers. I hear the rumblings of stormy weather and ask Blackwell if it's the rainy season. He rejects the assumption of my question: "In the tropics, the seasons aren't like they are up north," he says. Of course, because it's never not sunny in Jamaica. "Here, there's mango season and star apple season," he says. "I love soursop season. They have the best juice. It's very good for your brain."