Banana Fritters with Cinnamon-Sugar and Rum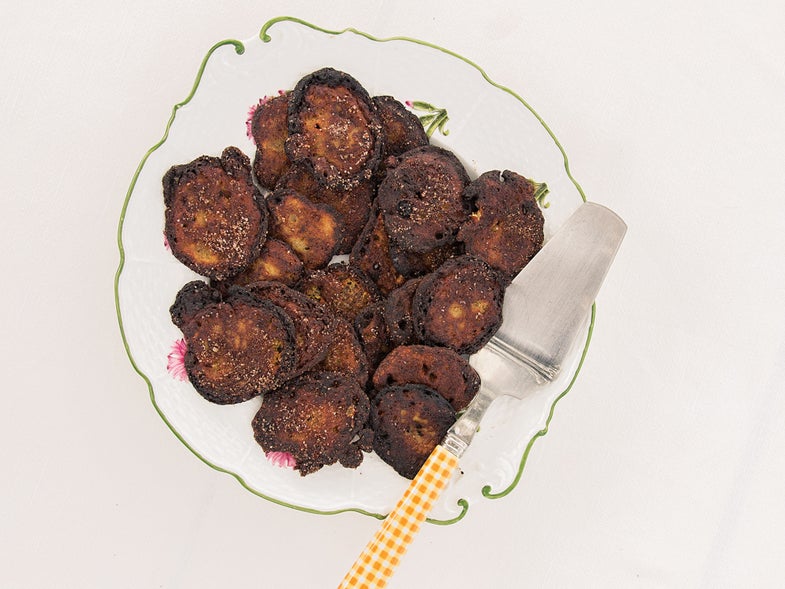 Use very ripe organic bananas for these silver-dollar-size fritters, as they will mash the best and create a smooth, sweet batter.
Featured in: Reinventing Jamaica
Banana Fritters with Cinnamon-Sugar and Rum
Like ultimate silver-dollar banana pancakes, these Jamaican fritters make an excellent side dish to quell spicy foods; or an easy breakfast/dessert treat.
Time: 20 minutes
Ingredients
3 ripe bananas (14 oz.), peeled
1⁄4 cup all-purpose flour
2 tbsp. packed dark brown sugar
1 tsp. fresh lime juice, plus more lime wedges, for serving
1 large egg
Kosher salt
1 tbsp. granulated sugar
1 tbsp. ground cinnamon
1⁄4 cup vegetable oil
Dark rum, for serving
Instructions
In a medium bowl, mash the bananas with the flour, brown sugar, lime juice, and egg until smooth, and season lightly with salt. In another bowl, stir the granulated sugar with the cinnamon.
In a 12-inch skillet, heat the oil over medium-high. Working in batches, drop tablespoonfuls of batter into the oil and cook the fritters, turning once, until dark golden brown, about 4 minutes. Using a slotted spoon, transfer the fritters to paper towels to drain, and then toss with the cinnamon sugar until evenly coated. Serve hot and drizzled with rum.