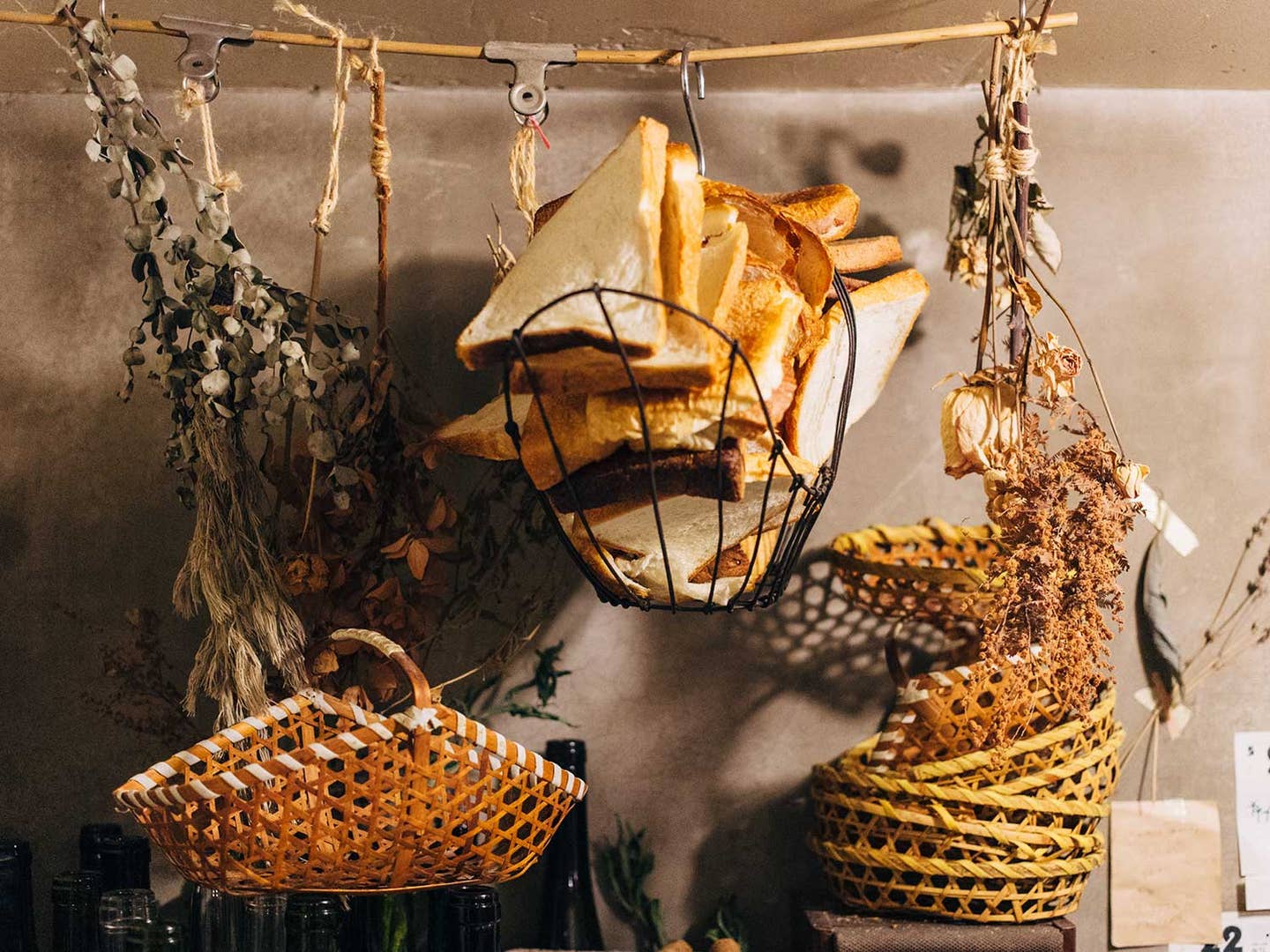 Travel
Japan's Bread Shokunin
These artisan Tokyo bakers are redefining what it means to make Japanese bread
Grassy yomogi (mugwort) croissants; soft Viennese baguettes filled with anko (red bean paste); funky dinner rolls leavened with sake lees; pain de campagne made with wild yeast and ancient grains—these are some of the leavened delights you can expect when you visit one of Japan's artisan bakeries.
It may come as a surprise given the rice-based reputation of Japan, but wheat has been cultivated in the country since the Yayoi period (300 BC – 300 AD). However, it wasn't until Portuguese missionaries arrived in 1543, spreading not only religious but also culinary inclinations, that the Japanese began turning the grain into leavened bread.
The trend was initially a brief one. With the ensuing Edo period, and its staunch prohibition of foreign influence, bread all but disappeared from the island nation until the 19th century. The rise of the Meiji Restoration in 1868 pushed a fierce agenda of "Westernization"—a key part of which was a more Western diet—and bread became a staple.
The first bakery in Japan was Kimuraya Main Store, which was established in Ginza in 1869, where it still exists today. Kimuraya created bread for the local palate, leavening their loaves with sakadane, a starter from koji mold and rice, and filling buns with traditional local ingredients such as anko (sweet red bean paste). But decades of war and industrialization meant that the majority of Japanese bread, until recently, came in the form of mass-produced, highly processed supermarket loaves.
Thankfully, Japan is now in the flourishes of a pan renaissance. In progressive cities and rural areas, artisan bakers are producing breads and pastries using domestic, often organic ingredients, with a distinctly Japanese twist, and are approaching their craft with humble shokunin, or "artisan" tenacity so prized in Japan. Tokyo in particular boats an impressive artisan baking culture, including a bi-annual Pan Matsuri (bread festival).
Shifting Perspectives: Health and Provenance
Shogo Wada, one of the owners of "bakery and neo-brasserie," Blanc, remarks on an evolution not just of Japanese tastes, but also attitudes towards food. "Originally, Japan is a rice culture," he acknowledges, "but the generations who grew up eating bread are beginning to doubt the additives contained in bread from large chain stores, and are shifting towards bakers who make their own original bread, and use healthier, organic ingredients".
Maiko Nishikouji, who organizes Pan Matsuri, explains that the knowledge and number of artisan bakers in Japan, as well as their customer base, is expanding. "For the customers, it's not just about enjoying the final product, it's also about recognizing the background of the ingredients, and the background of each person that is expressed through their bread-making."
An increasing interest in the origin of products may not be unique to Japan, but Japanese artisans acknowledge an additional motivating factor that is particular to their country—the psychological aftermath of recent natural disasters, and the latent awareness of living on the intersection of three tectonic plates.
"I believe that the Japanese bakery world has greatly shifted after the 2011 earthquake," says Daisuke Katane, owner and baker of Katane Bakery, "there's more focus on local, organic, farm-to-table, and minimizing waste. People seek more connection with the ingredients—both bakers and consumers".
Local Ingredients & Honoring Washoku
In an effort to build community and solidarity within the local supply chain, some artisan bakers travel throughout the Japanese countryside to connect with farmers who share their passion and perspective. Mikio and Mako of Levain, a bakery that has been using organic Japanese wheat for over 20 years, visit their farmers and millers regularly. Daisuke uses several different strains of Japanese wheat, and he visits his farmers and millers often as well. Shinobu Namae, owner of Bricolage Bread & Co, also works with domestic grains; he sources wheat and rye from Hokkaido, spelt from Shiga, and a few other wheat varieties from Ehime and Chiba. "We cherish our relationships with artisanal farmers," he explains, "and are here to support them."
Japan's chameleon-like cuisine often integrates foreign concepts and culinary techniques, and its artisan bakery scene is no exception. Breads and pastries made using domestic ingredients, and featuring distinctly Japanese flavor combinations are extremely popular. After Kimuraya Main Store's creation of the beloved anpan (red bean paste bread), other Japanese bakeries developed their own local recipes, including kare-pan (curry bread), melon-pan (bread that resembles the dappled skin of a melon), and the ubiquitous, fluffy white shokupan. Japan's artisan bakers aren't shunning these quirky fusions for sourdough, pain de campagne, and whole wheat croissants; rather, they're honoring Japan's baking traditions by continuing to innovate and evolve, and by celebrating domestically-sourced ingredients.
Namae tailors his products to the local market by using local flour and flavorings, including soy sauce, miso, kinako (powdered, roasted soy beans), and matcha. One of Bricolage's best-sellers is the iburigakko pan, a foot-long chewy breadstick dotted with pieces of pickled, smoked daikon, an ancient specialty of the Akita region.
Tsukasa Miyawaki, the 27-year old sourdough specialist behind Vaner, finds that his customers make clear connections between his rustic, Norwegian-style sourdough loaves and traditional Japanese cuisine. When describing his signature sourdough loaf, he explains that "the crust tastes like shoyu senbei (soy rice cracker), and the texture of the inside is mochi mochi (soft and chewy)".
While the process of transforming wheat into bread was introduced by the Portuguese, the concept of fermentation has long been a part of Japanese cuisine, in which it is used to make miso, soy sauce, sake, mirin, vinegar, and tsukemono (fermented pickles). Pan Matsuri's motto—"The Power of Bread, The Power of Fermentation"—honors that heritage and Tsukasa has a similar reverence for the fermentation process. "We focus on fermentation to unlock the flavor of quality ingredients," he explains. The bakery's open kitchen is designed is to spark curiosity about bread and the bread-making process in his customers—a curiosity which, he believes is "essential to having a deeper understanding about sourdough—why we ferment longer than other bakeries, and why [our bread] tastes different from commercial breads."
Leveraging this understanding of fermentation, and in an effort to minimize waste, Namae has gone a step further—a portion of Bricolage's leftover bread is being sent to the Nagano-based Anglo Japanese Brewing Company, where it is being transformed into a new craft beer. "The test batch is going well," Namae says with excitement, "and will be released soon".
A brimming food agenda is a given when visiting Japan; with the rise of excellent artisan bakeries across the nation, the list of must-visits is growing both in volume and in cultural insight. Read on to learn more about some of Tokyo's best bastions of bread.
The queues that wind out of Katane, a tiny French-inspired bakery on a residential Yoyogi-Uehara backstreet, indicate its cult following. Wooden boxes at the counter brim with a selection of the day's freshly baked baguettes, and glass displays are stacked with both sweet and savory seasonal pastries: flakey apple kouign amann, crisp cherry tarts, airy quiches, and delicate butter croissants.
Owner and head baker, Daisuke Katane opened Katane in 2002, and although he has been baking bread for 20 years, he continues to test and experiment daily in order to constantly improve upon his craft. "I believe that changing everyday brings passion and excitement." On the bakery's lower level, Katane Cafe is run by Daisuke's wife Tomoko, who welcomes locals for breakfast, lunch, and the occasional natural wine popup.
Expansive and elegant, Bricolage Bakery & Co. is the work of Shinobu Namae, owner-chef of two Michelin-starred French restaurant L'Effervescence, in collaboration with Ayumu Iwanaga of Osaka Bakery, Le Sucre Coeur, and Fuglen Coffee Roasters.
Bricolage & Co combines a bakery-cafe and a small secluded restaurant. The long display counter of the bakery is artfully stacked with the day's selection of breads and pastry—loaves infused with hojicha (toasted green tea) or studded with heirloom grains and seeds; maitake mushroom tartes flambées; glossy pastry "escargots" swirled with fruit and nuts.
The design of the bakery was inspired by a Showa-era factory—vast industrial spaces that buzzed with Midcentury manufacturing. But Bricolage's take is distinctly contemporary: its towering concrete walls are sleek but soft, decorated with dried flowers and shelves of cookbooks by industry icons like Bar Tartine and Alice Waters. The deck that expands from the bakery perfect for enjoying your purchase al fresco, with an aromatic cup of Fuglen coffee. The cozy restaurant is tucked behind a door at back of the bakery, replicates the interior of a traditional Japanese house, and offers more upscale bread-based cuisine like sourdough toast topped with poached salmon, fermented cabbage, beet, soured tofu cream, and ikura (salmon roe), and a selection of natural wines.
Levain Bakery opened to the public in 2000, at which point owner Mikio Koda, a former teacher and competitive extreme skier, had already been baking for nearly 20 years.
The cosy, brick-and-dark timber-bedecked bakery is located in a residential area of the hipstery Tomigaya neighborhood. Mikio's products are all made using a minimum of 25% whole wheat flour, and are leavened using exclusively wild yeast cultivated on-site.
The selection varies seasonally, but popular perennial items include an earthy pain de campagne, dense, dried-fruit filled "melange" loaves, and rich whole wheat butter croissants.
Many of Levain's products can be bought by the gram, which encourages local regulars to come in on a daily basis. "The most precious thing is connecting the neighborhood," Mikio explains. "It creates understanding and support, and a good mood within the community."
This tiny bakery in the historical Yanaka district mixes the clean, open-plan design of Oslo's Ille Brød, where owner Tsukasa Miyawaki trained, and traditional Japanese architecture.
Vaner specializes in Norwegian-style sourdough, which Tsukasa makes using a combination of domestic wheat and heritage Norwegian grains. The signature sourdough loaves are baked to a dark and chewy mahogany; inside, the crumb is moist, with characteristic notes of acidity, sweetness, and umami.
Vaner sells only a handful of different items; in addition to Tsukasa's signature sourdough, be sure to try his potently spiced sticky cinnamon and cardamom scrolls, and the earthy sourdough croissants.
Situated on an unassuming side street in the upmarket Toronamon business district, Blanc is the creation of baker, Shoga Wada, and French-trained chef, Yohei Otani. The pair opened Blanc in an effort to combine their mutual love of Parisian dining culture and Japanese cuisine with artisan bread and natural wine.
The result is a charming, Parisian-style bistro, complete with a mirrored wall, red leather banquettes, and shelves lined with wine bottles and French culinary bric-a-brac. In the morning, the shop is a bakery; the bread selection includes products like kawara ("roof tiles")—pain de campagne named after the traditional Japanese tile its shape resembles, and anpan—round white buns filled with sweet red bean paste.
By night, dinner service is in full swing, with a seasonal à la carte food and beverage menu that changes daily.