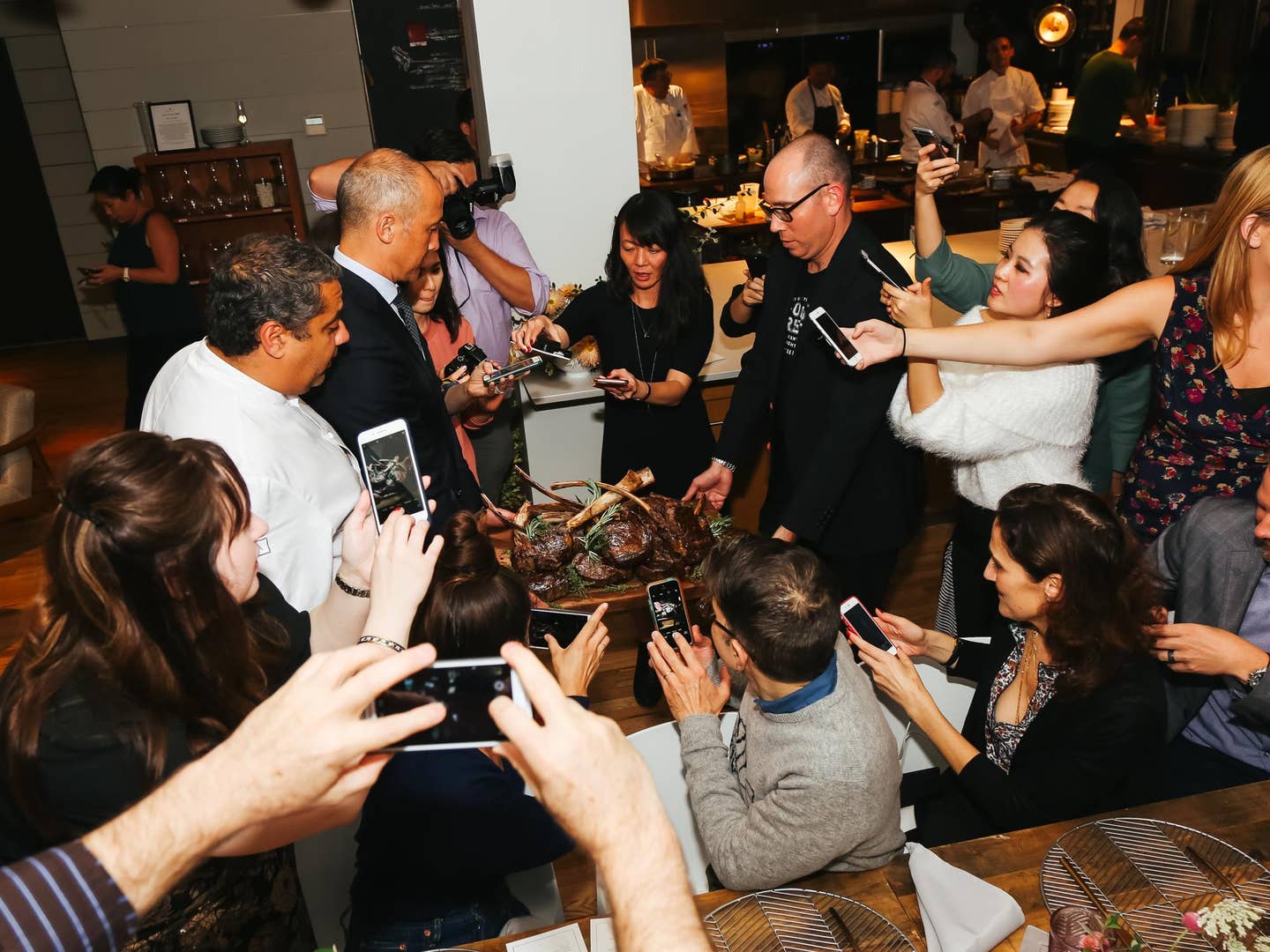 Culture
Scenes From Our Saveur Supper With Chef Michael Mina and JW Marriott
The chef and hotel hosted a meaty mega-meal in honor of their new Nashville partnership
When chef Michael Mina and his team of chefs rolled into the Saveur Test Kitchen wearing pristine white coats and wielding 30 dry-aged tomahawk steaks, we knew it was going to be a good night. The San Francisco-based icon has restaurants all over the US and Dubai, including Bourbon Steak, one of his flagship restaurants, now with multiple locations across the country. Mina and his team spent two nights at Saveur headquarters sharing details and a sneak peak of the food at his latest spot, the Bourbon Steak opening in the forthcoming JW Marriott hotel in downtown Nashville, TN.
The night started with Wild Turkey 101 brought in by the case, stirred into a cocktail mixed with amontillado sherry, curry powder, cinnamon, and bitters. Then came playful bites of raw scallop, jicama, and cilantro, which we shot back with spritz of lime for "instant ceviche."
Things came back into Tennessee territory with buttermilk drop biscuits and Benton's ham, topped with hefty dollops of briny Osestra caviar. The chefs followed that with a delicate sugar-pumpkin soup with sweet nibs of roasted king crab and crunchy pepita seeds.
While we could have easily been satisfied eating just the next dish—a perfectly cooked pillow of wild striped bass with cara cara oranges and a pairing of pinot noir, we were all waiting for the big reveal: 45-day-aged tomahawk steaks, over an inch thick with some of the prettiest marbling we'd ever seen, and bone-handles over a foot long. Chef Mina's team did them justice, serving slices of them with a crispy sear and bright magenta centers, slathered in a bone marrow red wine butter.
For those who could still see straight, the night ended with one of chef Mina's favorite signature desserts, individual banana tart Tatins with maple bourbon caramel and—oh yes—white truffle vanilla ice cream.