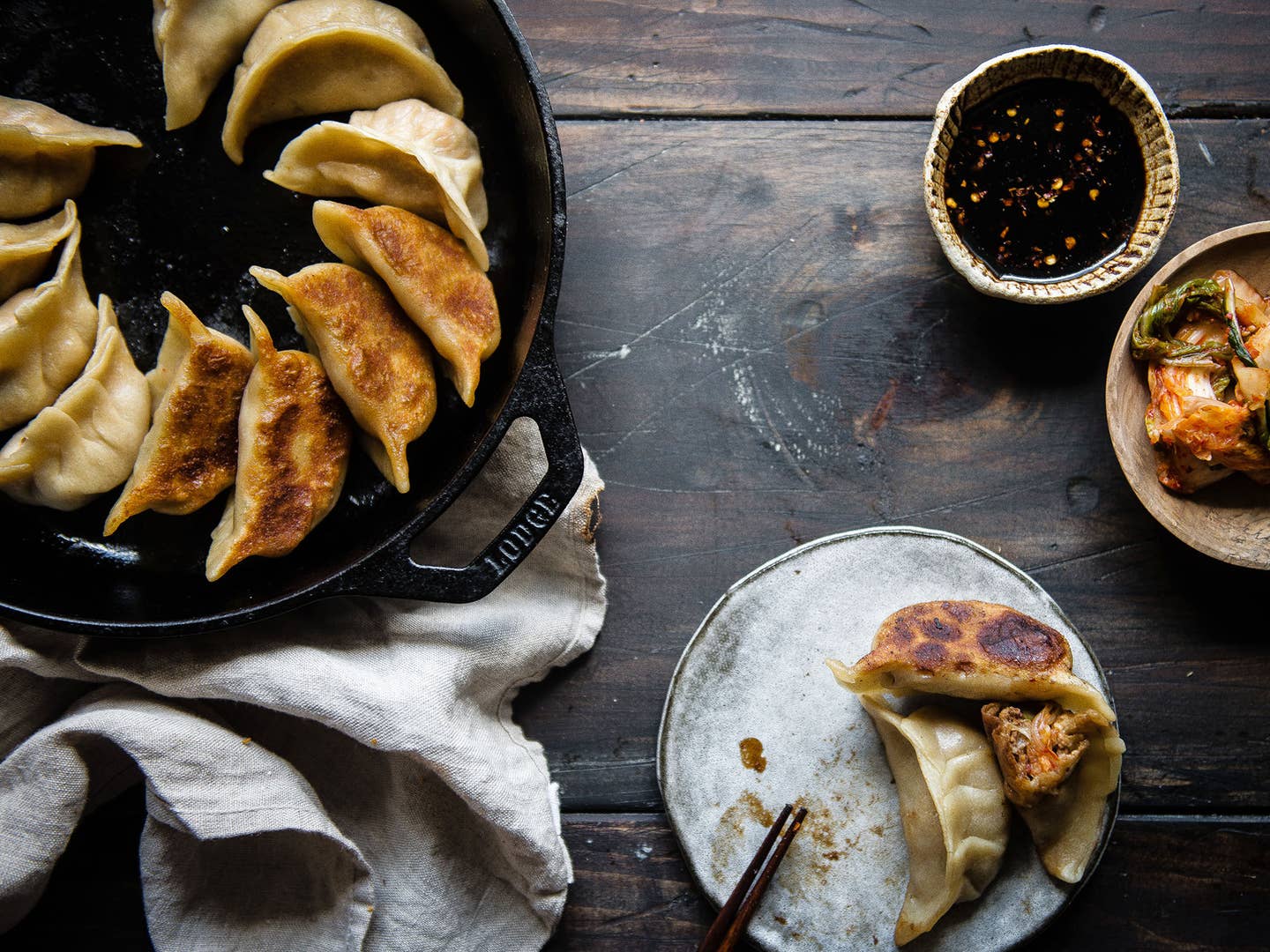 Culture
Why Thanksgiving Now Means Potstickers
An expat meal abroad becomes a new homespun tradition
Thanksgiving isn't just a meal, and it's not just one kind of holiday. So every week in November we're sharing Thanksgiving #saveurtraditions from friends of SAVEUR. First up: Cynthia Chen of Two Red Bowls on her Thanksgiving staple: pork dumplings.
The first Thanksgiving my husband (then-boyfriend) and I ever spent together was in a tiny studio in Hong Kong. It was our final year of law school, and just after we started dating, I'd left to study abroad for a semester while he stayed in Boston. In a defiant stand against our extra long-distance status, he flew halfway around the world to celebrate the holiday with me. Most of the trip was devoted to exploring the rich, myriad foods that Hong Kong has to offer, from glistening, ruby-red char siu to fish ball skewers dipped in electric-yellow curry sauce. But for Thanksgiving itself, we thought it was only fitting to hunker down at "home," in my little temporary apartment.
With an alcove of a kitchen that boasted one working burner and no oven, our Thanksgiving dinner was a funny one, cobbled together from takeout, instant noodles, and one gigantic bag of frozen dumplings. We dove into our feast sitting cross-legged on the floor, with pillows repurposed as chairs and my end table as our miniature dining table. But despite (or because of) its makeshift nature, it was one of the best meals I've ever had—a celebration of our new relationship and a giving of thanks for new sights, travels, and experiences. And most importantly, it was totally delicious.
Since that dinner, Thanksgiving potstickers have stuck with us. Back in the comforts of my own kitchen, I've started making my own potstickers instead of buying them, and found that they're both easy and rewarding. Homemade wrappers have a pliant, satisfying chew, and dumpling fillings are endlessly adaptable, from traditional pork to mushroom and cabbage to seafood. A recent favorite of mine is a pork and kimchi; not only does my half-Korean husband have a special fondness for the pickled cabbage, but it reminds me of a spectacular kimchi dumpling I used to get at a cafe not too far from that same old studio in Hong Kong.
Making the potstickers is simple enough, but between rolling out the wrappers, pleating them into dumplings, and frying them batch by batch, it can take a little time and patience. In a way, that's why I love them for Thanksgiving—they're perfect for an afternoon with friends or family, gathered around the dining table in a dumpling assembly line. If you're pressed for time, you can always opt for store-bought wrappers, or make them ahead, freeze them (uncooked) in a single layer on a baking sheet, and then seal them in a Ziploc to fry up later. If frying from frozen, simply add a few minutes to the steaming time below.
To me, these potstickers are a reminder of both from where we have come, that first little Thanksgiving in Hong Kong, and where we're going, a combination of my Chinese roots and his Korean ones. It's a new tradition, not one passed down over generations—and in some ways, I love it even more for that.