Pork and Kimchi Potstickers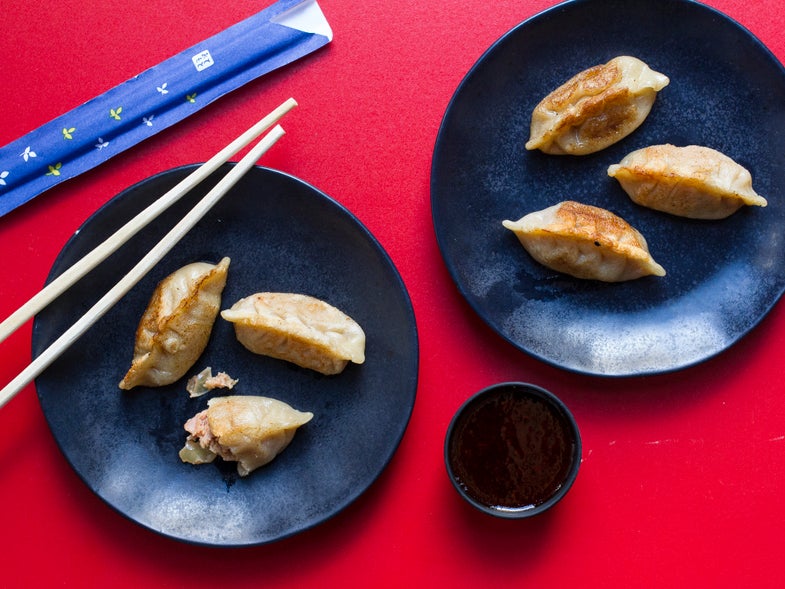 Homemade dumplings take some work, but they're worth the effort for a rich pork filling livened up with funky kimchi.
Featured in: Why Thanksgiving Now Means Potstickers
Yield: makes 32 dumplings
Time: 1 hours 30 minutes
Ingredients
For the Dumplings
2 cups (10 oz.) all-purpose flour, plus more for dusting
1⁄2 tsp. kosher salt
3⁄4 cup boiling water
8 oz. ground pork
1 cup store-bought kimchi, finely chopped
1 tbsp. soy sauce
1 1⁄2 tsp. finely grated ginger
1 1⁄2 tsp. toasted sesame oil
1 1⁄2 tsp. Shaoxing rice wine
1 1⁄2 tsp. sugar
1 clove garlic, minced
1 scallion, minced
1 tbsp. cornstarch
3 tbsp. vegetable oil
For the Dipping Sauce
3 tbsp. Chinese black vinegar
2 tsp. chile-garlic paste
1 tsp. soy sauce
1⁄2 tsp. toasted sesame oil
1⁄2 tsp. sugar
Instructions
Make the dough: Combine flour and salt in a large bowl; add water and, using a wooden spoon, mix until it just comes together. Transfer dough to a lightly floured work surface and knead until smooth. Transfer to a bowl and cover with plastic wrap; let sit at room temperature for at least 15 minutes.
Make the filling: Combine pork, kimchi, soy sauce, ginger, sesame oil, rice wine, sugar, garlic, and scallion in a bowl and mix well; sprinkle the cornstarch over and mix again until combined. Cover with plastic wrap and marinate 30 minutes.
Make the dipping sauce: Whisk vinegar, chile paste, soy sauce, sesame oil, and sugar in a bowl. Set aside.
Divide dough into 4 balls. On a lightly floured surface, and working with one ball of dough at a time, roll dough into a 10-inch circle, about 1⁄8-inch thick. Using a 3-inch round cutter, cut out 8 circles. Transfer circles to a parchment paper-lined baking sheet and place parchment in between each layer of wrappers.
Working with one wrapper at a time, put a tablespoon of pork filling onto a wrapper, fold wrapper in half, and seal it with water, or follow instructions for forming dumplings into the traditional pleated crescent shape. Transfer each dumpling to reserved baking sheet; cover with a kitchen towel.
To cook the dumplings, heat 1 tablespoon oil in a large wok over medium-high heat; working in 3 batches, cook dumplings, turning as needed, until golden, about 2 minutes. Add 2 tablespoons water and cover; steam for 4 minutes, or until cooked through. Transfer to a baking sheet and keep warm. Serve warm with the dipping sauce.