Kinston, North Carolina is the South's Next Great Food Town
Beyond Vivian Howard's restaurants, new ventures—a taqueria, a brewery, a boutique hotel—are revitalizing the town's commercial district, and bringing in tourists. Here's a look at a food destination in the making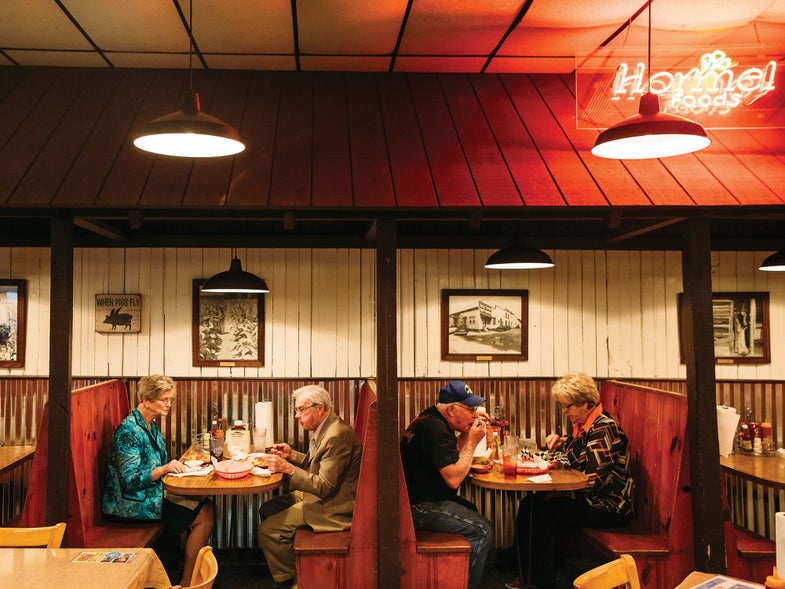 As you dip south of Raleigh, cruising eastbound on U.S. 70 toward Atlantic Beach, look around and you'll see low-lying solar farms, strip-mall churches, and no lack of Bojangles'. Soon the highway links up with the North Carolina Barbecue Society trail, and around Goldsboro the aroma of hardwood coal settles in. Then, it's only 25 more miles before you get to Kings Restaurant, "the home of the Pig in a Puppy." A quarter pound of hand-chopped whole hog laid under a mess of vinegary slaw, the pig is squished into a superabsorbent hoagie of a hushpuppy—the sweet cornmeal fritter stretched out, pressed flat, and fried crisp to order. Welcome to Kinston, North Carolina.
The storied tobacco warehouses downtown that made the nearby farmers rich—and at night doubled as dance halls for Cab Calloway and Ray Charles during the town's midcentury heyday—are long razed or shuttered. But the spirit of Kinston's townspeople hasn't collapsed. Inspired by lunch counters that have served the town for generations, the community has regained its appetite for hospitality. Greasy dough burgers are still a staple at Lovick's Cafe, steamed Frosty Morn hot dogs remain a day drinker's delight at Captain's Corner, and a new generation of local restaurateurs, led by chef Vivian Howard, are making destination-worthy food their focus.
Ten years ago, Vivian Howard's New York City life was golden. The Deep Run, North Carolina, native worked at Jean-Georges Vongerichten's Spice Market and earned extra cash selling soup out of her kitchen with her husband, Ben Knight. Still her parents made her an offer: Come home, build a house on the family farm, and start a restaurant in a dilapidated mule stable downtown. The couple accepted, and in 2006 they opened Chef & the Farmer, where they cook some of the best pig and produce in the region. "I started exalting the food of Eastern Carolina as a means to connect with the locals," says Howard, and in 2013, PBS premiered A Chef's Life, a show championing Howard and her engagement with the region's ingredients.
While Howard has been restoring Kinston's soul, Stephen Hill is restoring its bones. As a boy, Hill got his hands dirty working for his father's construction company, spending summers cleaning bricks from job sites. His uncle played bad influence, sneaking Hill sips of Red Eye, beer blended with the juice of his mother's canned tomatoes. Hill's love for that drink gave birth to Mother Earth, the brewery, distillery, and taproom he and his son-in-law opened in 2008, finally giving visitors a place to go before dinner at Chef & the Farmer.
One day, Hill found himself on the brewery's roof, gazing out toward a derelict mill village on the fringe of downtown: "I saw this boarded-up house, and I couldn't look at it falling down for the rest of my life, so I bought it. Then I realized I couldn't ignore the surrounding boarded-up houses either, so I decided to form a community." Hill founded smART Kinston, a nonprofit tasked with buying up and making over the old neighborhood as an artists' colony. Hill's commitment to the arts has led Kinston to become home to the state's largest public art collection. Just this spring, sculptor Thomas Sayre dedicated Flue, a series of seven 30-foot-tall concrete tobacco barn facades, raised on the long vacant grounds of the former Brooks Tobacco Warehouse from which they were cast.
Hill spent $2 million restoring the Farmers & Merchants Bank, which he reopened as The O'Neil, a seven-room boutique hotel. It's just a roll from bed and a short walk away to Queen Street Deli, where Vivian Howard's sister Leraine serves scratch biscuits from a recipe she learned from a longtime bricklayer. While the old Standard Drug #2 is no longer, it's been reopened as the Hawk's Nest, and its new owners took care to reproduce the original soda shop's orangeade and root beer floats. And at Olvera Street Taqueria, local catfish is fried and wrapped in handmade corn shells from a tortilleria down the road.
For Howard, the culinary renaissance of Kinston has been all about local pride. "What I've learned," she says, "is that by raising our food traditions up, shining a light on them, and validating them, we've been able to give people a pride in the place they come from, a place they have too often apologized for."
Where to Eat
The Captain's Corner
3711 Plaza Blvd, Kinston
(252) 522-5559
Chef & the Farmer
120 W Gordon St, Kinston
(252) 208-2433
Hawk's Nest Café & General Store
100 S Queen St, Kinston
(252) 686-6149
Kings Restaurant
3405 E New Bern Rd, Kinston
(800) 332-6465
Lovick's Cafe
320 N Herritage St, Kinston
(252) 523-6854
Mother Earth Tap Room & Beer Garden
311 N Herritage St, Kinston
(252) 208-2437
Olvera Street Taqueria
212 W North St, Kinston
(252) 686-5040
The O'Neil
200 N. Queen Street Kinston
(252) 208-1130
Queen Street Deli
117 S Queen St, Kinston
(252) 527-1900
More North Carolina