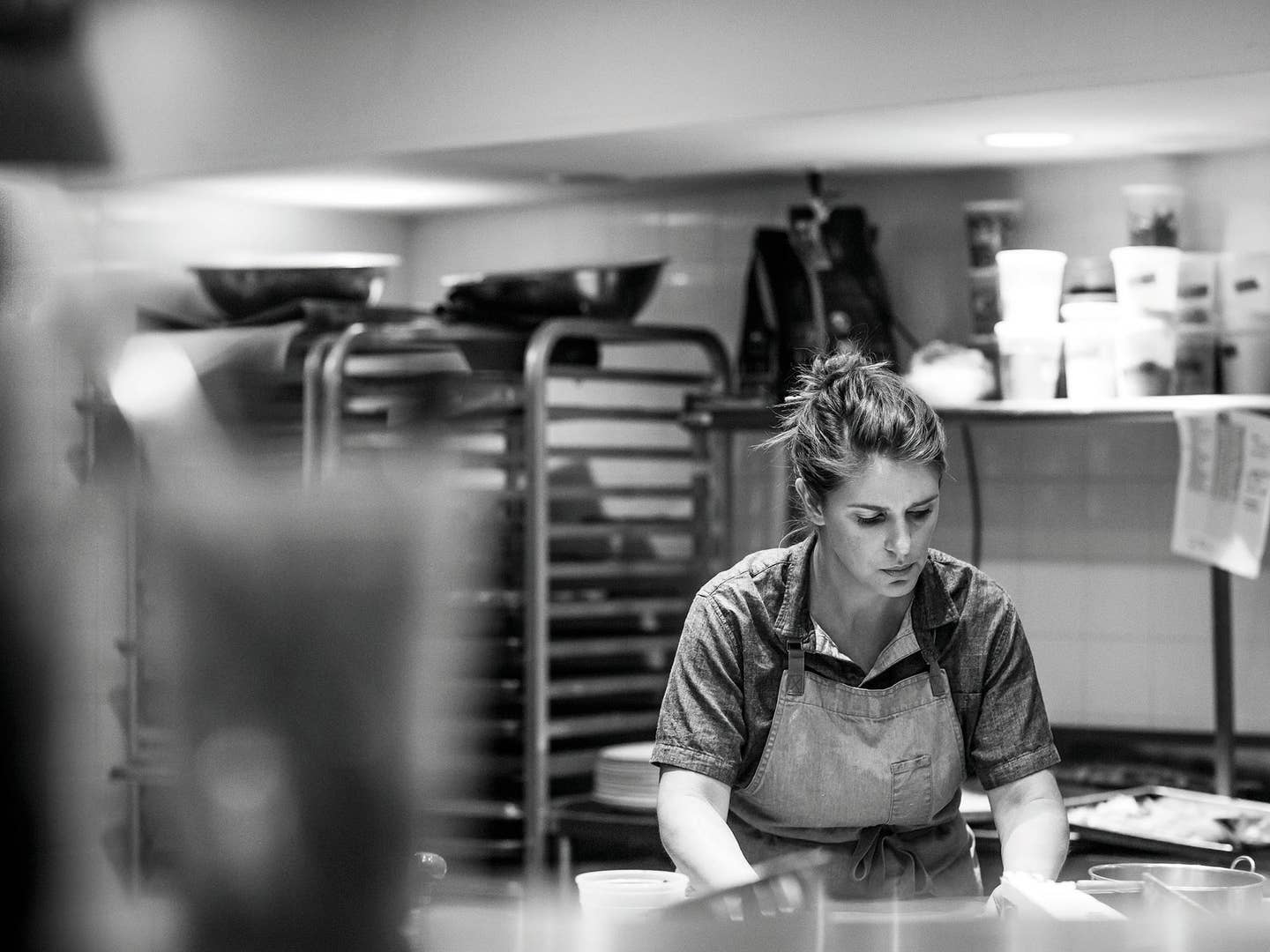 Culture
The First Lady of Carolina Cooking
How 500 pounds of blueberries—and returning home to the South—gave new life to chef Vivian Howard
This is how the blueberry helped me find my voice.
When we opened Chef & the Farmer in Kinston, North Carolina, Kinstonians made a lot out of my pedigree. A small group of people were thrilled that a local girl, trained in New York, came home to open a restaurant, but most people were a little suspicious. Both groups believed I brought back with me a different notion of how to cook, a revised palate, and a penchant for the sophisticated. What I brought back, unfortunately, were just other people's recipes. I had no sense of the type of food I wanted to cook. And I certainly had no idea how to use food, particularly the food of my childhood, to connect with people.
I didn't grow up at my mother's hip making biscuits or elaborate Sunday lunches. I was instead busy plotting my grand exit from the middle of nowhere, Deep Run, a tiny farming community about halfway between Raleigh and the Atlantic Ocean. If you call Deep Run home, you either live on or adjacent to a farm. No stoplights, no strip malls. And I had big dreams, the kind I believed you could never realize in a community that housed more pigs than people.
I moved away for school and ultimately landed a job in New York City. After a stint in advertising, I began to work in restaurant kitchens, where I met my husband, Ben Knight, a painter who dressed in leather and chains and worked at the restaurant as a server to pay the bills. From our apartment in Harlem, the two of us opened a soup business, delivering to our customers on days off from our other jobs.
One winter during a visit to Deep Run, my family suggested we move back home to give our soup business a North Carolina storefront. Upon our return to a frigid New York, Ben and I trudged through the snow and up four flights of stairs only to discover our heat was broken—and decided it was time for a change.
I live now on the same winding rural road where I grew up and go to work each day 15 miles away in Kinston, where we opened our restaurant in 2006. The first year, we did fine. I made seasonal, tweaked versions of other people's food, and it was pretty good. Did James Beard rise from the dead to give me a medal? No. But at the time, I wasn't embarrassed by any of it.
Well into the next year, my dad called to say he had a blueberry connection who was ready to make a deal.
A note about my dad: John Currin Howard, like a lot of men, loves a good project. But when most men would settle for fixing up an old car or building a fence around the property, my dad would move two dilapidated homes from opposite ends of the county to our family farm, connect them with a hallway, and make it his nap shack, which Ben and I moved into when we came back home. That's my dad's type of project.
So when John Currin told me he had a source for blueberries, I knew one thing: I was going to be buying a lot of blueberries. That Saturday, just before dinner service—the absolute worst time to receive a massive produce delivery—my dad showed up with 500 pounds of them.
Even if I had a crew of five people dedicated only to those berries, there wasn't enough working refrigeration in all of downtown Kinston to store them. So the berries sat out in the heat, boxes stacked on top of one another. The next day, Ben and I woke up to a quarter ton of blueberries past their prime.
This was before you could go to the Internet and learn how to pickle a pine tree, so I put my nose in The Inn at Little Washington Cookbook by Patrick O'Connell and stumbled upon a recipe for blueberry vinegar. It sounded good, so that's what I made. Then we had to figure out what to do with 30 gallons of blueberry vinegar. Neither my New York training nor my cookbook obsession pointed me anywhere useful, so I looked around me.
Eastern North Carolina may be known to outsiders for whole-hog barbecue sauced with seasoned vinegar, but a whole-hog pig pickin' is not an everyday event. What I actually ate once a week as a kid was chicken done the same way—split in half, then slowly smoked until the skin crackles and the meat falls apart before being dressed with cider vinegar and spices.
A man named Tom Heath, a fixture from my childhood whose connection to my family I can't really explain, used to bring us three barbecued chickens every Saturday morning. Like the aroma of fresh-brewed coffee, the smell of vinegar and smoke pulled me out of my bed to our kitchen, the promise of chicken still warm from the coals much greater than the comfort of sleep. Tom's chicken, cooked in smoke and bathed in a mildly sweet vinegar sauce—that's how my blueberry barbecue chicken was born. A few days later, it hit our menu. Our guests loved the way it looked: crispy, crackly, caramelized purple. They responded to the way it smelled: sweet, smoky, intoxicating. But most of all, people loved that it made them remember something they had eaten many times before, and somehow it complemented rather than competed with those memories.
No one was more surprised than I was. The blueberry chicken was familiar, but different. And I pulled it off because I tapped into a deep personal connection to my hometown. I had found my voice in those blueberries, and together we sang about this place.
—Vivian Howard's Deep Run Roots (Little, Brown), from which this essay is adapted, will be released in October.
Get Vivian Howard's Recipes