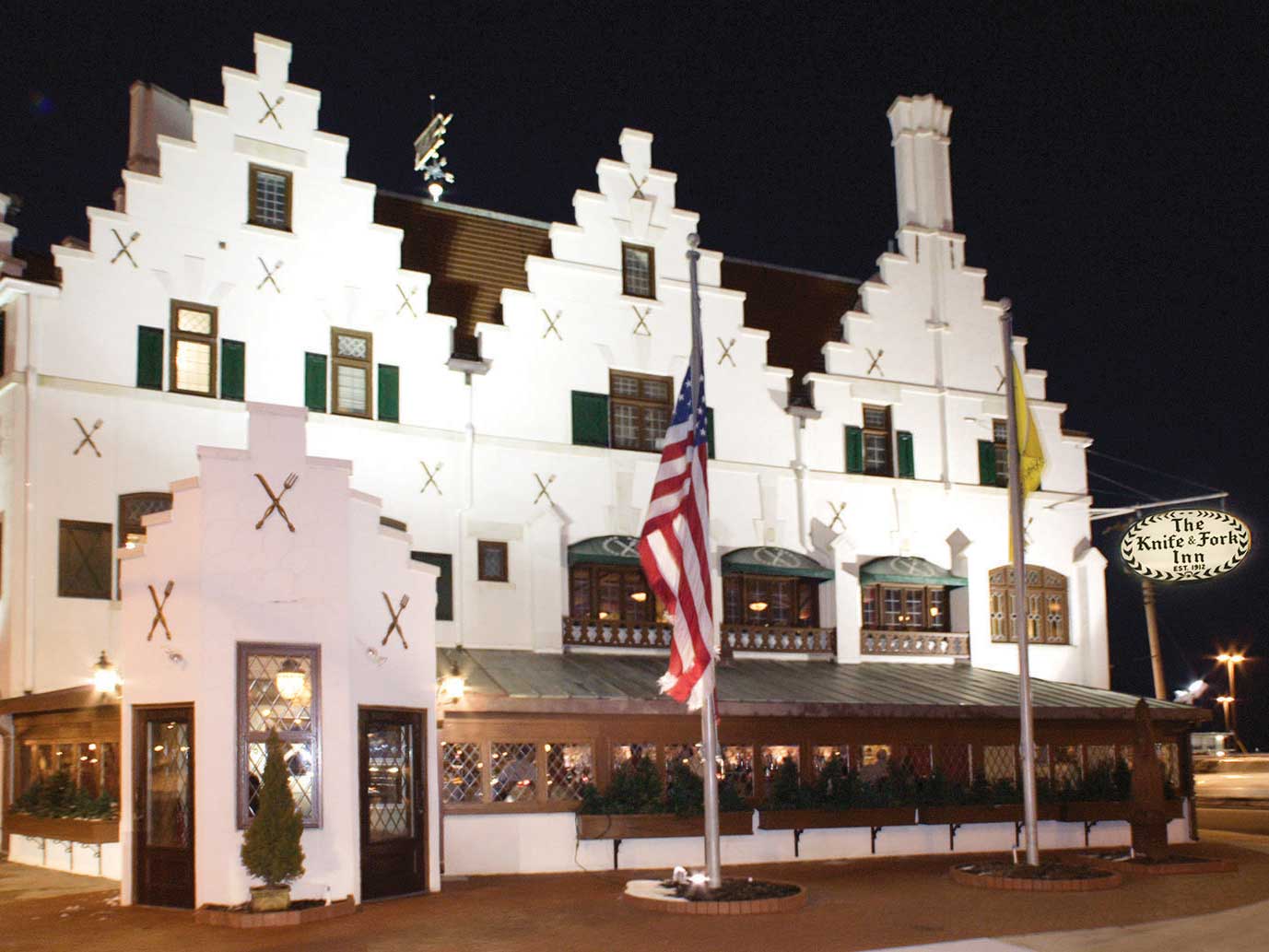 Travel
The Atlantic City Restaurant Worth a 60-Year Wait
Critic Alan Richman has spent decades traveling to over 40 countries in search of the world's best fine dining—and yet one restaurant has always eluded him: New Jersey's Knife & Fork Inn
The manager of the Knife & Fork Inn, a stately Atlantic City restaurant, was walking past the ladies' restroom at the very moment I was strolling in. Ordinarily, that might be cause for embarrassment, or even arrest, but I had a perfect explanation: I desperately wanted to see the photograph of Mr. Peanut on the wall inside.
I explained to the manager that I was being intrepid, not indecent. A friend and I had spent a frustrating afternoon on a bitterly cold day, winds screaming in from the Atlantic Ocean, strolling the boardwalk in search of the Planters Peanuts shop I loved as a kid, the one where Mr. Peanut—a living, breathing, monacled, and somewhat creepy costumed character—hung out. When my friend saw the photograph of Mr. Peanut in the ladies' restroom, she rushed out to give me the good news, and to stand guard while I went inside.
The manager was sympathetic. He explained to me that Mr. Peanut (and the shop) had long ago decamped for Ocean City, a seaside community about 10 miles south.
Not much remains of the Atlantic City I once adored—the fabled boardwalk has faded, and the somewhat moribund casinos are not much of a temptation. With the city's past so much more alluring than its present, nostalgia is a thriving industry. That's what brought me back to a city I adored as a child, a wistful adoration of the past, in this case a chance to dine for the first time ever at a restaurant I longed to try.
The Knife & Fork opened in 1912, which means I'd certainly had plenty of time to get there, starting in the 1950's when my parents would drive to Atlantic City from Philadelphia for a day on the beach. I would stare out the back window of our Oldsmobile as we passed the restaurant, wondering why we never stopped in. I might have been the first adolescent ever to compile a bucket list, mine with a single entry, the Knife & Fork Inn.
Well-situated at the junction of Atlantic and Pacific Avenues, isolated from surrounding buildings, this gleaming white edifice was and remains a grand sight. To the youthful me it looked like a medieval castle, a hunting lodge, a perfect setting for a gathering of the Knights of the Round Table. It was one of the centerpieces of my childhood fantasies—remember, this was before Disneyland was built.
Over the decades I never lost interest in the Knife & Fork Inn, but it was only recently that an urge to dine there resurfaced. I began to worry that I had waited too long, that it might soon vanish, the fate these days of so many fine-dining establishments. I would have grieved had that been so, exactly as I felt about so many of the fabled Los Angeles restaurants I never found time to visit, such as Chasen's or the Brown Derby.
I came to understand why my parents never took my sister and I there. They rarely went to fancy restaurants, and when they did, we stayed home. Even more of a deterrent back then was the dress policy, coat-and-tie, not part of our beach protocol. My mother was the arbiter of all things culinary in our family, and while confident about food, she was less sure of herself socially. I doubt she would have been comfortable in such an elaborate setting, although had she known it was run by a Jewish family, she might have felt differently. Back in those days, many of the fanciest Atlantic City establishments didn't welcome Jews.
I called Anthony Kutschera, an expert on Atlantic City history, to ask him about the restaurant as he remembered it. He told me he dined there on a summer day decades ago when the air-conditioning wasn't working well, so he took off his jacket. The owner, Mack Latz, came over and said, "Nothing doing." My mother wouldn't have liked that, would have lit into Mr. Latz. Mostly, we ate at Lou's, in Ventnor, an informal, Jewish-style place. I never complained because Lou's fulfilled my childhood culinary fantasies—it served knockwurst.
Today, the Knife & Fork Inn is owned by the same company that operates Dock's Oyster House in Atlantic City, which is the sort of change of ownership that worries me. There are inherent perils in moving from benevolent private ownership to conceivably wicked corporate ownership.
I need not have been concerned. The restaurant has been refurbished and sparkles. Gone is the huge neon sign that loomed over the place in the fifties, reading Knife & Fork Inn Sea Food. I loved that. You can see how the restaurant used to look from a photograph just inside the front door. Like almost every Atlantic City establishment, the Knife & Fork Inn is festooned with photos of the city's glorious past.
A friend and I visited twice on the same day, at happy hour and again at dinner. It was bliss both times. My only noteworthy disappointment was the wine list, which bore little relation to the more appealing one found online.
At happy hour, seated at a long, polished bar in soft, comfortable seats, we had barrel-aged Negronis, dollar oysters, and crisp lobster spring rolls. Strolling around, we watched the staff preparing for dinner service, which included polishing wine glasses etched with the Knife & Fork logo. We walked upstairs to the second-floor dining area, one of several, and realized we absolutely had to have our dinner there.
This is one of the loveliest spaces in any American restaurant. The modest-sized room is the sort you see in a museum, lifted intact from a palace in Europe and transported whole so visitors can stare at it from behind a velvet rope. The paneling gleams. The stained glass glows at sunset. The ceiling reminds me of Versailles.
The rolls were warm, the butter soft, and service from our waiter, Omar, perfect. When the lights flickered briefly, he quipped, "We're about to make this meal a lot more romantic." For an appetizer my friend had buttermilk fried quail, after I begged her not to, this being southern Jersey and not the real South. I was wrong. It was crunchy and juicy with a meatless gravy that nevertheless tasted like sausage gravy. I had a Caesar Salad, absolutely ordinary, in fact a little disappointing, but it was seven bucks and I know what my mother would have said: "For seven dollars, you can't complain."
My friend's rack of lamb consisted of—wait for this—eight chops. I counted them. She ate every one. The sauce, a Vidalia onion-chipotle-bordelaise, was a little too new world, a little too Dock's, for me. I had flounder, exquisitely sautéed, and heaped with more stuff than any sane man could consume—crabmeat, asparagus, tomatoes, and a mushroom beurre blanc. For dessert we shared banana cream pie with graham cracker crust (a little too thin) and a slice of bruléed banana (totally brilliant) on top.
This was no conventional meal. This was robber baron cuisine, a throwback to the days when men ate until they had to be helped out of their chairs. Or maybe it's just how the good people of New Jersey like to eat. The nice people at the table next to us each ordered the complete Knife & Fork dinner: crab and corn chowder, Caesar Salad, Lobster Thermidor, and small filet mignon. They dispatched it all with ease. Then they looked at us, asked what we had for dessert, and when I raved about the banana cream pie, they each ordered a slice.
My mother would have loved the Knife & Fork Inn. She would have been smitten by Omar, dazzled by the dining room, and, uncommon for her, said not a negative word about the food. After all, it was hot, plentiful, and served expeditiously. I felt enormously satisfied by the experience, which was everything I dreamed it would be, although my mother would have had a few critical words for me. After all, I had committed a terrible sin by not cleaning my plate.