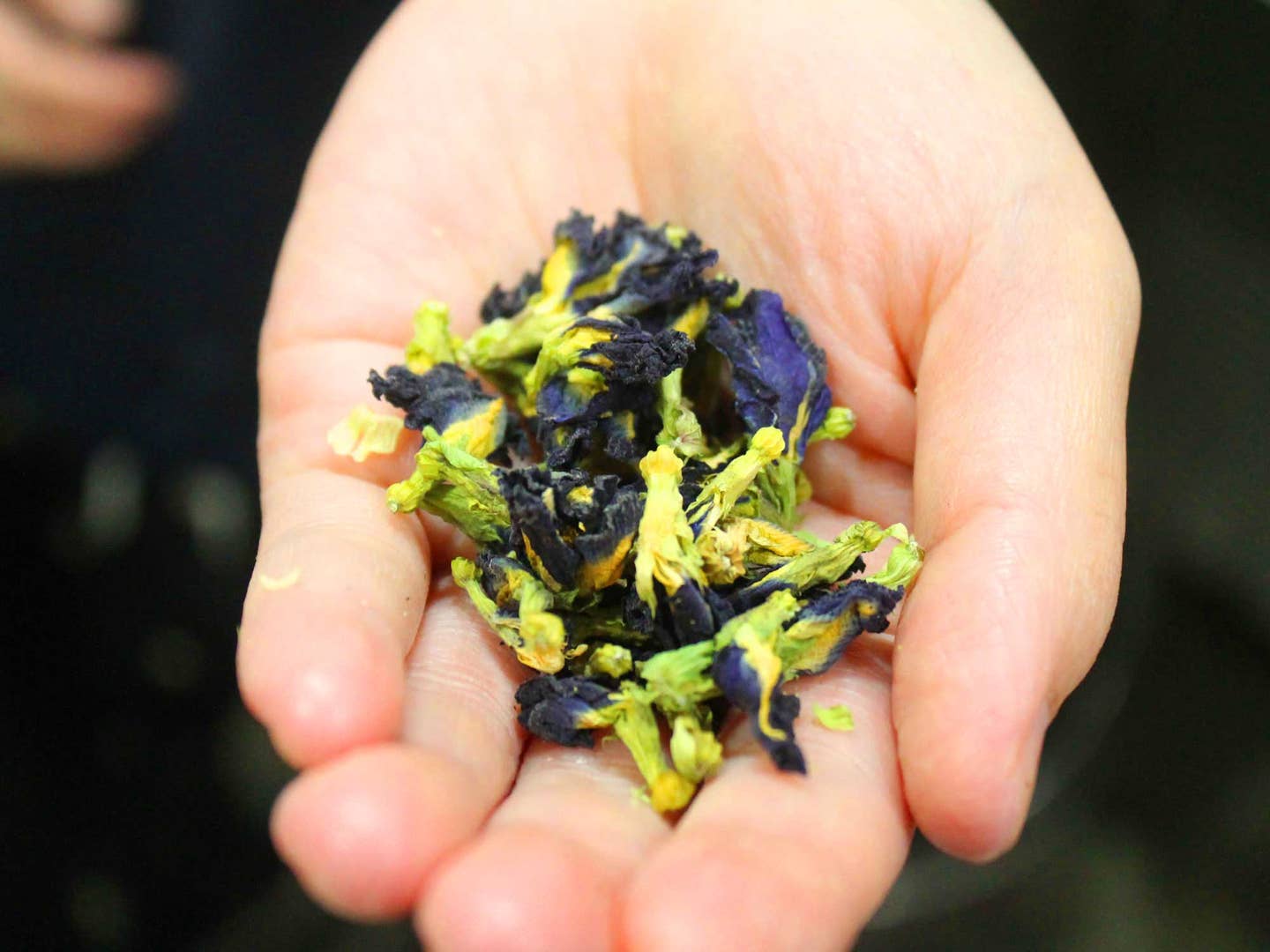 Travel
Essential Malaysian Ingredients to Know and Love at New York's Top Malaysian Coffee Shop
Dye your sticky rice blue and become a raw sugar snob with Kopitiam's Kyo Pang
Kyo Pang tapes a handwritten note to the door of Kopitiam, the 210-square-foot coffee shop she opened on Canal Street in October. "Out for break," the sign reads. "We're closed from 3 p.m. to 4:30 p.m. daily. See you later."
Kopitiam takes a short siesta because it's really a breakfast spot, though the fragrant kaya toast, cold noodles, and rice packed with tiny fish—fare Pang grew up with in Penang, Malaysia—are delicious all day. Her tiny cafe is among New York's top destinations for a taste of genuine Malaysian home cooking; it even looks the part of Malaysian kopitiam, which translates literally to "coffee shop." Pang's uncompromising approach makes for a meal that's just a step away from a passport stamp. And it all begins with her pantry.
Most Americans are still in the dark about the finer points of Malaysian cuisine. "A lot of people consider Malaysian food to be just Southeast Asian food, but ours is completely different," Pang tells me. Part of the problem is representation—the number of Malaysian restaurants in New York can be counted on two hands, and other American cities don't fare much better. As a result, most foreigners miss out on some of the most essential building blocks of Malaysian cooking: smoky raw sugar, bracing fermented shrimp, smack-you-in-the-face raw herbs.
Pang speaks while gently stirring peanuts frying in vegetable oil. This is a theme that runs through our conversation—she's never, ever idle, always multitasking. While cooking, Pang retells a bit of Malaysian history: how the food was shaped during periods of rule by the British, Portuguese, and Dutch, and influenced by the mix of laborers and foreign foodstuffs that entered Malaysia via the country's three main ports in Singapore, Malacca, and Penang.
These ports are also where you find the most Baba Nyonyas, or Peranakan, people of half Chinese, half Portuguese descent, of which Pang is third generation. Though Pang notes how fewer and fewer of the younger generation are cooking the food she ate as a kid. "The food we are serving is slowly disappearing." Her approach is fueled by a multi-cultural, religious Baba Nyonya community, and the unique canon of foods she ate growing up. "Everything I make here is a recollection of my childhood memories," she says. "People forget a lot of things. But you just cannot forget taste."
Pang is constantly chasing these tastes and flavors at Kopitiam. "I get really picky when it comes to certain ingredients," she explains with a smile. "My point of opening Kopitiam is to introduce people to the actual taste of our culture. I wanted to open in New York because this is a very diverse city and I want to share the beauty of my culture to more people of the world. But it has to be done a certain way." If a shipment of chile paste gets stuck in Texas and Pang can't make her two versions of belacan (fermented shrimp paste)—one spicy and made with heaps of lemongrass to go with milder dishes; one slightly sweet to balance some of the saltier ones—she won't go down the street for a subpar import—she'll close the restaurant for the day.
The condensed milk has to be Nestle. "That's the main brand in Malaysia." The bread for the kaya toast has to be from Pang's friend's shop on Grand Street, because after giving the recipe to 20 other kitchens to test, that bakery made the best. The anchovies that go into her nasi lemak? Those have to be just the right size, which means fish caught at the right age, which means there's only a small window when Pang can find the properly-sized anchovies. She'll overpay if she has to—and she just did, she tells me—pulling half a dozen bags of dried anchovies she'd just picked up on Canal Street from her backpack.
Pang has been known to throw out entire trays of kuih talam (a sweet layered cake flavored with pandan and coconut) too, even though it takes two hours to make. "Everything that I serve—the size, the taste—is exactly how I would eat it. If I wouldn't eat it, I wouldn't serve it to you."
Here are three of those pantry essentials Pang just can't do without.
The Chinese heritage is on Pang's dad's side. Her grandfather is from Hainan. It explains the role coffee plays in Malay culture and at Kopitiam ("kopi" means coffee in Malay; tiam is "shop" in Hokkein). "Hainanese are very particular about toast and coffee," Pang says, "and a lot of people from Hainan get involved in the coffee business." Malaysians are some of the world's thirstiest coffee consumers, but the bean is a relative newcomer to the country.
Koon Kee, the Malaysian coffee brand Pang contracts with, was established in the 1950s by accident. Pang tells me the story while I sip a bek kopi peng, iced white coffee mixed with condensed milk.
The brand begins with beans grown in neighboring Indonesia on the island of Sumatra. "It was a Chinese guy that created that style of coffee," says Pang. "He roasted the beans in fat, first in olive oil, later in palm sugar, and he realized the beans looked a lot lighter after." Thus was born Koon Kee and a unique Malaysian-style white coffee. It's ground to a finer form, and the roasting process produces a mellower bean with less caffeine, which is perfect for a coffee culture where it's not uncommon to have five or six milky cups a day.
Palm sugar (along with coconut milk, pandan leaves, and eggs) is a crucial ingredient in Malaysian cooking. It grows all over Southeast Asia but varies from country to country. "Thai palm sugars tend to be a lot lighter in color," for example, Pang says. Palm sugar from Malaysia is usually much darker, with a bolder raw flavor and molasses-like edge. (This Indonesian version, called gula melaka, has a similar dark bite.)
Pang uses palm sugar in a few ways at Kopitiam, but the biggest use is in her kaya toast, which is two ambitiously-sized pieces of toasted white bread lightly spread with butter, then covered with a generous smear of kaya jam. "I can't do anything else for an hour and a half when I make the kaya jam," Pang tells me.
The jam is made from coconut milk and eggs simmered painfully slowly in a double boiler, with pandan for its green color and unique fragrance. Pang has to stir it constantly in order to get the right consistency. "It needs to be very fine and smooth," she says. If you stir it too fast it'll be watery—don't stir fast enough and it won't thicken. Pang's is indeed the perfect consistency: it holds up nicely between thick, chewy-yet-crunchy bread. It's sweet but not candy-like, the lightest shade of green pulled from pandan leaves, and it's the perfect match for butter and toasted bread.
These pretty blue flowers play an essential role at Kopitiam: coloring the sticky rice Pang uses for the crowd favorite pulut inti, sticky rice and grated coconut-palm sugar topping wrapped in a fragrant banana leaf. "The flowers don't give you any flavor," Pang says. "We use them just to dye rice." If you can't find morning glory, butterfly pea flowers also do the trick, and Malaysian cooks use them as well to get the same blue hue in their food.
The flowers are responsible for one of the four colors of rice you see in Malaysian cooking: blue, green, yellow, and red. Pandan works as a natural green food dye, but the red and yellow rices are usually artificially colored, which is why Pang doesn't bother with them. As with everything else, Pang's particular about where her morning glories come from: they're sun-dried from her mother's backyard. "She just sent me three bags, almost a kilogram," Pang says, holding the shriveled-but-still-pretty dark blue flowers in her hand. "But now she told me her backyard is empty." Fortunately for Pang, her mom's neighbor grows morning glory too.
Kopitiam
51 Canal Street, New York, NY 10002
(646) 894-7081