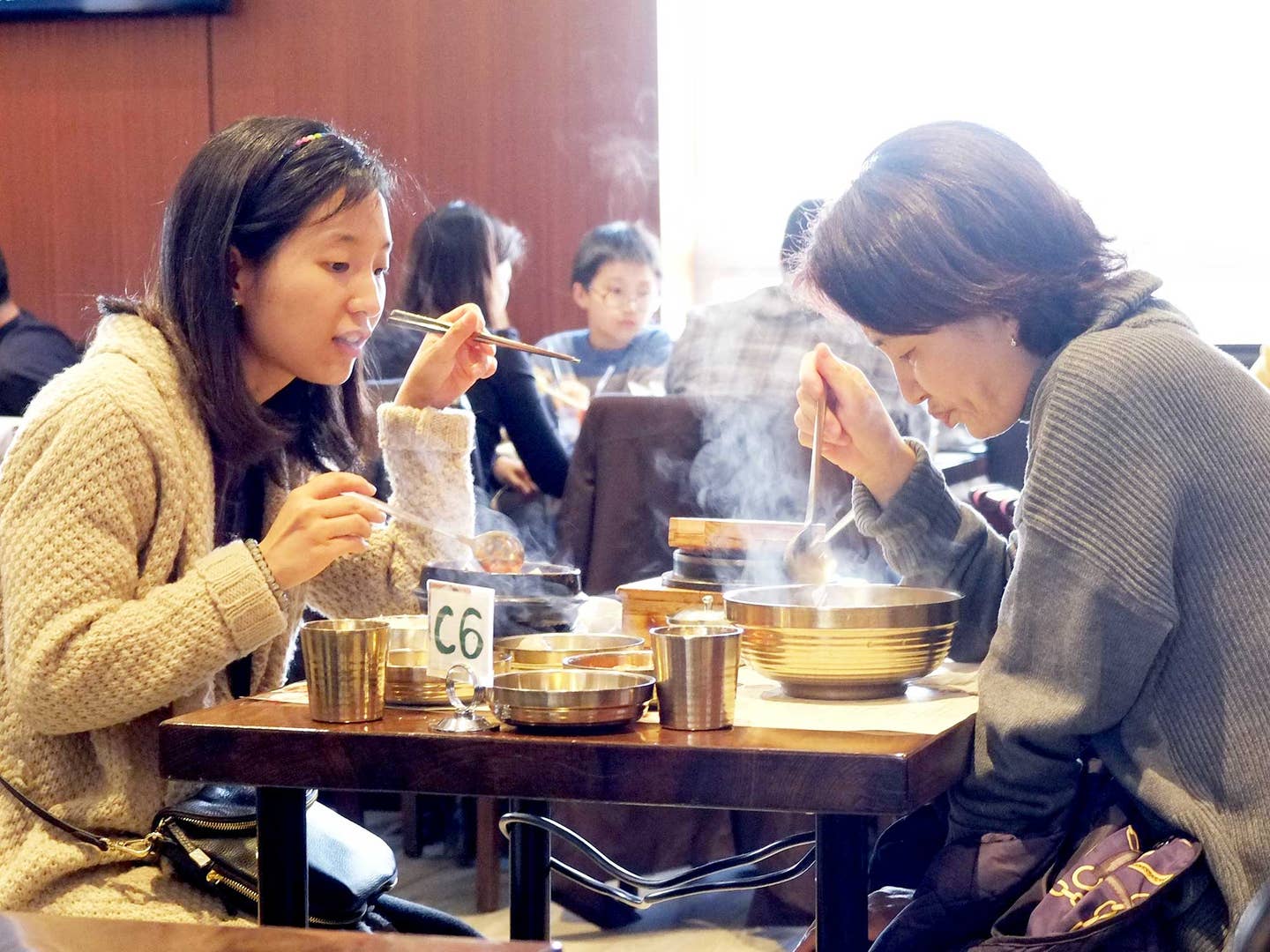 Travel
Bridge to Banchan: Fort Lee, NJ's Koreatown Is Where to Get the Good Stuff
For the best Korean food in New York, you gotta leave the city for a quiet town across the GW Bridge making some stellar Korean food
Before Hollywood, there was…Fort Lee? It's true! Quick research (insert typing sound) reveals that in 1912 the town that today stands at attention on the New Jersey side of the George Washington Bridge was the center of the movie-making universe.
Universal Studios founder Carl Laemmle set up shop there, founding the first movie mecca in America—where silent-era stars like Lionel Barrymore and Mary Pickford crossed the Hudson River to film in the massive backlots that had been erected. The "cliffhanger"—a Film History 101 term referring to a moment of cinematic suspense? It originates from early scenes filmed along the nearby cliffs of the Palisades. But, like with the Brooklyn Dodgers four decades later, Southern California came a calling and Laemmle packed up his Bell & Howell Filmo and moved west.
But ask any New Jersey resident or New Yorker about Fort Lee today, and they are likely going to land on a single topic: Korean food. And they'll just as likely give you a story of eating one of the best Korean meals of their lives. Maybe it was while seated at humble little soup restaurant, or after soaking their body in scalding water with hundreds of naked strangers. It likely involved some beer or soju, and perhaps a half-remembered taxi ride back across the towering bridge that opened in 1931.
"It is one of the most vibrant ethnic communities, and richest cuisines, in Bergen County," says Bergen Record restaurant critic Elisa Ung of the region's Korean population, which according to the 2010 Census numbers at least 100,000. "But it's a culture many still do not know about." Ung says that many Korean restaurants in the area, Fort Lee, but also Leonia and Palisades Park, are mostly concerned with "Koreans serving Koreans."
Our story begins on the bridge on Easter Sunday. There is no traffic (and no cones causing traffic). We take the first exit and soon find ourselves in front of Masil House, an exceptional restaurant that I've visited a few times before while writing the Koreatown cookbook, but haven't taken Dan to yet. Masil specializes in soups and stews, the more rustic, stick-to-your-ribs side of Korean cooking that is sometimes skipped or overlooked for the more popular grilled dishes—known universally as Korean barbecue).
There are a couple things you notice right away once walking in. First, the humming tanks of salt water holding schools of menacing eels, which are plucked, butchered, and grilled in a sectioned-off area in the front. Second, people are sitting on the floor of Masil House, a tradition still found throughout Korea, but less in the United States.
Our server kindly, and swiftly, takes our order: mandu (pan-fried dumplings), pureed tofu stew called kongbiji, and the ultimate in Korean rustic dishes: gamjantang, a pork neck, perilla seed, and potato stew that is just outstanding. A deep and rich pork stock ladled into a caldron with meaty link bones, root vegetables and the dish's focal flavor: perilla seeds.
The bubbling pots arrive along with a banchan spread of kimchis, seasoned vegetables, ridiculously fresh pan-fried croaker, and a righteously mayonnaise-forward potato salad. I love gamjantang so much and order it near constantly. The meaty neck—steaming with the stock, halved potatoes, black pepper, and the earthy seeds—is plucked from the bone with our metal chopsticks. Dan's chef sensibilities are shocked at how perfectly it's braised, falling off the bone but still moist and delicious. It's a great contrast to the sour and funky soups Koreatown is most associated with, and everybody loves it.
We're stuffed but want to make the most of our trip with a second lunch, so we take a short walk up the street to Myung Dong Noodle House. But first we make a brief stop at a small, one-woman storefront selling plastic containers of banchan packed with delicious things like cured lotus root and fermented fish guts. The owner of Fort Lee Korean Catering House gives us the tour—showing us photos of her work (and deft knife work)—and we promise to stop by on our way out of town. This is the kind of Korean specialty shop that you don't find in rent-squeezed Manhattan. It's pure Fort Lee.
Myung Dong Noodle House is a Korea-based chain known for serving a dish called kalguksu, a workaday and delicious soup loaded with knife-cut noodles. The Fort Lee outpost opened in 2013, and on this holy Sunday the place is packed with tables of families, in some instances three generations slurping up wheat noodles swirling around in chicken stock. I've found that kalguksu broth is oftentimes clear and light, but this was quite the opposite. It was thick, with a hint of cornstarch. I threw in some forcefully funky napa cabbage kimchi to kick things up a bit and slurped away.
Walking back to our car, we stop back in at the banchan store and made a couple purchases. The woman points to her small but immaculately clean kitchen in the back and tells us how everything in the shop, some 30 or so different side dishes, condiments, and desserts, are made there. She presses a well-worn brochure into my hand showing photos of meticulous trays of a soy sauce and vegetable sweet potato noodle dish called japchae, and reveals that she can cater any event. She asks if I have a wedding or baby shower coming up. I sorta wish I did! But, no dice, and I tell that I'm not from around these parts and it gets me off the hook. We then drive a quick 13 minutes across the bridge (thankfully still no cones!) back to Manhattan. Fort Lee Koreatown is a world away, but much closer than it seems.
Where to Eat Korean in Fort Lee
Masil House
400 Main Street, Fort Lee, NJ
(201) 592-7390
Fort Lee Korean Catering House
2024 Center Avenue, Suite D
(201) 242-0488
Myung Dong Noodle House
2013 Lemoine Avenue, Fort Lee, NJ
(201) 592-6900