Gamjatang (Spicy Pork Neck and Potato Stew)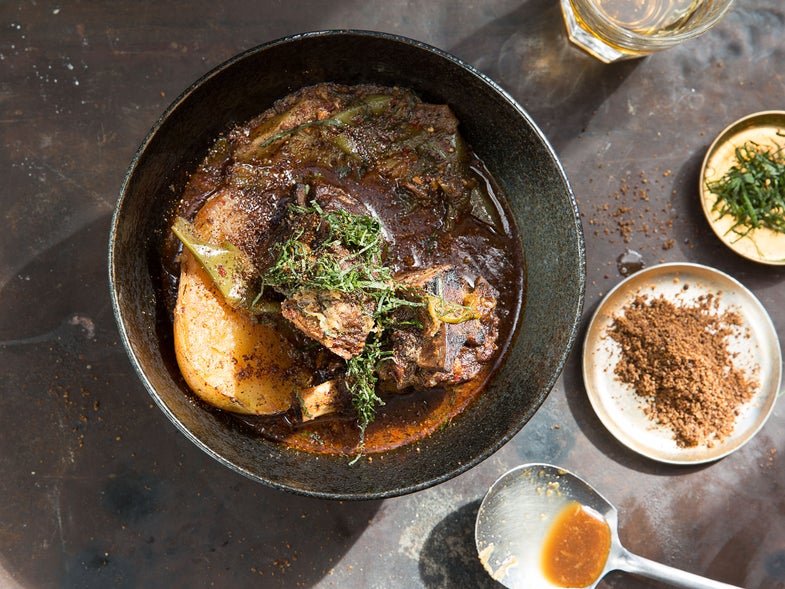 A classic hearty Korean stew made with meaty pork neck, potatoes, and nutty perilla seeds. Sesame seeds cannot be substituted for the perilla in this recipe; seek perilla seed, also called wild sesame seed, out at Asian markets. Optional but recommended: Serve this dish with its accompanying dipping sauce
This recipe is adapted from Koreatown: A Cookbook.
Featured in: Bridge to Banchan: Fort Lee, NJ's Koreatown Is Where to Get the Good Stuff
Gamjatang (Spicy Pork Neck and Potato Stew)
Combine Korean spices, an optional <a href=https://www.saveur.com/gamjatang-dipping-sauce>homemade/ dipping sauce</a>, and a homemade stock to get this flavorful stew.
Time: 5 hours, 10 minutes
For the Gamjatang
2 lb. meaty pork neck bones
2 tbsp. vegetable oil
Kosher salt and black pepper
1 tbsp. gochugaru
1 tbsp. doenjang
1 tbsp. gochujang
2 tbsp. soy sauce
2 cloves garlic
1 tbsp. mirin
6 tbsp. perilla seed powder
1 tsp. black pepper
4 cups pork stock (see below) or water
2 large Yukon Gold potatoes (about 1 lb.), cut in half
1 Korean or Anaheim chile pepper (1 oz.), seeds removed and cut in half
1⁄2 bunch scallions, cut into 1-inch pieces
6 perilla or shisho leaves
3 tbsp. perilla seed powder, for garnish
For Pork Stock
3 lb. pork neck/chain bones
1 gallon water
1⁄2 bunch scallions, sliced into 1-inch pieces (3 scallions, about 3 oz.)
2 cloves garlic, whole
1 tbsp. doenjang
1 inch knob ginger (1/2 oz.), whole
Instructions
For the pork stock: Add pork bones and water to a large pot and bring to a boil over high heat. Drop the heat to maintain a gentle simmer and continue cooking, uncovered, for 2 hours, skimming off any fat or foam as needed. Add scallions, garlic, doenjang, ginger and continue to simmer for 1 more hour, uncovered. Strain stock into a container and let cool to room temperature before refrigerating. Stock keeps for a week in the refrigerator and months frozen.
For the Gamjatang: Preheat oven to 475°F. Coat bones with vegetable oil and season well with salt and pepper. Roast for 30 minutes until golden brown and well-caramelized, flipping once halfway through.
While bones are roasting, combine gochugaru, doenjang, gochujang, soy sauce, garlic, mirin, 3 tablespoons wild sesame seeds and black pepper in a small bowl and whisk thoroughly, making sure the gochujang is well integrated. Set aside.
In a soup pot, combine the pork stock, roasted bones, potatoes, chile pepper, scallions, and the gochugaru mixture and bring to a boil over medium-high heat before dropping to a simmer. Simmer for 45 hour, partially covered.
Once the flavors have mingled and the neck bones' meat is very tender, garnish the soup with perilla leaves and the remaining wild sesame seeds. Serve immediately with rice and gamjatang dipping sauce on the side for the neck meat.