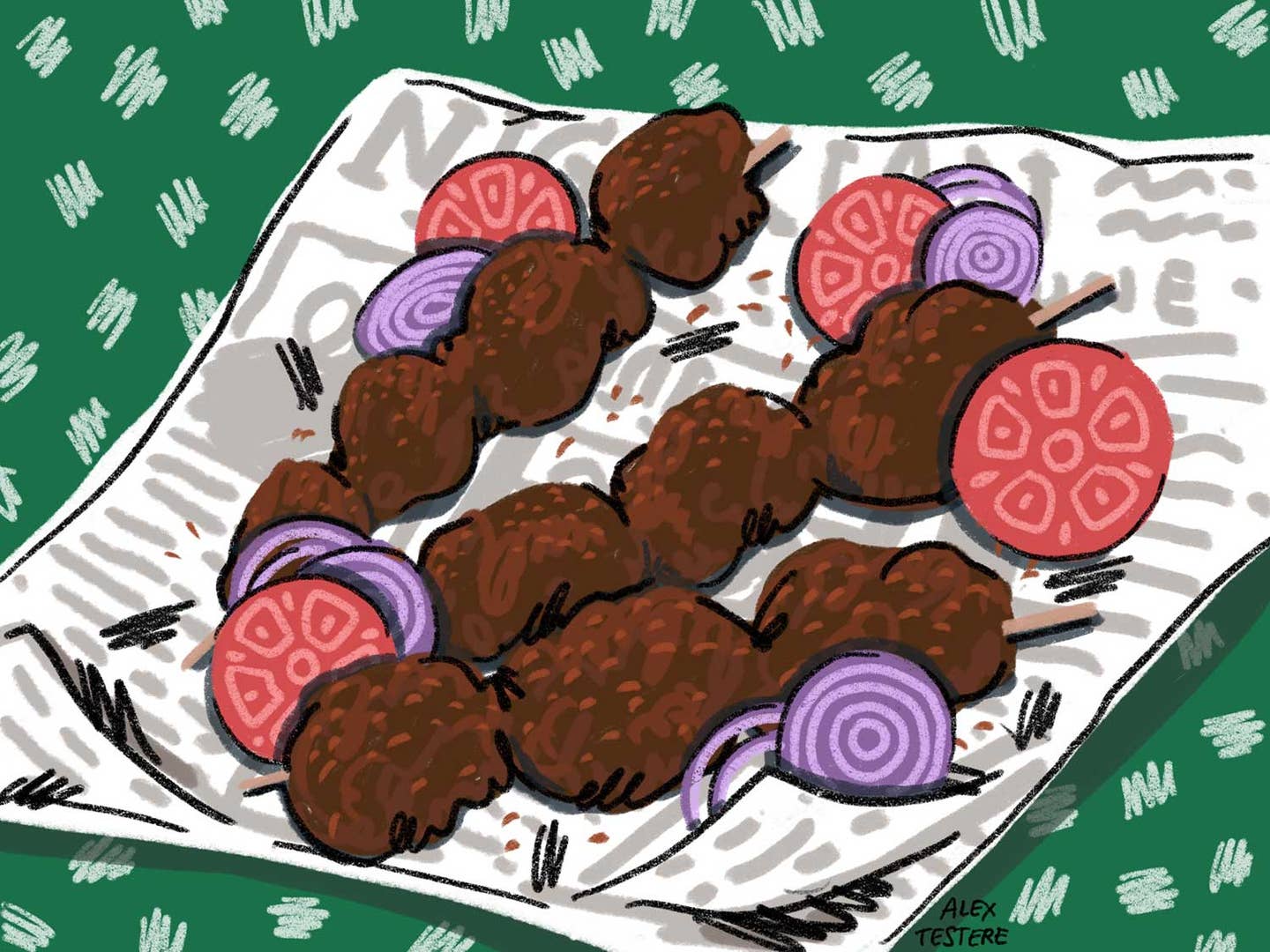 Travel
Friday Nights in Lagos Are For Fiery Grilled Suya
In Nigeria's largest city, no Friday night is complete without a stop for these spicy, char-grilled meat skewers
The first thing that whets your appetite for suya, Nigeria's beloved grilled steak skewers, is the scent of smoke rising from the steel-drums-turned-grills, heady with the aroma of spices and charred meat. After 5 P.M. in Lagos, the food scene comes to life with a refreshing zest, especially on Fridays, when everybody heads out to unwind and shake off the stress of the work week.
Lagos is renowned for its state of organised chaos. The largest city in Nigeria—and perhaps in all of Africa—it's a surging metropolis with one of the world's most riveting expressions of commerce. The food culture, too, is bustling and vivid, with people always on the move. As such, street food is a staple; many roads and highways in Lagos are littered with hawkers, open-air makeshift stalls, and food carts, which serve hot, spicy, delicacies that are pocket-friendly and affordable.
As the country's economics hub, there's a taste for haute cuisine in Lagos. Many cosmopolitan gastropubs are springing up with creative adaptations of local delicacies, offering their own versions of Nigerian dishes with Asian or European influences. But on the streets, there are no frills or fuss: The food is simple and unpretentious.
Among the street foods consumed by Nigerians, suya tops the charts by a landslide. Originally from the northern part of Nigeria, it's extended its reach to other areas along the coast of West Africa, including to Cameroon to the south (where it's known as soya or tatum, and is a popular comfort food) and the Republic of Niger to the north. Not unlike the various kebabs of the Middle East, suya starts with thin chunks of meat, usually beef, stuck through with a skewer. They're then drizzled with groundnut oil and rubbed with a blisteringly hot spice blend called yaji, or suya spice—in which they marinate for three to four hours—before they're grilled over an open flame. The exact contents of the suya spice blend might vary from vendor to vendor, but it's always a mix of ground peanuts, ginger, and chiles.
In addition to beef, kidneys, livers, and chicken gizzards are often skewered and grilled too—no part of the livestock is safe. There is also a popular vegan option that features mushrooms for a similar taste and texture. Regardless of the meat, it's often served with a variety of sides, including freshly sliced onions, tomatoes, diced cabbage, and ground chiles.
The suya vendors in Lagos are often men, and often Hausa men—they're known as mai suya or mallam, a connoisseur of Nigeria's suya culture. One of these mai suya is named Ismail, and when I go to pick up my weekly suya fix (a mix of either liver or gizzards with a side of ground chiles) at Glover Court in Lagos' Ikoyi neighborhood, he is there, as always, in his colorful embroidered kaftan. He's been selling suya here for almost a decade.
"The suya business is really lucrative in Nigeria," he says, "especially Lagos, because Nigerians like meat." There is always a long queue of anxious customers here. The waiting is unavoidable, especially on Friday nights, because the skewers are always grilled to order, then sliced into strips before being wrapped in foil or old newspapers.
As food trends come and go in the restaurants of Lagos, suya will always remain the same—a Friday night treat sold mostly under the cover of darkness, when the city casts off its workday veil. It's the taste of a city unwinding, of a Lagos draped in neon lights. And it's always worth the wait.