Culture
Why Lee Bailey, the Original Home Entertainer, Still Matters
Before Ina and Martha, the cookbook and lifestyle guru showed America how to throw a party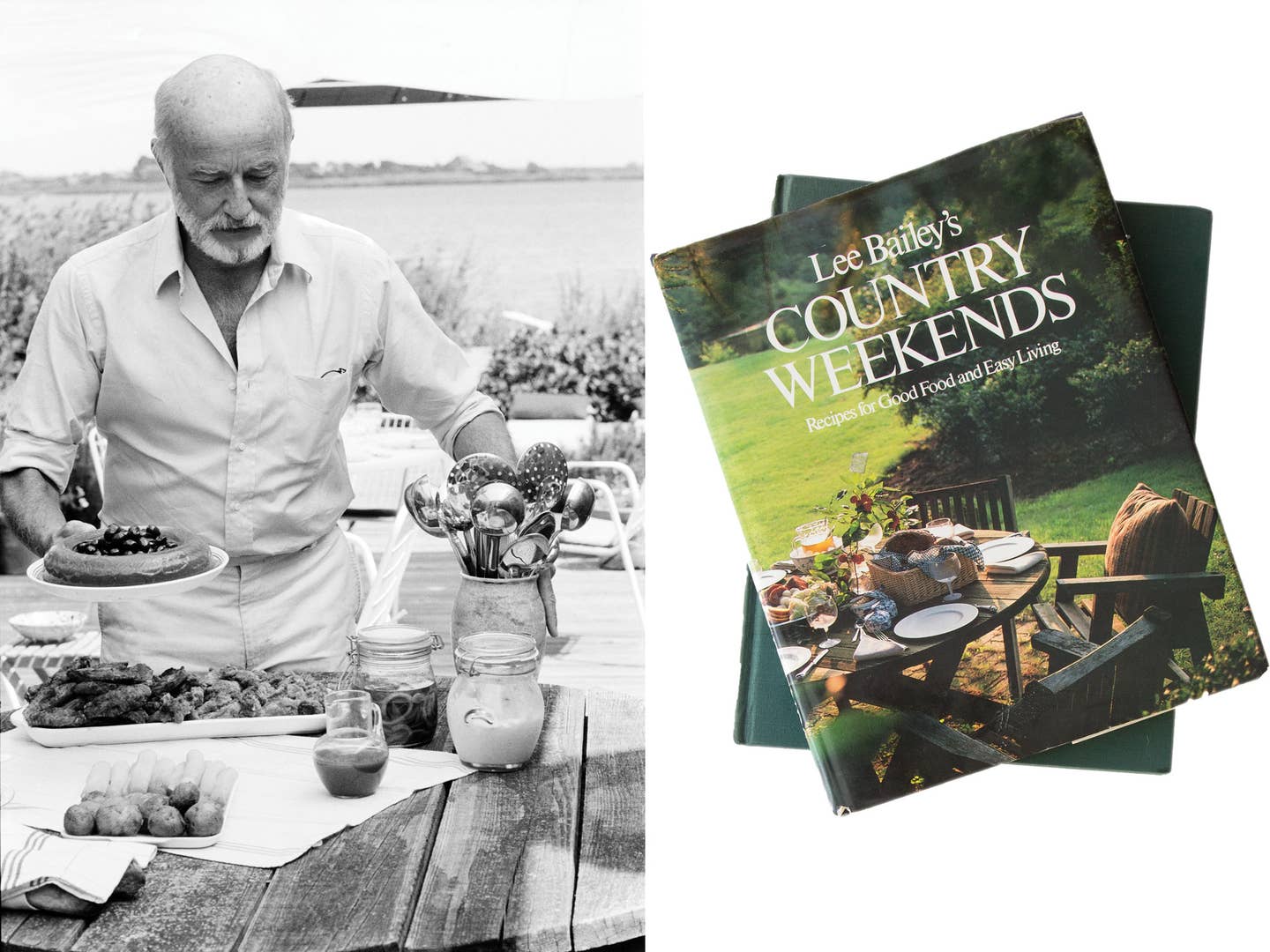 Lee Bailey was the original food-and-lifestyle guru. Writing and photographing in a pre-Martha Stewart world, he was a pioneer in suggesting that a meal's setting was just as important as the food, that the way you layered sliced tomatoes on a plate mattered, and that a bandana might be used to cradle bread, fruit, and cheese on the way to a picnic, then do double duty as a place mat. He was, as The New York Times summed it up in his 2003 obituary, "an expert in the stylish life."
I write cookbooks for a living, and no one has influenced or inspired me more than Lee—even though, it pains me to say, it's likely you've never heard of him. While his legacy isn't quite as imprinted on the culture as other heavy-hitting culinary icons, his books are the ones I have turned to, and continue to turn to, more than anyone else's. They first started appearing in the '80s, a time when, as Nora Ephron once wrote, in The New York Times Magazine, "we were looking for applause; we were constantly overreaching; we were desperate to be all things to all people; we were trying to astonish men and outdo other women; we were, in short, out of our minds. Lee, on the other hand, was not." Lee exalted the virtue of pausing to appreciate the little things—the way a napkin is folded, or how a crusty piece of French bread and butter can trump the most elaborate meal. It's a worldview on cooking and entertaining that continues to feel relevant and grounding.
"Lee led the charge of photographing food naturally," Roy Finamore, Lee's editor for many years, told me. "He didn't fuss over food. If a piecrust wasn't perfect, he'd still shoot it because it was real." (I bet Lee would've loved Instagram.) You want to be in the scenes he created, to dunk that black forest ham, rolled like a cigar, into that large bowl of mayonnaise before jumping into the shimmering pool, to throw your bike up against the tree and head to a picnic in the woods where the fir trees bow down in the clearing. And when you see that glass of iced tea, you want to kick your feet up and join him on the porch.
"I guess I will always be a country person, no matter where I might live," Lee wrote at the beginning of Country Weekends, his first book, published in 1983. Born in Bunkie, Louisiana, in 1926, he divided much of his adult life between Manhattan and the east end of Long Island. His Southern roots were apparent in everything he wrote and photographed, from the numerous types of biscuits that appear in his books to the suggestion that the best way to pack ripe peaches for a picnic was to surround them with peanuts in their shells (literal packing peanuts that doubled as a post-lunch snack). He designed dishware and became a shopkeeper, selling a perfectly curated selection of house goods in his own shop and at Bendel's on Fifth Avenue. Rounding out his lifestyle expertise, he was an avid gardener.
I was lucky to meet Lee through my parents, who designed many of his books. Full disclosure, I appear as a 3-year-old in Country Desserts reaching for a popcorn ball that's just a tiny bit too far away. My parents regularly cooked his recipes, and as soon as I could hold a knife and navigate a stove, I taught myself how to cook them, too. When I learned how to read, Lee's books were my bedtime tales. I brought them with me to college, where, in between reading literary theory that was (and still is) over my head, they helped remind me of more basic things like chicken pot pie. I schlepped Lee's books in and out of a series of studio apartments I called home and sometimes with me in a suitcase when I traveled, a teddy bear of sorts, a guarantee that no matter where I was, Lee and his voice were along for the ride.
Each Turshen family member has had a "Lee phase." There were years when my dad would present a new "mush" at our weekend suppers, cooked from the vegetable purée section in Lee's Good Parties. (It seemed, during one stint, that the carrots would never end—he'd roast twice as many as we could ever eat just so that he could mash half of them into a soup the next day.) My parents were also fans of Lee's skillet-baked corn, basically a large, crispy corn fritter cooked in a cast-iron pan made blazing hot in the oven.
In the depths of winter, I get out Country Weekends and open it to the "At the Beach" menu, which features one of my favorites, sour cream cornbread. It's a nice non-summer stand-in for that skillet corn, made rich with a can of creamed corn and a generous amount of cheddar cheese. As the bread bakes, I'll find myself gazing at the photos for the umpteenth time, at the way the napkin collar is wrapped around the bread, at the way the pink pillows are plumped up by the umbrella in the beach scene. I nearly feel the sand under my feet. I turn back to the oven, take out my golden cornbread, wrap a dish towel around it to form a haphazard napkin ring, and call in whoever's around to taste a buttery, cheesy wedge, a little piece of simplicity, of refined Southern style, to break up the day.