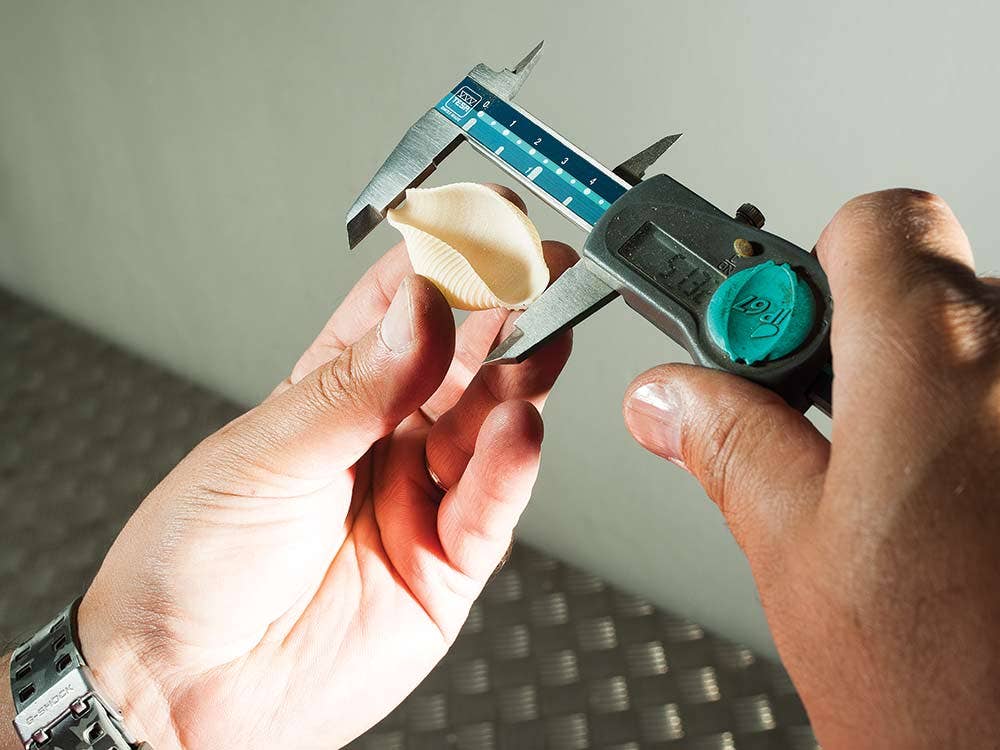 Travel
Meet the Engineers and Outlaw Orecchiette Masters That Make Your Favorite Pastas Possible
From small-town producers to industrial innovators, these are the Italian experts behind a bowl of spaghetti
Montoni Factory, uzzano, 2:15 P.M.
Designers at Montoni, the Tuscan manufacturer that has supplied dies for many big pasta brands since the 1920s, aren't just fluent in industrial construction materials. They're also experts in the rheology of non-Newtonian fluids—in layman's terms, exactly what happens to pasta dough as it's forced through any number of unusually shaped openings at a variety of speeds and angles. This science is crucial, particularly when the designers are engineering custom shapes for their clients: Every new design requires rigorous testing for texture, strength, and consistency. Most dried pastas are extruded in this fashion, though the complexity increases exponentially when you move from linear spaghetti to torqued, frilly-edged mafalde. In many cases, identifying the finished pasta shape by looking at the die pattern is nearly impossible. Montoni crafts its die inserts from either Teflon (for mass-produced, smooth-surfaced pastas) or a sturdy bronze-aluminum alloy (for rougher, sauce-gripping varieties), and its catalogue is as expansive as the universe of pasta itself: cavatappi, conchiglie shells, and around 350 other glorious shapes. —Alex Testere
Puglia's Outlaw Orecchiette Makers
Arco basso, Bari, 11:43 A.M. Walk along Bari's Via Arco Basso alley and you'll find a bustling gray market of homemade pasta. Little mountains of the city's signature orecchiette—the form evokes a little orecchio, ear—dry on wood and wire trays set on makeshift tables in front of humble apartment buildings, as laundry flaps back and forth overhead. The residents of this block make the pasta by hand daily and sell it by weight. The going rate is around €5 a kilo, or about $2.60 per pound.
Francesca "Franca" Fiore at house No. 11 claims she was the first on the block to sell pasta from her home more than five decades ago. Today she is joined by about a dozen other families. Her daughter, Nunzia De Scalo, carries on the family tradition. Franca rolls out foot-long pasta ropes and Nunzia nimbly slices and drags segments of dough along a wooden surface using a dollar-store knife with a flimsy handle. She produces thousands of orecchiette a day with the sort of speed and consistency that would inspire envy even in a professional kitchen.
Nunzia and Franca's orecchiette are made with semola di grano duro, coarsely milled durum wheat, warm water, and a pinch of salt. Each batch is mixed and kneaded by hand on broad wooden boards. When the weather is decent—and it usually is in this seaside city in Puglia—the work happens outside. On cooler days the women retreat to a dining-room table. There, they roll and shape pasta under the watchful gaze of San Nicola, Padre Pio, and a bevy of saints enshrined in frames around the house. Visitors to this stretch of Via Arco Basso in Bari Vecchia, the city's sun-bleached historic district, are often invited into the house for a chat about pasta. When the conversation turns to the dubious legal status—food is not allowed to be made and sold directly from homes in Italy—mother and daughter are quick to inform them: It's okay. Handmade pastas have been sold on the street for years. It's simply part of the city's history. —Katie Parla
Single-Grain Production in the Dolomites
Pastificio Felicetti, 10:25 A.M. The northernmost region of Trentino–Alto Adige is best known for bread dumplings, cheesy polenta, and hearty alpine stews. But nestled at the base of the Dolomites in the Valle di Fiemme, where the mountain air is thin and spring waters are immaculate, Pastificio Felicetti produces some of the country's finest dried pastas.
For more than a century, the Felicetti family has been making semi-mass-produced pasta with mountain water routed directly into their factory. About 10 years ago, Riccardo Felicetti, grandson of the company's founder, started a new line of pastas called Monograno, or "single grain." While most pasta is made from an assortment of flours from all over, Riccardo sources single-origin grain varieties that have only been grown in Italy. He mills the grain on-site, mixes the flour with the local spring water, extrudes the dough, and then dries the pasta in pristine mountain air.
The factory uses four distinct single-origin grains: Il Cappelli, Matt, Khorasan-Kamut, and farro. Each of these imparts distinct, earthy flavors and aromatics—ranging from hay to toasted hazelnut—to myriad pasta shapes. Il Cappelli, for instance, has a complex fresh wheat aroma.
Felicetti has given the same obsessive attention to extrusion. If pasta is extruded at the wrong speed or temperature, or with too much pressure, the elastic gluten nets in the dough will break and the pasta will dry with cracks and fissures, causing the pasta to be sticky when cooked. The lab has developed high-tech machines that create the ideal conditions. And it shows in the kitchen. Felicetti's Monograno pasta can retain a just-right al dente for an hour. —Michael R. Wilson
Campania's Old-School Fusilli Master
Peek inside home kitchens throughout southern Italy and you'll find locals dutifully rolling pasta dough using a needlelike ferretto, as they have been for nearly two centuries. While there are purpose-built ferretti on the market, many are improvised, using knitting needles, bicycle spokes, even sticks or reeds. The resulting pasta shape goes by nearly as many names as there are villages that produce it: fusilli in Cilento, frizzuli in Matera, and carrati in the Campanian mountain village of Pietraroja, the home of Lucia Parente. Over the course of four decades, the home cook has learned to make them with uniform perfection.
Parente rolls her homemade egg pasta into thin sheets and cuts them into inch-long segments. Then she presses the ferretto into the dough, pushing it forward with a decisive roll to form little open-ended tubes.
After they rest and are boiled, she gives them a seasonally appropriate companion. In winter, a thick mutton ragù di castrato. In summer, nothing but ground walnuts and tangy local sheep's ricotta. —Katie Parla
Rome's Self-Taught Power Couple
Pastificio secondi, 7:07 A.M.
Their name means the second course, but for Mauro and Serena Secondi it was always about the primi.
In 1985, the couple set aside their dreams of working in philosophy and architecture respectively and committed themselves to their joint passion, pasta. The Umbrian natives opened a small laboratorio (production space) and taught themselves how to make pasta—so well, in fact, that Roman institutions like La Barrique and L'Angolo Divino swear by the goods at their Pastificio Secondi. Unlike many of the city's pasta makers, which cut corners by sourcing cheap ingredients, the Secondis strictly use high-quality flour and organic eggs for richer flavor and ideal texture. The couple has perfected two specialties: thin, egg-based sfoglie sheets, which La Barrique uses for its shockingly light lasagna, and tonnarelli, squared-off pasta strands that are perfect for cacio e pepe. —Katie Parla