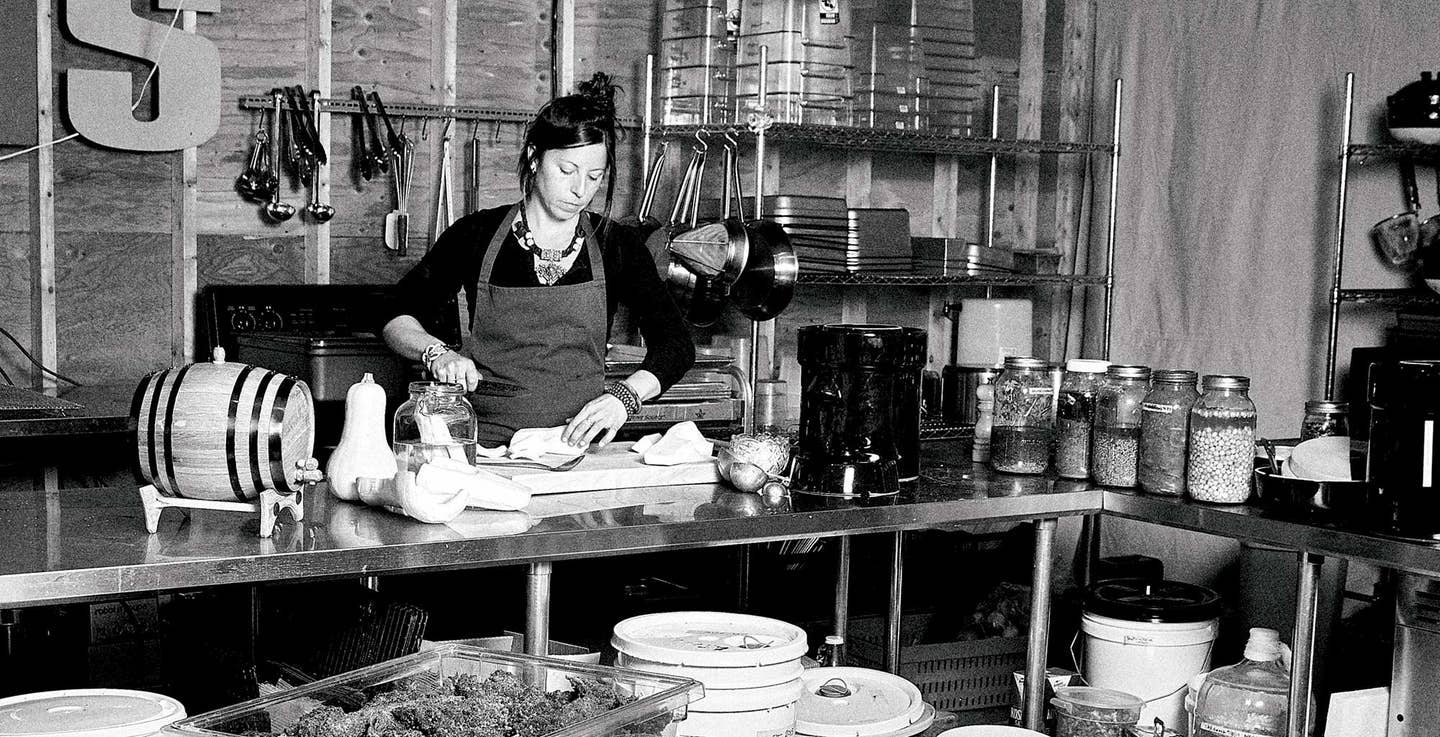 Culture
A Living Larder: The Joys of Fermentation
When Cortney Burns moved east from San Francisco to build a restaurant in the Massachusetts woods, she brought along the key building blocks of complex flavor: a pantry full of funky, fermenting things.
The first tell is the battery of tinctures, tisanes, spices, and pickles crowding her new test kitchen, a collection so varied and impressive it could probably sustain a family of four for a couple of years if it came to that. The second is the talk of not really needing any human interaction, relayed as she puts the finishing touches on a fermented harissa that's spicy and sour and just about good enough to eat with a spoon. But the clearest sign that chef Cortney Burns is adjusting well to life at the edge of the Berkshires comes a bit later on, when she shows off a slick collection of Japanese donabe, puts on a Keith Jarrett record, and fixes me and a few of her new collaborators what was at once a convincing case for hippie food and one of the best home-cooked meals I've ever had.
First up are crackers made of sunflower, chia, and more seeds, so many seeds, that look like something you'd pat yourself on the back for snacking on but are in fact tremendously savory and addictive, like Doritos for those who fold ashwagandha into their morning smoothie. There is live-culture brine in the mixture, Burns tells me conspiratorially. I've almost finished the batch when she presents a dip of fermented sesame and squash, and unveils a hearty soup of ginger and carrots—also fermented, there's a theme—before the showstopper arrives: tender short ribs, a cross between the best of Korea and Patagonia, served with that superlative harissa. There's much more going on with this food, and from more cultures than meets the eye—pastes, blended spices, pickled this, pickled that—but the effect is uniformly nurturing.
Last April, Burns left San Francisco—where she had run the celebrated Bar Tartine with her partner, Nicolaus Balla—to develop Loom, the restaurant for a forthcoming hotel project called Tourists. She says it was a straightforward decision: "Could I have 55 acres to work with in San Francisco? No. Could I create something that didn't exist there before? No." Burns says that she and Balla have no trouble spending long periods away from each other. So she chucked her possessions into the back of a U-Haul, including the donabe and the majority of her larder. "You're keeping San Francisco," she told Balla, "so I get to take the cool stuff."
"I call it my reverse migration," Burns says, "because I'm going from the newest part of the country to the oldest." The beginning was rough; she spent the first few months in a guesthouse without so much as a hot plate, eating macadamia nuts and egg salad from the co-op. Things started to improve when she could lay claim to a "test kitchen"—in this case, a cozy space that in style and feel has more in common with a tweedy uncle's den than the clinical kitchens high-end restaurants usually devote to investigation. As she built out her larder even further, Burns began meeting with farmers, slowly getting ideas for her new restaurant. She has a degree in anthropology and has been finding inspiration in the region's history: "North Adams was a mill town on the train tracks that brought in all sorts of people, kind of like the Silicon Valley of the area," she says, pointing out that there was an Italian newspaper in Springfield up until the 1950s and alluding to the "aura of the spice trade" in Salem.
But the biggest clues about the new restaurant lie in the food Burns makes for herself. Faced with the need to shop for and prepare food every day in a town where there's only one restaurant worthy of an occasional visit, she has gained the type of insight many chefs have a hard time gathering: How does eating what I cook every day actually make me feel? Here is where Burns, who also studied the Tibetan language and sold clothes at Grateful Dead concerts, does little to hide the hippie: "A dish can be really cool, but does it raise my personal vibration?"
More often than not, making food that feels good involves something fermented. Burns' first excursions into brining and pickling were driven by medicinal concerns, not culinary ones. Five or so years ago, a doctor suggested she experiment with the practice to improve her health. "I started trying out all these different things, and in the process realized how much flavor was in it," says Burns. She found the ancestral quality of the tradition alluring; she recalled her grandmother's exceptional borscht, and how she fermented the beets that went into it. "It's a tapestry of curiosity, information, and experience," says the chef.
It didn't take long for her to go down the rabbit hole with Balla, and the funky techniques made their way into the cooking at their erstwhile restaurant. The pinnacle of the effort came in the form of the couple's 2014 cookbook, Bar Tartine, which preaches an uncompromising from-scratch ethos, with the entire second half given over to making your own vinegars, cheese, yogurt, spices, black garlic, and so on. The cookbook is also known for its difficulty, but Burns insists that all you really need to get fermenting is salt, water, and a Ball jar.
The idea that all of this is simple—the foraging, the preserving, the larder filled with endless ferments—is key to understanding Burns and her food. These things aren't chef-y indulgences; they're the only way she can imagine making food, a source of comfort as she builds something in a new place. So while she is happy talking at length about history and bacteria and chemical reactions, Burns says she doesn't want to wave it in people's faces. "This is all stuff to know to feed myself and make food that does well by other people. It doesn't need to be really cerebral."
Avoid Poisoning Yourself, and Other Fermenting Tips
Fermentation intimidates people. Encouraging, rather than inhibiting, the growth of microorganisms just goes against so much of modern kitchen training. But Burns' first piece of advice for the novice fermenter is to relax and trust yourself. People have been doing this stuff for thousands of years, she points out, just by "burying shit in the ground." And while most cooks have been brought up to feel that leaving ingredients for long periods at room temperature is a recipe for instant death, she says she has never heard of anyone getting so much as an upset stomach from a fermented vegetable.
Still, there is a right and a wrong way. Fermenting sauerkraut, pickles, and other vegetables is an anaerobic process, which means air is the enemy. You'll want to avoid oxygen by submerging raw vegetables in brine in a crock. All you need is an open vessel (preferably glass or ceramic), a lid that fits inside, and a weight to go on top. Fill the crock with vegetables and brine and use the lid and weight to keep the vegetables submerged. A large dish, a small plate, and a jug of water work well, but TSM Products makes a handsomely old-fashioned ceramic crock with perfectly sized weights—it's available for about $50 online.
The exact brine will depend on the recipe—olives need much more salt than cucumbers, and cabbage contains enough water that you usually don't need to add any water—but a 2 percent brine, about one tablespoon of kosher salt for every cup of water, is a good all-purpose starter for most vegetables.
At that point, leave your ferment in a dark place at room temperature, and taste as it gets sour. If mold forms, simply scrape it away. "Trust your nose," Burns says. "When something's off, it's obvious."