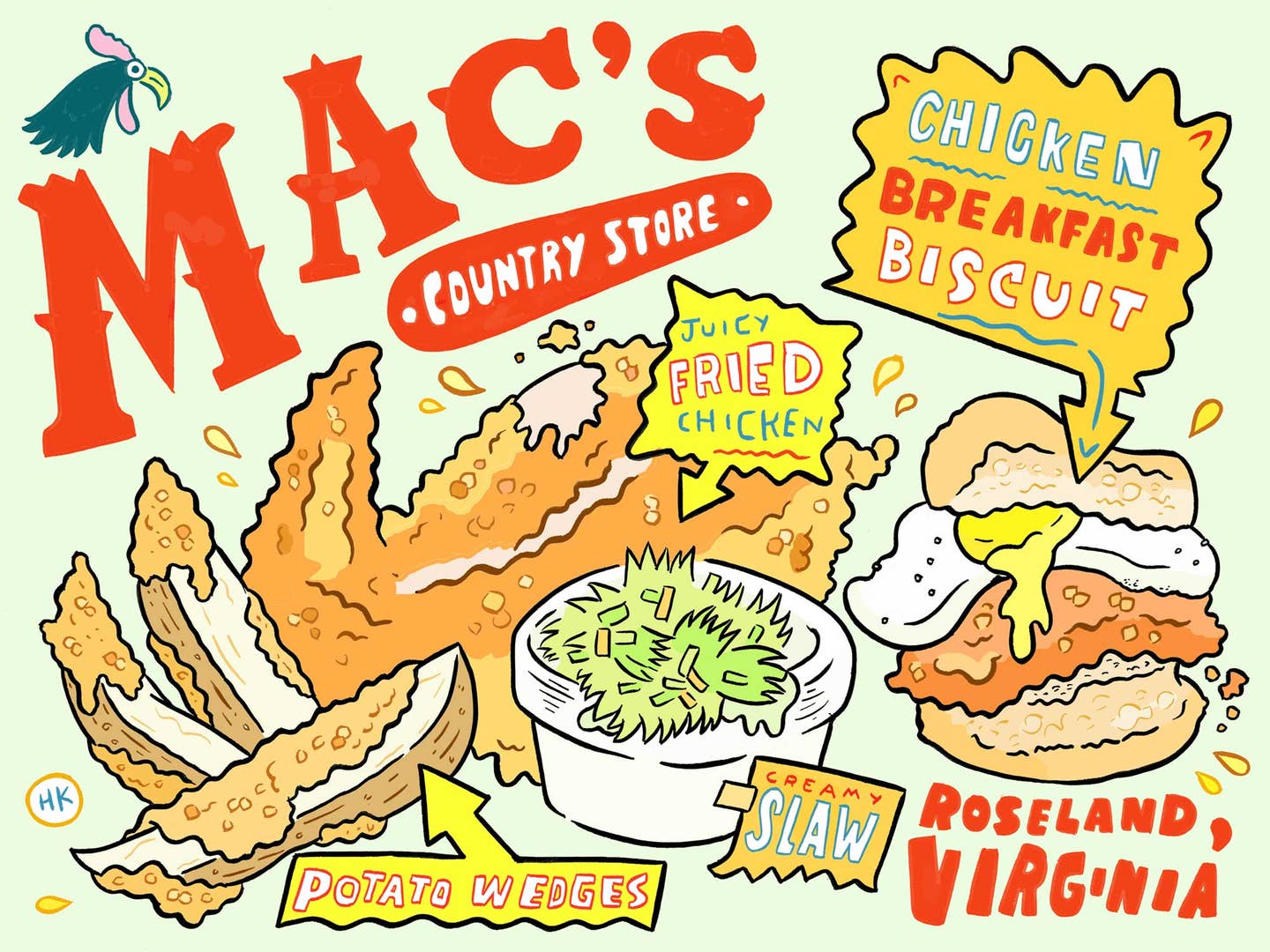 Travel
One of America's Best Fried Chickens Comes From a Virginia Gas Station
Mac's Country Store epitomizes the magical road food find
Welcome to Hawk's Illustrated America, a monthly series following illustrator Hawk Krall's journeys through the back roads of the U.S. in search of our country's most obscure and delicious regional specialties.
On a road trip to New Orleans 15 years ago, before writing about or drawing food was ever on my mind, I randomly stopped into a gas station somewhere between Maryland and Mississippi and had the best fried chicken of my life. And then I forgot where to find it again.
A line of people out the door were waiting at the seemingly non-descript station for what turned out to be a full-on fried food operation inside. The chicken was perfect. Spot-on seasoning, a moderately thick crust that was golden brown and not greasy in the least, incredibly juicy; just a goddamn perfect piece of fried chicken. And then came the potato wedges: the world's best steak-cut potatoes dunked in fried chicken breading and deep fried for something warm and soft in the middle but with the full crunch of a drumstick.
It was the kind of roadside find that felt like magic, all the more so because, in those days before we all meticulously documented our every food experience, I'd completely neglected to take note of where it was. In the days that followed, I realized I'd probably never find it again. And for years after, that chicken became something of a holy grail of regional food. Would I ever eat fried chicken that good?
Fast forward a decade and a half and I started to hear whispers of a fried chicken trail in and around Charlottesville, Virginia: gas stations known locally for the quality of their fried chicken, no famous chefs or secret recipes. So I took off to drive through the beautiful Blue Ridge mountain area to check out some of the more notable Virginia chicken spots I'd heard so much about. And maybe—just maybe—find my holy grail again.
The first few were decent enough. Some even sold really good fried chicken. But in most cases, they had that certain air of once-hidden gems that capitalized on their newfound fame. Maybe the owners changed, or they reworked their logo, or they generally streamlined their operation to service the crowds. The side dishes seemed very standard and thrown-together, not too different than your average fast food operation. They just didn't have that gas-station magic I was looking for.
45 minutes south of Charlottesville, I stopped at Mac's. It was the only gas station for miles around, a no-name Exxon, and my main goals were to fill up the tank and grab an iced tea. At this intersection of two small highways with 20 minutes of winding mountain road in every direction, I had no expectations of fried chicken greatness—until I stepped inside.
Mac's isn't the holy grail of fried chicken I visited 15 years ago, but it's close. Inside is a full-on country store with a dining room, jars of homemade relish, and chalkboard menu loaded with parts of chicken that they'll fry. Those excellent potato wedges too. It's the kind of place where, if they're working on a fresh batch of chicken, they'll direct you away from the ones sitting in the warming tray so make sure you get a taste of their best work. And their chicken is out of this world—as crisp and juicy as you could hope for.
A few days later I paid a visit to confirm their greatness and grab some breakfast. Don't sleep on the breakfast biscuit, made with a perfectly cooked wobbly egg atop a freshly fried hunk of boneless chicken on a buttery biscuit, which is made with as much care as everything else on the menu. If I lived up in these mountains I'd be here three times a week in the corner with a 32-ounce can of Bud Light Lime, just scarfing down chicken.
When you're eating on the road, it's easy to be swayed by the romance of middle-of-nowhere joints like this with hand-lettered signs advertising cole slaw by the pound. And plenty of chefs in plenty of cities have cracked the fried chicken code to perfectly crisp and flavorful bird. But these small joints have an inarguable asset that those big bird restaurants never will: time. At Mac's, the flow of customers is slow enough that the staff here can take care of every little detail without worrying about a lunch rush. And when you have people far off the main food trail, with nothing to prove except their own pride, magic happens.
Mac's Country Store
7023 Patrick Henry Highway
Roseland, Virginia 22967
(434) 277-5305
Hawk Krall is an artist, illustrator, and former line cook with a lifelong obsession for unique regional cuisine, whose work can be seen in magazines, newspapers, galleries, and restaurants all over the world. He focuses on editorial illustration, streetscapes, and pop-art style food paintings.