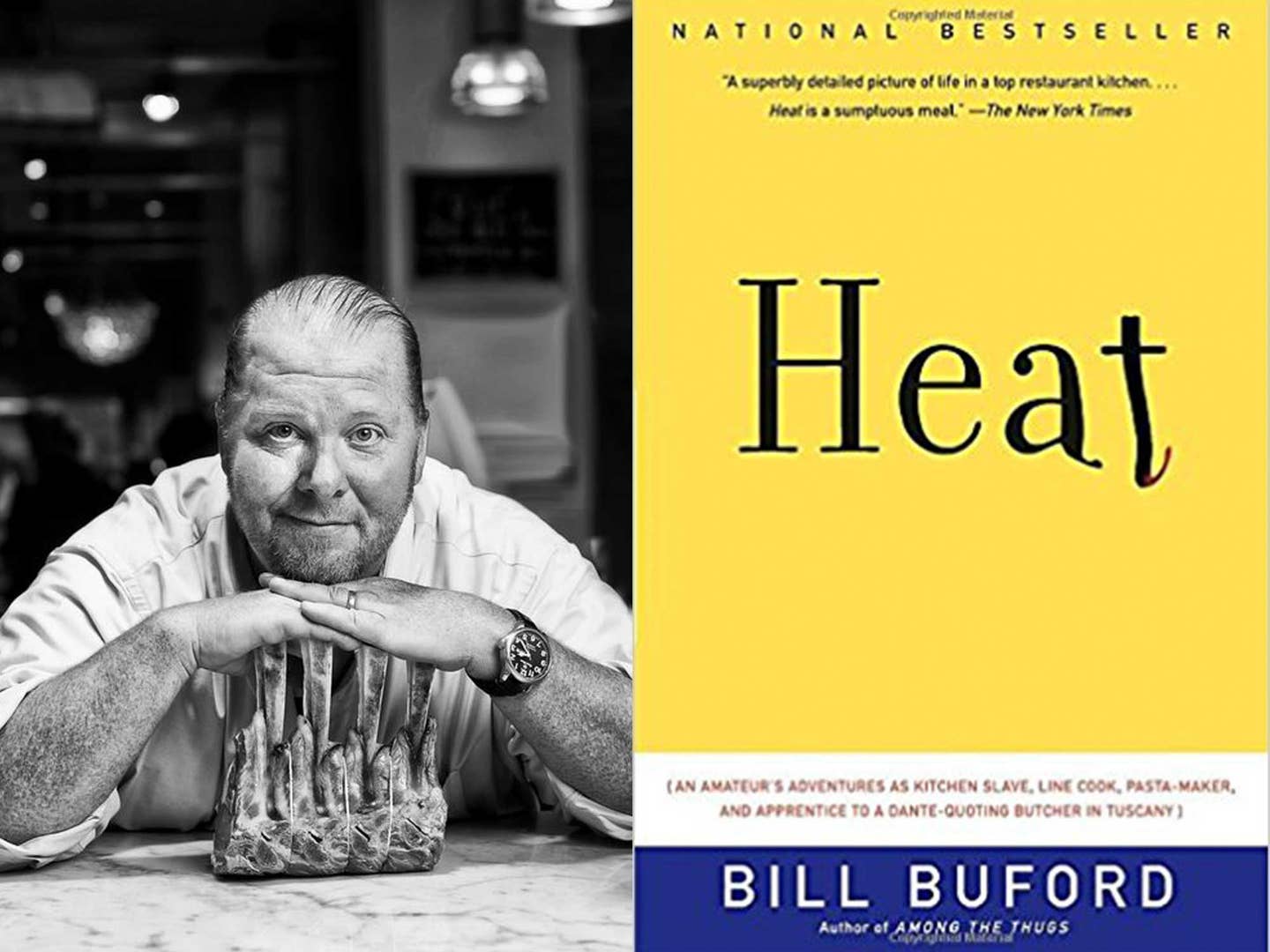 Culture
Into the Archives: Revisiting the Culinary Tell-All Reported from Mario Batali's Kitchens One Decade Ago
In 2006, contributing editor Shane Mitchell reviewed Bill Buford's Heat, a no-holds-barred account of an apprenticeship in the celebrity chef's kitchen that bears surprising relevance still today
Welcome to Into the Archives, where we comb through our dog-eared copies of SAVEUR issues past and consider the stories and recipes that capture a unique time and place—and have some surprising relevance today. (Editor's note: In light of recent news, we're revisiting contributing editor Shane Mitchell's 2006 review of Heat, Bill Buford's foray into the world of restaurants and sometimes toxic kitchen culture).
As someone who once operated a meat slicer at the now defunct Bloomingdale's food department, I feel a twinge of sympathy for Bill Buford—author of Heat: An Amateur's Adventures as Kitchen Slave, Line Cook, Pasta-Maker, and Apprentice to a Dante-Quoting Butcher in Tuscany—when he writes about severing his fingertip during a kitchen apprenticeship at celebrity chef Mario Batali's three-star Babbo. However, he had it coming. Having planted himself in harm's way as an interloping journalist-tourist—more George Plimpton than George Orwell—Buford bumbles and sloshes around the cramped back-of-the-house quarters alongside volatile co-workers who begin referring to him, behind his back, as "the kitchen bitch."
Heat is the latest entry in a culinary tell-all genre that serves up slices, so to speak, of life amid the flashing blades and copper pots of a professional kitchen. But besides offering an account of the perils and abuse associated with restaurant work, Buford attempts to provide an insightful profile of Batali, one of the most exaggerated personalities in the culinary world. Whether Buford has written a worthy culinary memoir or merely found an entertaining way to work out his own professional midlife crisis is hard to tell.
Ever since Down and Out in Paris and London—Orwell's gritty account of, in part, life as a lowly plongeur (dishwasher) at "Hotel X" in Paris in the 1920s—the gastronomic milieu has been represented in literature as a manifestation of purgatory on earth, populated by misfits and renegades unable to secure conventional employment elsewhere. Orwell was literally starving when he accepted the most menial job in the grand hotel's sub-basement. You certainly don't get that same sense of desperation from Buford—the fiction editor at The New Yorker for eight years until he left in 2002 to begin researching his book—who treats his detour from the editorial desk as an earnest quest for another skill set. Who in his right mind would voluntarily quit one of the publishing industry's most prestigious jobs for a grueling post in the culinary world? Burying the details of his departure from the magazine on page 142, Buford notes that "a chef has a knowledge about food that I wasn't going to get from books, and I wanted that knowledge." Then he talks Batali into letting him begin "kitchen trailing," a practice by which a neophyte absorbs the techniques of a particular chef.
The desire to impress friends with recipes garnered from a cooking school vacation is not uncommon, but it's another kettle of fish to walk in off the street and join "the line" without any professional training. Obviously, Buford wants more than to perfect his ragú; the more honest reason may be a yearning to change his life ("I wondered if I was a magazine guy anymore") and gain entry to that brotherhood of cooks and restaurant guys. Buford can't help being enamored of that world. Despite his jolly Molto Mario alter ego, Batali is one of those culinary bad boys who push the limits while generating brand-expanding TV shows. Buford's closeness to his subject gives the reader access to behind-the-scenes chatter and an intimate look at Batali's Dionysian ways—but it also makes for a hero-worshipping narrator.
While Buford is indulged, to a certain extent, by the Babbo cooks because he is "the writer guy," he does manage to share information about food handling that is unavailable to the dining public. When not blistering his knuckles in roiling oil or singeing the hair off his forearms, he is able to capture moments that increase the amateur's understanding of restaurant kitchen hierarchy. There is a fascinating passage on "bumping," the aggressive territorial behavior of line cooks who lack room to maneuver (even the husky Batali gets shoved on occasion, although not without consequence).
Now and then, Buford's narrative departs from the Babbo inferno to retrace—and in some cases relive—Batali's professional life, from his days as a pizzeria-managing party boy at Rutgers to his life-changing internship at a humble trattoria in Emilia-Romagna. Traveling to Italy to meet the restaurant family who took Batali in, Buford becomes fixated on the delicate tortellini made by the trattoria's former owner, who makes him swear not to reveal the secret technique to her former pupil. In another chapter, Buford heads to Chianti and attaches himself to Dario Cechchini, a Dante-spouting butcher celebrated for his "ideological" bistecca fiorentina. In one scene, Cecchini urges Buford to go home after a long night of eating and make love to his wife: "For the rest of the night, you must enact the dark acts of carnality, a butcher's carnality. And then you will rise in the hours before dawn, smelling of carnality, and unload the meat from the truck, like a butcher."
Buford also makes a trip to England to meet Batali's quixotic mentor, the influential, famously volatile chef Marco Pierre White. At one point, White recalls his former apprentice: "'He was wilde. Hard-core. Joy Division was his favorite band, and that says it all' White put his finger on his nose and sniffed. 'Know what I mean?'"
Even as he profiles Batali, Buford describes his own evolution from a clueless wannabe to a passable authority on Italian food. In one passage, toward the end of the book, he crows, "I sat down with Mario and jabbered away about girello, speculated on what could be done with the sottofesa, enumerated the miracles that can be performed on a shank. I'd assumed anyone who had spent time in Italy knew this stuff. I hadn't recognized that not [sic] even most Italians didn't." He rhapsodizes about Babbo ingredients (short ribs and polenta) and attempts to pinpoint the first historical reference for combining eggs with flour to produce pasta. At times Buford comes across as a novice food writer. He would have served readers, and himself, better by doing more research to support his fascination with rustic food culture. When puzzling over why Italians in the 16th century weren't boiling corn and eating it slathered with butter, he doesn't seem to realize that the maize introduced to the old-world diet, and subsequently used for polenta, bears only the slightest genetic resemblance to the silver queen sold at the supermarket.
Ultimately, Heat is less a studied exploration of the influence of Italian cuisine than a steamy romance about big men and their equally large appetites. (A few female cooks populate its pages, but they play secondary roles.) In the last chapter, titled "Dinner with Mario," Buford recounts a Rabelaisian evening with his molto mentor that includes a case of wine, 43 or 46 plates of food (he understandably loses count), and the playful, yet lurid, propositioning of the wait staff at Lupa, another Batali venue. Why do we find these culinary delinquents and their excesses endlessly fascinating? Why does Buford? Is it because, like samurai and back-street fighters, they carry knives and aren't afraid to wield them? The goody-goodies in white toques also get away with murder (as long as it's just chicken), but frankly, trailing the screamers, the spitters, the knife throwers, and the chemically dependent is far more titillating. And if you can perfect your ragú in the process, so much the better.