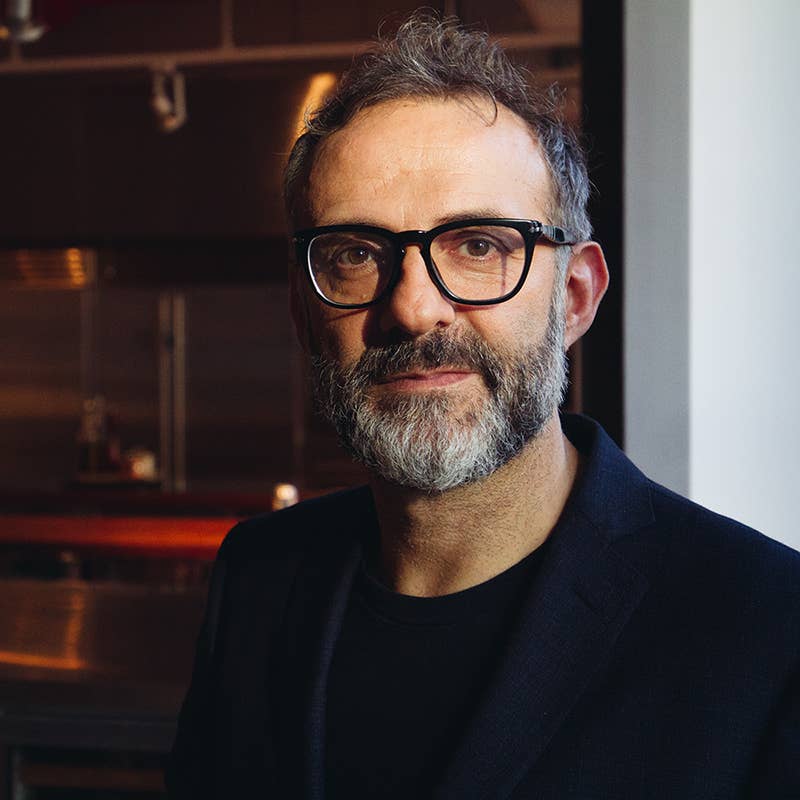 Culture
How a World-Famous Italian Megachef Plans to Fight American Hunger
Massimo Bottura is importing his sustainable, hunger-fighting refettorio concept to the United States
Nearly two years ago, Massimo Bottura debuted his revolutionary refferotrio, a new soup-kitchen-esque model of sustainable cooking that would take aim at food waste, poverty, and hunger. The decorated Italian chef behind Modena's three Michelin-star restaurant Osteria Francesana had spent that entire summer working in an abandoned theater in Milan's Greco suburb turning ugly produce and soon-to-expire meat into free meals for folks in the surrounding working-class neighborhood. Enlisting the help of top toques from all around the world—Daniel Humm and Gastón Acurio, to name a few—Bottura transformed 15 tons of food that would've otherwise been discarded into delicious, sustainable grub.
That first "soup kitchen," dubbed Refettorio Ambrosiano, planted the seed for Bottura and his wife Lara Gilmore to found the non-profit Food for Soul in 2016. The organization promotes social awareness and hosts workshops surrounding both food waste and hunger, while at the same time helping refurbish once-derelict spaces as vibrant, flourishing community kitchens.
Since 2015, more than 130 chefs and 600 volunteers have served approximately 15,000 dishes at four refettorios, which include locations in Bottura's own hometown of Modena, as well as in Bologna and Rio de Janeiro, Brazil (a fifth in London slated to open this June).
This week, The Rockefeller Foundation announced that it had awarded Food for Soul a grant—to the tune of over $500,000—to identify and fight food waste in America's poorest, most vulnerable communities. In a press release, the foundation's new president Rajiv Shah emphasized Bottura's comprehensive approach to tackling hunger at the source. "A Food for Soul network across the United States will help us feed more people with the food we have and offer a new model for addressing urban poverty through social inclusion," said Shah.
First on the docket are New York City, Los Angeles, Miami, New Orleans, and Detroit. In order to determine where refettorio projects are most urgently needed, Food for Soul will spend a year assessing each community and finding local partners to support individual projects. The goal? To open refettorios in at least two American cities by 2019.
Bottura and Gilmore, who serves as president of Food for Soul, plan to develop the American refettorios, like the ones in Italy and Brazil, as real community hubs that implement principles of sustainability in everything from the ingredients to the decor and the individual programming. According to Food for Soul's 2016 accountability report, some localized initiatives unqiue to each location included the refurbishing of the Bologna outpost using tables and chairs produced by Slow Wood and the engaging of the Rio Olympics spotlight to spread awareness about food waste.
While there's no shortage of chefs making valuable strides to eliminate waste or go completely zero-waste in their own kitchens, it's worth noting, as Grubstreet points out, that Bottura is using his clout not to expand or advance his own empire (he has one restaurant with just 12 tables), but rather a global network of likeminded activists, entrepreneurs, and chefs who care to lead by example and feed the vulnerable folks who aren't sitting in their restaurants.