Matt and Ted Lee on Where to Eat in Minneapolis
A very thorough guide to what is quickly becoming the best dining scene in the Midwest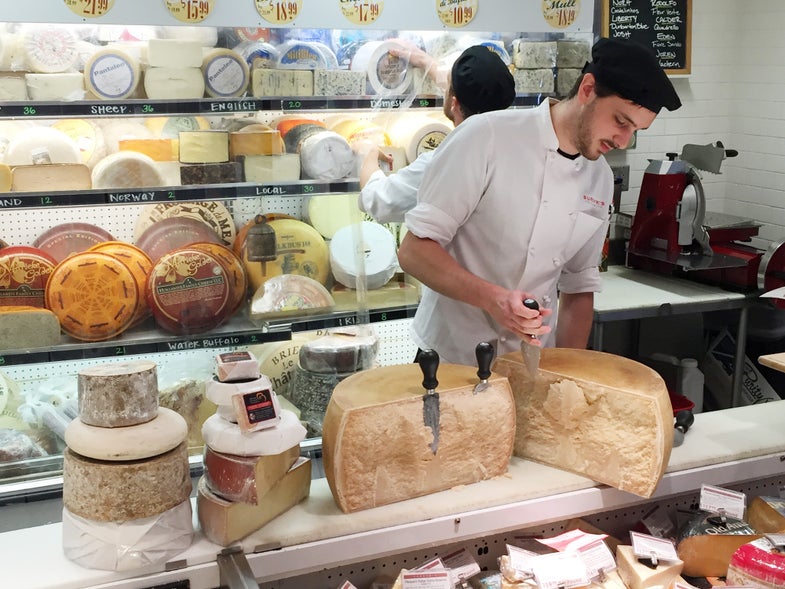 There's a new dynamism in the Twin Cities culinary scene, thanks to a deeply food-engaged populace supporting not only restaurants, cocktail bars, and taphouses, but a dozen independent food cooperatives (supermarkets with a focus on organic and local produce). Our feature in the June/July issue of Saveur visits four Minneapolis chefs in their kitchens and comes away with some kick-ass new recipes for summer. In the course of reporting the story, we visited many more restaurants, salumi makers, bakers, and food trucks than we had room in the story for. So we've put together this list of some our favorite finds.
Bachelor Farmer
In this warm, post-and-beam former warehouse, James Beard Award-winning chef Paul Berglund fashions boldly flavored food from north country ingredients. Your roasted celeriac soup with toasted walnuts and lemon might be served in a clay bowl thrown by Berglund—an amateur potter—himself.
Bachelor Farmer
50 2nd Avenue N
(612) 206-3920
Borough
Drew Yancey serves globe-trotting plates like raw tuna with miso, pineapple, sesame, and lime at this chefs' hangout in the North Loop. And barkeep Jesse Held, a seasoned veteran of the Minneapolis mixology scene, shakes cocktails for adventurous sippers, viz. the Awkward Silence, made with bourbon, peach-pit liqueur, yerba mate honey, artichoke liqueur, and "salt solution."
Borough
730 N. Washington Avenue
(612) 354-3135
Curious Goat
Torqued-up comforts with refined technique (think purple potatoes with sunchoke cream or a meatloaf sandwich with onion jam and gravy) are this food truck's calling card. And you don't have to hunt far and wide for this mobile operation because it's in residence semi-permanently at Sociable Cider Werks.
Curious Goat
1500 Fillmore Street NE
(612) 229-2364
Haute Dish
As you might have guessed by the name, Landon Schoenefeld's restaurant serves Midwestern food with modern, cheffy flourishes. His upmarket riff on the Midwestern staple "hot dish" casserole includes beef short rib, porcini mushrooms, and of course, tater tots—and has become a Twin Cities icon.
Haute Dish
119 Washington Avenue N
(612) 338-8484
Heyday
Dominated by a freewheeling open kitchen and a few barns' worth of reclaimed wood, Jim Christiansen's vegetable-focused restaurant offers cooking with a lightness and purity, shown in dishes like a warm appetizer of a fried egg over chanterelles, quick-pickled blackberries, green garlic, and toasted hazelnuts. The claytonia, morels, and spring onions that Christiansen finds in Theodore Wirth Park make regular appearances on plates here.
Heyday
2700 Lyndale Avenue S
(612) 200-9369
La Belle Vie
The grand dame of Minneapolis fine dining has a new chef de cuisine in Shane Oporto. The jury's still out on how the menu of French-inflected refinements that won executive chef Tim McKee a James Beard Award for Best Chef Midwest in 2009 will get tweaked, if at all. In the meantime, the bar here—widely credited with igniting the craft cocktail scene in the city—is superb for popping in for an aperitif before a night on the town.
La Belle Vie
510 Groveland Avenue
(612) 874-6440
Kramarczuk's
Since 1954, this warm, inviting meat market and restaurant has been delivering the old-world flavors of eastern Europe, primarily in the form of sausages and more sausages: Every style of mett, brat, and wurst is available here.
Kramarczuk's
215 E Hennepin Avenue
(612) 379-3018
Marvel Bar
This industrial-posh speakeasy underneath Bachelor Farmer has the city's most extensive selection of spirits from Minnesota distilleries and some of its best cocktails, too. The house style is a restrained refinement—no seaweed tinctures here!—that is nevertheless sly and winning.
Marvel Bar
50 2nd Avenue N
(612) 206-3929
Piccolo
Doug Flicker is the Obi Wan Kenobi of the Minneapolis dining scene and his tiny, 36-seat jewel box spot in South Minneapolis is a must on any food-lover's tour. His dishes marry craveable comfort with tweezer-prodded artistry, like braised salsify with smoked oysters, hen of the woods mushrooms, horseradish, and cress. And don't miss his signature scrambled eggs with pickled pigs' feet and truffle butter.
Piccolo
4300 Bryant Avenue S
(612) 827-8111
Red Table Meat Co.
Heirloom pigs, transformed into traditional Italian-style salumi and whole-muscle cures, are the specialty of this year-old salumeria, run by ace chefs Mike Phillips and Peter Ireland. Their gleaming Willy Wonka-esque facility has a USDA inspector onsite and floor-to-ceiling glass windows that reveal to visitors every step of the process, from butchering, to production, to curing, to aging.
Red Table Meat Co.
1401 Marshall Street NE
(612) 200-8245
Salty Tart
In a city with a brace of top-notch bakeries (Patisserie 46, Rustica), Michelle Gayer's spot—a kiosk tucked into the Midtown Global Market—focuses on decadent, delicious confections you'd expect from a James Beard-nominated pastry chef, like a chocolate trifle with moist chocolate cake, silky chocolate mousse, and toasty caramel served in a half-pint deli container. Grab a plastic spoon and dig in!
Salty Tart
920 E Lake Street
(612) 874-9206
Spoon and Stable
In a sun-splashed lofty former stable, Minnesota native Gavin Kaysen—whose previous gig was seven years helming New York's Café Boulud—turns out elegant seasonal cuisine, like wood-grilled duck with black rice, beets, and honey, with the highest-quality Midwestern ingredients.
Spoon and Stable
211 1st Street N
(612) 224-9850
Surdyk's Liquor and Cheese
A sprawling market—really two markets in one—is a one-stop shop for Twin-Cities-made provisions, like Red Table Meat Co. salamis, cocktail bitters by Dashfire, and B.T. McElrath's award-winning Salty Dog Chocolate Bars.
Surdyk's Liquor and Cheese
303 E Hennepin Avenue
(612) 379-3232
Tilia
This ur-neighborhood restaurant seems like it's been there since Betty Crocker's heyday. It's a warm taproom (featuring 21 tightly curated draft beers) with creaky hardwood floors, glowing schoolhouse lanterns, and chipped Thonet chairs. Chef Steven Brown isn't afraid to elevate well-sourced Minneapolis lake fish and vegetables with global flourishes like dukka spices and ras el hanout.
Tilia
2726 W 43rd Street
(612) 354-2806
New and on-the-horizon:
Brut
Erik Anderson returned to Minneapolis from Nashville's lauded The Catbird Seat, and teamed up with Jamie Malone, former executive chef of Twin Cities seafood temple Sea Change, to create Brut, a classic French restaurant slated for a fall opening. Their pop-ups have been setting Instagram ablaze. Stay up-to-date with developments and opening date on Twitter.
Nighthawks and Birdie
Landon Schoenefeld first made a name for himself with Haute Dish (see above). Nighthawks, named for the Edward Hopper painting, is his postmodern diner; Birdie, opening later this summer, will be a tasting-menu-only restaurant-within-a-restaurant located in Nighthawk's kitchen.
Nighthawks
3753 Nicollet Avenue S
(612) 248 8111
Patisserie 46
Much-laureled pastry chef John Kraus crafts all the soigné French patisseries—mille-feuilles, eclairs, macarons—at this laid-back neighborhood café and bakery. But Kraus' kouign-amann twist, his foot-long take on the classic Breton delectable, is a must. There are also killer tartines and crêpes.
Patisserie 46
4552 Grand Ave S
(612) 354-3257
Revival
North Carolina-bred Thomas Boemer won over the Twin Cities with his cooking at Corner Table, a genial neighborhood bistro with deft Italian-ish fare and seasonal Midwestern ethics. His newly-opened spot Revival pays homage to the southern dishes he grew up with, such as fried chicken and pork barbecue with chopped slaw.
Revival
4257 Nicollet Avenue S (612) 345-4516
Cookbook authors Matt Lee and Ted Lee are the hosts of the TV series "Southern Uncovered with The Lee Bros." which premieres on Ovation June 14, 2015.