Where to Eat in Minneapolis
Discovering the homegrown talent of America's next great food city: Minneapolis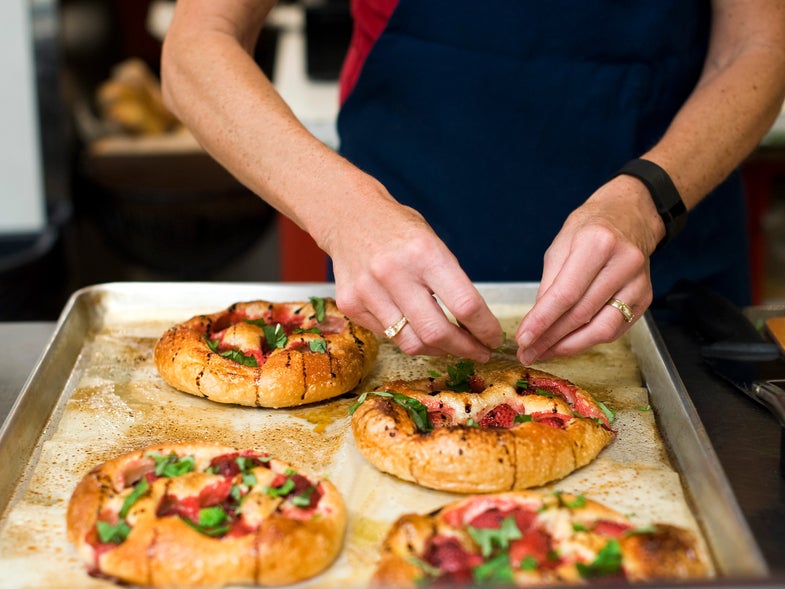 Sun streams through the clerestory skylight of Spoon and Stable, a former barn in Minneapolis' North Loop warehouse district, casting the restaurant's chef, Gavin Kaysen, in a beatific glow wholly suited to the moment: Kaysen's preaching the gospel of North Country ingredients. The white marble pass of his open kitchen is an altar upon which sits a whole raw duck from a farm in Brainerd; a large jar of molasses-dark buckwheat honey is from Little Falls; and a saucepan of coal-black rice comes from just across the state line in Wisconsin. Kaysen reaches for the duck, cradling it in his upturned palm, lifts the cavity to his nose, and inhales.
"Smell that…" he insists, proffering the duck, which, true enough, has a distinct aroma, the minerals-and-popcorn whiff of dry-aged beef. "All that funk? In the bone? I want it to be absorbed by the breast meat," he says. "That's what we are after."
By "we" Kaysen means he and Pat Ebnet from Wild Acres Farm, two and a half hours away. They began working together last summer to achieve the tenderness and deep flavor the chef was seeking in Pekin birds. Kaysen had recently returned to the Twin Cities (where he grew up) to open his first restaurant. In the 12 years he'd been gone he cooked in Napa, in London, and in New York City at Café Boulud on the Upper East Side.
To hear Kaysen tell it, the story of his funky duck—and his own homecoming—is as much about the thrill of finding crazily passionate people as it is about discovering alluring ingredients. Over the months that led up to Spoon and Stable's opening in November, Ebnet sat with him for numerous taste tests of Wild Acres' birds as the two learned that the chef-vendor relationship could be more of a collaboration than a product-drop at the kitchen door. Kaysen points to a monumental chandelier above the host's station; it began as a conversation with a glass-artist friend who works across the river. His chef's table—a bar for six diners overlooking the kitchen—is a thick slice of wood from a black walnut tree made by a pal who culled it from a city park.
We first learned of the culinary genius of Minnesota eight years ago from Andrew Zimmern. At the time, Zimmern was a mostly local phenomenon—an irrepressibly enthusiastic chef-turned-food-journalist—and as much as we Southerners schooled him in the ways of grits and greens, he taught us about the food scene of his adopted hometown: the Eastern European cured-meat traditions of old-school butchers like Kramarczuk's, the amazing markets where the city's large Hmong and Ethiopian communities shop, and the legions of food-engaged home cooks who support a dozen food cooperatives—fiercely independent supermarkets with a focus on organic and local produce.
Fast-forward to a recent return visit and we were floored by how Minneapolis was inspiring excitement about Midwestern food the way Nashville was Southern food. Food trucks were partnering with tap houses to create pop-ups. There was Haute Dish, Landon Schoenefeld's spot serving cheeky, decadent reinventions of midcentury Midwestern cooking—including, as the name implies, haute hot dishes—and the heavily tattooed dudes of Travail Kitchen & Amusements selling tickets to hours-long tasting menus. Red Table Meat Co. was on the scene, meat pros who were curing whole cuts Italian-style and teaming up with Kramarczuk's to offer some out-of-this-old-world sausages. And presiding over it all, like a benevolent food pope, was Zimmern, who in the intervening years had become a culinary-travel TV superstar and booster-in-chief of the Twin Cities. When the news spread that not only Kaysen, but Erik Anderson, the acclaimed chef of Nashville's Catbird Seat, was moving back to Minneapolis to be a part of the landscape, we decided to book another trip.
Minneapolis stretches across the banks of a few choice S-curves in the upper Mississippi River, and its proximity to water routes and to the fields of the fertile Grain Belt to the west made it a milling and lumbering center in the 1800s. Like many cities its size, Minneapolis developed a dense downtown grid of gleaming skyscrapers over the course of the 20th century. Here they're interconnected by the "Skyway"—a network of glassed-in second-story corridors that permit a sun-deprived resident to walk from one building to another in the middle of winter without freezing.
Often compared to Chicago and Seattle—with St. Paul it's the largest metropolis in the northern United States between the two—Minneapolis feels greener and more pastoral than both. The dense grid of streets quickly gives way to meandering tree-lined parkways that snake around public green spaces and several major lakes, a few minor ones, and the Mississippi. These parks and bodies of water have a loosening effect on the city and are central to the lives of its chefs, like Paul Berglund of The Bachelor Farmer, who proposes a brisk morning walk on one of the city's hiking trails when we first speak to him, and Steven Brown, whose restaurant, Tilia, is in an enclave of grand Craftsman-style homes just a few blocks to the west side of Lake Harriet.
A tall 50-something with a mop of gray hair, Brown looks like a Replacements roadie who missed the reunion tour bus. "Check this out," he calls from the pocket kitchen that overlooks his warm dining room with its creaky hardwood floors, glowing schoolhouse lanterns, and chipped Thonet chairs.
He tosses us each a dark-brown sandwich bun, soft and warm to the touch. "I called my buddy John at Patisserie 46 yesterday and said, 'Man, you've gotta hook me up with a pumpernickel roll!' I just picked them up from his place. Are they beautiful or what?"
He is preparing a mash-up of the Reuben sandwich and a traditional "shore lunch," a combination that Tilia is famous for. "The shore lunch is for when you're catching fish," he says. "You just fry it up in a pan on the shore, and eat it simply prepared."
Brown interprets the notion of simplicity rather loosely: he's already brined lake trout fillets in a zingy, aromatic brew made from toasted allspice, mustard seeds, cloves, star anise, and fennel. He's whipped up a mayo spiked with ancho chile and diced pickles that he calls "10,000 Lakes Sauce"—a Minnesota riff on Thousand Island. He's quick-pickled kohlrabi overnight in vinegar seasoned with fresh ginger, garlic, and lemongrass for the kohlrabi-radish slaw he's substituting for the sauerkraut.
To put the sandwich together, Brown gets to frying: "I got a FryDaddy for my confirmation—my friends used to call me 'The Calamari Cowboy,'" he says, dunking the first brined fish fillet into lemon juice-spiked buttermilk, dredging it in a dry mixture of cornmeal, flour, and whole caraway seeds, and sliding it into a pan of hot oil and butter. He babies the fillets in the fry pan, spooning the buttery oil over them until they are uniformly golden brown.
He piles a tuft of the kohlrabi slaw on the bottom half of a nicely marbleized pumpernickel bun, then reaches for the crispy fish and an aged alpine-style cheese from Roth in Wisconsin, then tops the mile-high "Reuben" with a glug of his 10,000 Lakes Sauce. It's a punk-rock sandwich with a $25 dry-cleaning bill—impossible to eat without making a willful mess of it, every luscious bite worth the collateral damage.
Though it wasn't planned, we couldn't have dreamed up a more appropriate side dish for Brown's "shore lunch" than the pork belly and potato recipe Paul Berglund cooked for us at The Bachelor Farmer—drawing as it did from a similar campfire culinary tradition. As a Boy Scout, Berglund remembers folding cut-up zucchini, carrots, and potatoes in packets of aluminum foil and cooking these "hobo packs" in the campfire. His 2015 reimagining of this humble childhood staple has become a signature at The Bachelor Farmer, a new-Nordic nest with acres of post-and-beam wood porn where you're served soup in bowls thrown by the chef himself (while supplies last—the dishwasher is murder on the handmade stuff).
"I feel more inclined to bolder flavors living in Minnesota," says the Chicago-born chef, who served in the U.S. Navy in Japan and worked for seven years at Oliveto in Oakland before moving here in 2010. "When you're faced with a bitter cold span of three months, it's fun to create ways to wake you up! There's a need for bolder, novel flavors that energize and surprise."
Berglund's foil-wrapped spuds and pork belly evoke the Minnesota pine forests: When the packets heat up on the flattop griddle, the cedar paper he stuffs inside them smolders, infusing the food with smoke. He places tiles of fresh pork belly, which have been salted for a day and lightly cooked, on the potatoes and strews shallots—both pickled and caramelized—over the top.
The last stop on our "Minnesota on a Plate" tour of the city was to Christiansen's Heyday, named—according to the definition painted across the brick wall in the barroom—after 1) an archaic term for high spirits; 2) the period of one's greatest vigor or popularity; 3) a Replacements song. (Hint: It's the one that goes: "Goin' to the party though we weren't invited!")
The lofty, open storefront, clad in darkly stained reclaimed wood, was closed for a private event that evening, and Christiansen was solo in the spacious kitchen cooking up a warm appetizer of sautéed chanterelles and quick-pickled blackberries with green garlic, hazelnuts, fava beans, and a fried egg.
Minneapolis born and bred, one of five children, Christiansen characterized his mom's cooking growing up as "pretty good farm-style cooking," which sounds like an understatement when he also notes that when she baked bread, she'd toast the whole grain before grinding the wheat. His paternal grandfather was similarly an influence on his food life growing up. He lived in a working-class part of St. Paul on a large plot of land where he had a huge asparagus field, pear trees, and great tomatoes.
Christiansen caramelizes the chanterelles and spring leeks with a knob of butter, a few whole sprigs of thyme, and an unpeeled garlic clove. He squirts a flash of water from a squeeze bottle into the pan as the fried egg is nearing completion. "So it doesn't brown around the edges," he says. "That's exactly the color I'm going for."
He tops the dish with toasted hazelnuts: "They're so fruity and roasty, they go great with eggs, and they grow everywhere here," he says. When we bite into his Minnesota hazelnuts, it's fair to say that we'd never really appreciated the savory side of a filbert until then. It seems odd, but there you have it: We were astonished by a hazelnut.
Then Christiansen makes a confession: "The Minneapolis Park System is a foraging secret," he says about one of his favorite suppliers. Tart and earthy claytonia leaves, chanterelles, morels, and nettles are some of his favorite finds. "Actually, most of the chefs know about it, but it's big enough for all of us. We're spoiled here," he says.
Where to Eat in Minneapolis
The Bachelor Farmer
50 Second Ave. N
Red Table Meat Co.
1401 Marshall St. NE
Haute Dish
119 Washington Ave. N
Spoon and Stable
211 First St. N
Heyday
2700 Lyndale Ave. S
Tilia
2726 W. 43rd St.
Kramarczuk's
215 E. Hennepin Ave.
Travail Kitchen & Amusements
4124 W. Broadway Ave.
Patisserie 46
4552 Grand Ave. S