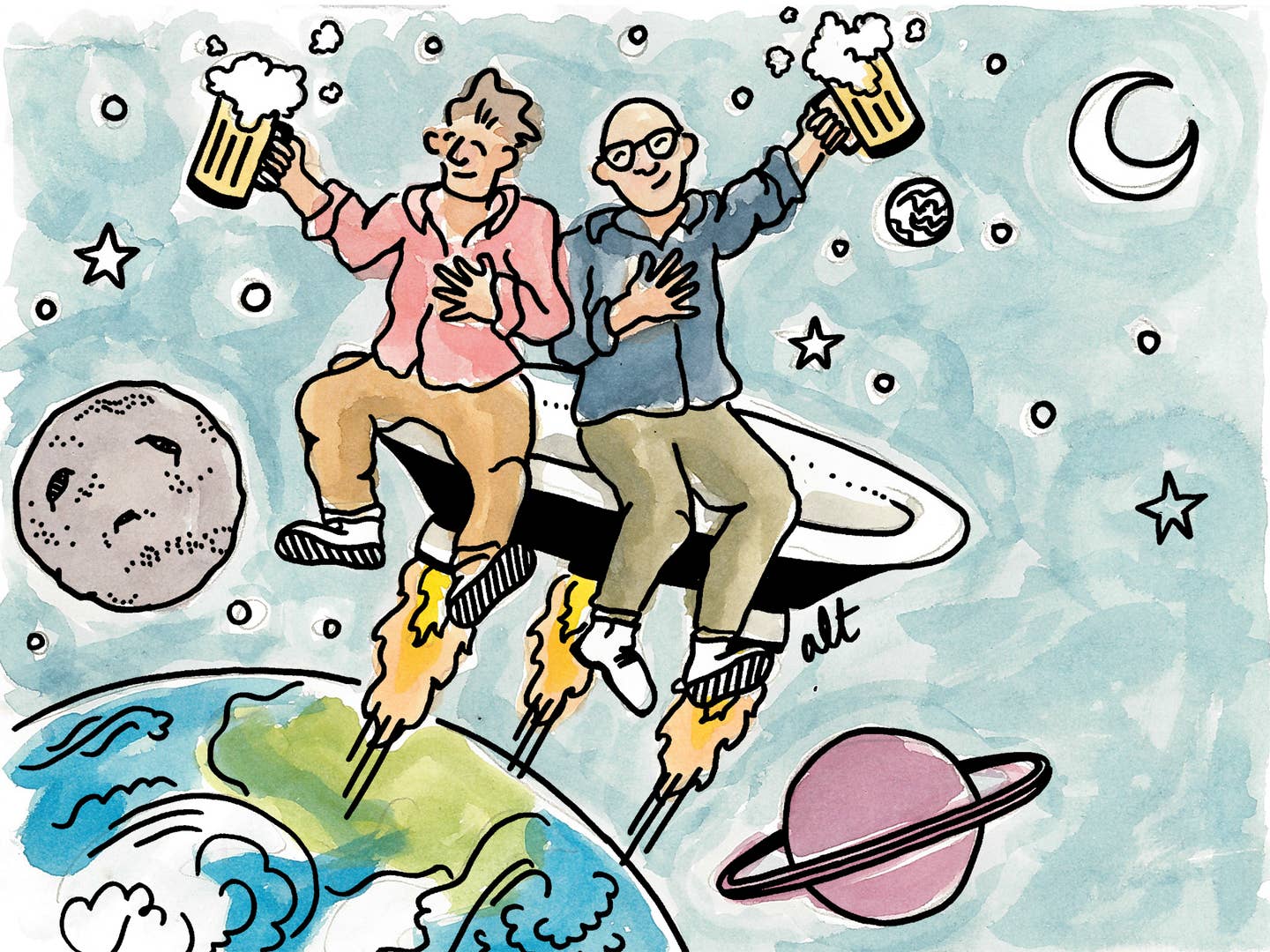 Travel
Mentaiko Spaghetti Will Make You Forget About Ramen
Chef Dan Holzman and Matt Rodbard visit a basement sake bar in Queens for an addictive plate of Tokyo's favorite spaghetti
The Meatball Shop chef–owner Dan Holzman and Koreatown author Matt Rodbard like Asian food, traveling, and drinking alcoholic beverages with each other enough to spend a good amount of time scouring the world's izakayas and pojangmachas for interesting unions of food and drink. In Asia, drinking-food (and drinking properly with food) is a near art form. In each installment of Asian Drinking Food Adventure, their aim is to introduce you to these foods, at a place either close or far from their home in New York City—Dan taking photos, Matt typing notes into his iPhone—and then create a recipe for you to prepare for your own eating and drinking adventure.
"Get Free Takowasa!" read the hand-written sign affixed to each menu at Zabb Sake Bar in Jackson Heights, Queens. Takowasa is a traditional Japanese beer snack made from raw octopus marinated with freshly grated and pickled wasabi root and spicy mustard. Each bite burns your tongue and begs for a sip of ice cold Sapporo. It's difficult to eat with chopsticks for all except seasoned pros, but it's also damn delicious. While it's not impossible to find takowasa at one of the many Japanese drinking joints found in New York, Los Angeles and, of course, Japan, I pause and ask myself why it is being served in the basement of Michelin-starred Thai restaurant, Zabb Elee? And why is it being given away for free (well, free in exchange for an Instagram post, thank you very much)? These are just two of the many questions that continue to amuse us as we eat through what turns out to be a very strange, very good restaurant in Queens.
Depending on who you ask, Zabb means "delicious" or "tasty" when translated from Thai and for years, many have jumped on the 7 train to taste the incredibly tasty, spicy cooking of Northeast Thailand in New York. When we arrive on the early side of a summer weeknight, the narrow restaurant is packed, while the newer sake bar below is about a third full. Sake Bar is run by Palm Tangjantuk, a veteran of Thai and Japanese restaurants in New York and Chicago. He tells us soon after we are seated that while the two restaurants share a name, they are their own enterprises. Different owners and different menus.
Not that this is the most important detail when looking for great drinking food, but Sake Bar is extremely stylish. I mean so stylish that its staff looks like it was ripped from the pages of Monocle magazine. Edison bulbs, cooks in matching fedoras and pin striped aprons, and managers sporting manicured mustaches are all there. It is also worth noting that everyone working in the restaurant has recently immigrated from Thailand, yet they all seem to have a deep-rooted understanding of and love for Japanese soul food, including takowasa.
Among the hits at Zabb worth mentioning—and sticking with our tako theme—are the takoyaki, a ball-shaped octopus street food popular in Osaka, which is basically fried dough slathered in Japanese barbecue sauce and topped with shaved bonito flakes (dried smoked fish). Dan had a come-to-Jesus takoyaki moment at a Hanshin Tigers baseball game in Osaka a few years back where the balls were served from concession stands at the ballpark along with squid fries and ice cold beer, the Japanese equivalent of a hotdog and fries. But here at Zabb, it's the mentaiko spaghetti that steals the show. Think cod roe + butter + chili oil + noodles + seaweed. There's a magical culinary calculus going on when you bring together briny seafood—in this case, marinated pink cod eggs—with butter, seaweed, and lingering spice. The version at Zabb is textbook and we nearly polished it off in one inhaling slurp while the A-side of Kind Of Blue on the restaurant's speakers segued into a whole bunch of Jason Mraz.
According to Tadashi Ono and Harris Salat, authors of the trustworthy Japanese Soul Cooking, mentaiko spaghetti was invented at the Tokyo restaurant Kabemo-ana in the 1960s. It was Korea, though, that first introduced the marinated cod roe to the dish, the key component that gives the spaghetti its trademark brine and makes it the ultimate drinking companion. Just sticking your face into the vaporous pot will take you to a happy place. If you're feeling extra festive, you can serve it with a soundtrack of Jason Mraz, just like at Zabb Sake Bar.