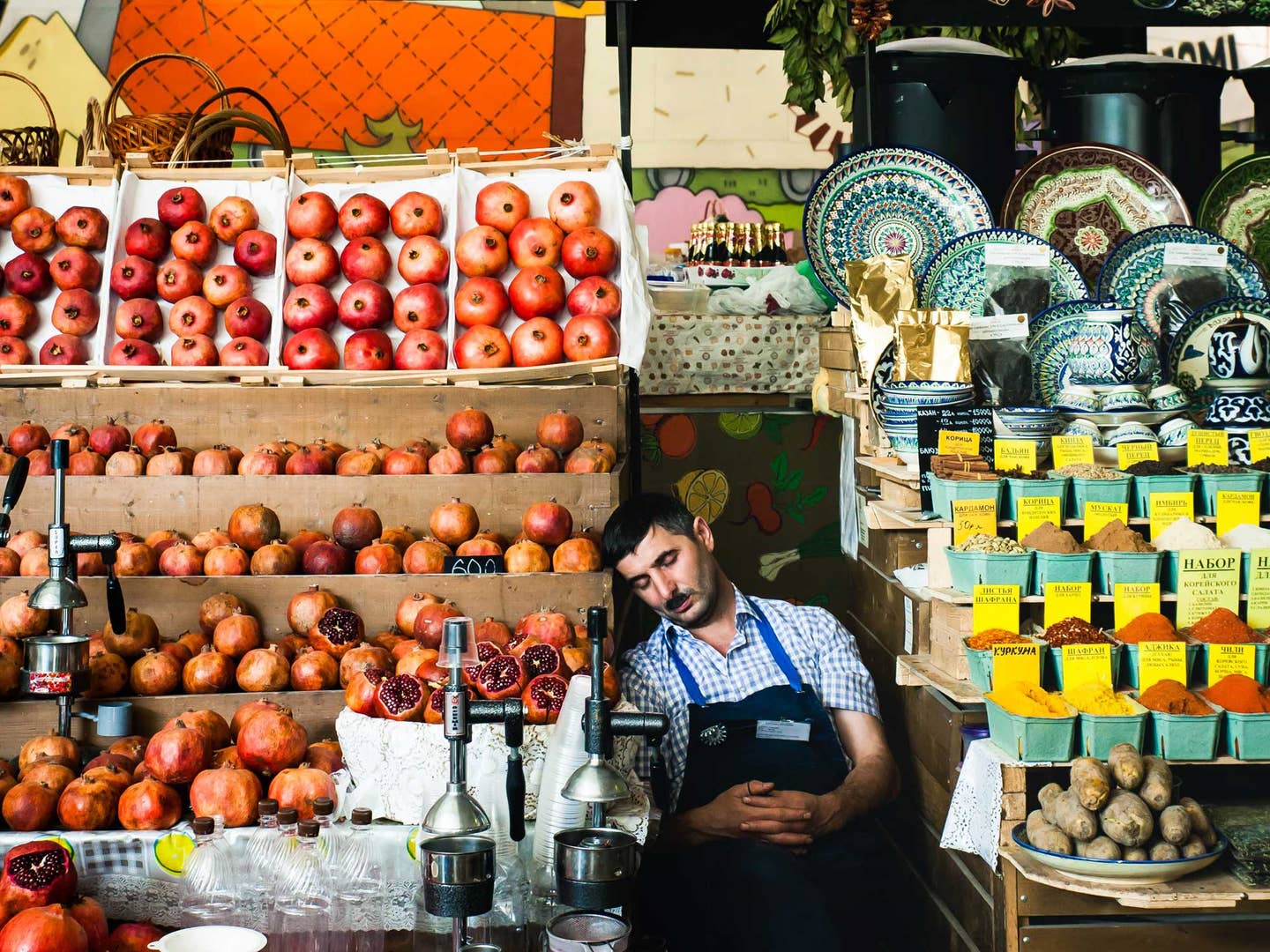 Travel
The Brothers Berezutskiy and the New Russian Cuisine
Twin chefs Ivan and Sergey—and their full-time herbalist-healer-magician—celebrate their culinary heritage and bring a new lokavorizm to the Moscow dining scene
It's a chilly early summer's day near Gribanovo, a village some 30 miles outside Moscow. A group of young Russians, plus one émigré journalist (me), are ambling through a lyrical meadow fit to inspire Nabokovian reveries. Dragonflies hover and flit. The bells of an onion-domed convent ring in the distance. Fickle northern clouds turn a menacing charcoal and loosen a few fat raindrops, then decide to spare us nature lovers on a brief escape from the pressures of Putin's Moscow. Our Katia, Anna, and Sasha do what Slavic girls have done since pagan times when confronted with a blaze of poppies and dandelions: They make head wreaths while humming a song. I, the misty-eyed exile, pause on a tree stump to fill my lungs with the long-forgotten scent of fresh aspen leaves and make a checklist of the things I've missed about the slow, fitful onset of the short Russian summer. Kerchiefed babushkas hawking the first scallions and dill at the side of the road. The switch from boring hot borscht to Slavic summer soups alive with the crunch and vitality of diced cucumbers and radishes. The season-opening hunt for lisichki (chanterelles), and the layering of glass jars with fragrant currants and oak leaves for the start of the summerlong pickling marathon.
The only ones in our group doing anything remotely purposeful are Ivan and Sergey Berezutskiy—a pair of identical twins in grass-stained sneakers. The 31-year-olds are the chefs of the aptly named Twins, a wildly popular Moscow restaurant. They're gathering herbs for an informal dinner they are throwing tomorrow for friends at the restaurant. Inside a basket improvised from a huge burdock leaf—"its roots make awesome pickles," notes Ivan—lie tender-leaf sorrel, manzhetka (lady's mantle), and an obscure herb called sverbiga—"peppery, kind of like horseradish," suggests Sergey.
"Let's Google sverbiga," Ivan says, "in English."
"Warty cabbage," says Google English.
How do they even know northern sverbiga, these young chefs who grew up amid lush, warm-weather flora in Kuban, a fertile Cossack region a thousand miles south of Moscow? "Well, we actually employ a full-time travnik at Twins," confides Ivan, the chattier one. Meaning, a folkloric herbalist-healer-magician. "A 17th-century job, back in fashion!" says Ivan. "And our dude's real. He whispers funny ditties to the flowers."
Lokavorizm, it needs to be noted, is still a pretty new concept for Russians. A few years ago, average Russian restaurant-goers were forsaking herring for sushi and comparing the merits of various French Camemberts, while Moscow's best chefs were too busy chasing eksklusiv foie gras and Iberico hams to even notice the sorrel everywhere. But then oil prices sank and the ruble's value shrank almost by half. In 2014, he who rules from the Kremlin declared an embargo on most foreign food imports, leaving Russians pining for the Norwegian salmon and Spanish peaches they'd become accustomed to. The embargo sparked a gold rush to discover Russia's own edible treasures.
There was a lot to discover.
"Our country! Gigantic, endlessly fascinating!" exclaims Sergey, the first Russian to stage at Alinea. He sweeps an arm at the meadow indicating how his country spans from the Russian Far East to Finland, from subtropical pineapple guava to subarctic sea buckthorn.
"I was an expert in Parmigiano and langoustines," testifies Ivan, the first Russian to stage at El Bulli, "before I got my brains blown by our ecologically pure muksun, a Siberian whitefish that tastes like delicate salmon, and the giant, succulent king crab of Kamchatka."
From their four annual sourcing and foraging expeditions across Russia's 11 time zones, the twins bring back exotica like whelks that "smell like porcini"; goose air-cured "just like jamón" by an old Tatar babushka; and from the Caucasus Mountains, Adighei cheese, "creamier than any burrata."
The previous night, I'd dined at Twins, where I'd sampled bread flavored with kelp from three different Russian seas. I'd swooned over the Tatar granny's cured goose as it melted so seductively atop warm ramps pirozhki, and savored the pristine muksun fish, frozen-shaved Siberian style and accented by an anchovy sauce. It was all Noma-esque in a cosmopolitan fashion, yet extremely Russian in a fresh, non-clichéd way—summing up, perhaps, the taste of a city that's becoming increasingly nationalistic, while taking its cultural cues from London and Brooklyn. The same was true of the restaurant's vibe; the gnarly chandeliers dangling over cushy banquettes and logs piled up on the patio evoked Carroll Gardens but also felt somehow grounded here, in this historically resonant (and chichi) Old Moscow quarter.
The Berezutskiy boys—heartthrob-adorable and bursting with an earnest enthusiasm so rare in cynical Moscow—became an instant success after opening Twins in 2014. And not just as shtick. My arrival was greeted by the loud popping of corks (Russian bubbly). The reason? Twins had just come in at No. 75 on the 2016 long list of the World's 50 Best Restaurants.
"Finally the world recognizes Russia as more than blini and vodka!" Sergey hollered.
"And it's not like we have a 24-karat gold toilet," whooped Ivan. "We're just a modest place with cheapo twig-and-paper décor." He pointed to the cheeky birch tree decorations, puns on the brothers' last name, which stems from beréza, or birch.
Once calmed down, the twins co-explicated their current philosophy while I tasted their most Instagrammed dish: barley kasha slow-roasted inside a whole charred celery root with a puckery counterpoint of shaved, marinated celeriac.
"We're into binaries—showing the ingredients in two iterations." (Sergey)
"'Cause—duh!—we're twins. But with very different tastes." (Ivan)
"He likes vegetables. I'm a chocolate guy." (Sergey)
"He likes big Jeeps. I'm okay with the metro." (Ivan)
"He complicates plates. While I'm into elegant, organic simplicity." (Sergey)
When the twins fight, they divide the kitchen into "Sergey and Ivan zones." But no dish makes it to the menu without both brothers' approval.
It was over more sparkling wine from the southern Russian Krasnodar region and the "creamier than any burrata" cheese from the Caucasus—foamed into a sweetened cloud to accompany dessert grape-leaf dolmas filled with sorbet—that the pair decided, spontaneously, to escape to the meadows the following day and then throw a dinner to celebrate their 50 Best laurels, and the arrival of summer, too.
After we finish picking herbs, we head to the family dacha (country house) of the twins' friend Katia, for a lunch prepared by her mother and grandmother.
We arrive to find the long dacha table already mosaicked with plates of herring, boiled potatoes with pickles, garlicky kholodets (that's jiggly jellied cows' feet), and bowls of rich, meaty shchi, a Slavic cabbage soup. It's the kind of spread that makes every Russian go weak at the knees and instantly lift a shot of chilled vodka. Babushka's dandelion honey recipe ("wash and dry 400 dandelion buds…") sparks the eternal dacha conversation about preserving and pickling. "Cracks me up," says Sergey, "how Scandinavian colleagues get all worked up about the big word fermentation." "'Cause Russian chefs learn pickling on their babushka's lap," adds Ivan. The twins now wax sentimental about their babushka's brined watermelon rind and adzhika, a spicy tomato-and-pepper condiment put up by the gallons in their native Kuban, a region where everything grows in amazing profusion and the cuisine mingles Slavic, Ukrainian, and Northern Caucasian influences. "Happiness for me was the crunch of Babushka's meat grinder," sighs Ivan, "as she cranked through kilos of tomatoes, chiles, purple basil, and juicy red peppers." "Myself," says Sergey, "I only helped with adzhika to get a dessert treat."
The next morning finds us at Moscow's Danilovsky Market, a lokavor Eden comprising a food hall and farmers' stalls overflowing with red currants and gooseberries. Over tea and baba au rhum from Baton, their favorite bakery, the brothers explain how, after working at trendy restaurants in Moscow (Ivan) and St. Petersburg (Sergey), they opened Twins on a kind of dare: They'd launch a joint project if Sergey won the 2014 S. Pellegrino Young Chef award—which he did. Years prior, back in their provincial hometown of Armavir, Sergey had applied to culinary school, and Ivan for an engineering degree, before deciding to follow his twin. "Sergey was the only dude in a class full of beautiful girls," says Ivan, recalling the logic of the last-minute career shift. While on honeymoon in Chicago in 2011, almost on a lark, Sergey walked into Alinea and asked to stage. On this crazy adventure, he blew all his wedding-gift money and endured Alinea's rounds of eliminations. "But my reward," he tells me, "was insider knowledge of how three-star kitchens are run." Ivan meanwhile lucked into the El Bulli apprenticeship and was amazed not just by the spherified olives but by his colleagues' "almost inhuman dedication and discipline—something no laid-back Russian could imagine." Then he adds with a gulp, almost spilling his tea, "There I was, wondering if I was hallucinating when Ferran—Ferran Adria!—asked me for a blini recipe!"
We stroll through the market, past cafes hawking Uzbek pilafs and Caucasian dumplings, past stalls with homegrown sausage and smoked sturgeon, and the menu for tonight's dinner begins to take shape. "Cold borscht with the herbs we picked yesterday?" proposes Sergey. "Nyet," counters Ivan, "okroshka"—another classic cold soup. From kroshit, "to crumble," it's a salad inside a soup: loads of herbs and diced cucumber and radishes afloat in a refreshing liquid. "Northerners favor kvass for okroshka," Sergei annotates, referring to the old Slavic fermented beverage, "while we southerners prefer kefir or whey." Now a rack of grass-fed spring lamb at a butcher stall suggests to Ivan a roast, in a thick crust of adzhika. Whereas yesterday's Proustian dacha adzhika memories inspire in Sergey a yen for a dish of scallops from the Russian Far East ("so lively they bite you when you dive for them") in a clear tomato liquid similar to the juice that drains from adzhika.
That evening, I bundle up against the sudden cold spell and head over to Twins. The guests are already here, some girls in summer dresses, others in woolly cardigans. The hosts are fussing together over an eggplant dish. I take a bite. The roasted eggplant and oozy cheese salad tastes vaguely Mediterranean—except for "that extra Russian umami," says Sergey, courtesy of the eggplant's kvass glaze. The nutty dressing contains konoplya (hemp), another staple straight out of a fairy tale; the cheese is produced by a very Russian farm near St. Petersburg and tastes just like France's Sainte-Maure.
Taking another bite, I wonder if it's finally time to resolve the debate between Slavophiles and Westernizers that has influenced Russian food mores—and Russian identity—since the mid 19th century. Here in modern Moscow, which is both Putin's patriotic fortress and a profoundly hip European metropolis, the oysters, for example, are local while the ur-Russian kasha might be inspired by some new global grain trend. Here too a generation of post-Soviet chefs, unburdened by Russia's tragic 20th-century history—and now actually inspired by sanctions and shortages—is borrowing what they've learned from the West while delighting in Russia's new pride in homegrown ingredients.
My musings are drowned out by toasts with a domestic garage-style viognier from a Swiss-Russian couple. The wine goes surprisingly well with the chicken liver pashtet (or should I say pâté?) slathered on yeasted blini. The twins have thrown off their chef's jackets and joined us at the table, loading their plates with pickles and scallops and pink lamb in adzhika crust. The guests raise a glass to the success of their restaurant—Russia's success—as Johnny Cash calls out from the sound system.
Your Moscow Eating Checklist
Twins
Book ahead at the Berezutskiy twins' modern Russian bistro for a degustation menu, with each dish theatrically presented and explained by both brothers.
13 Malaya Bronnaya
Wine & Crab
The Berezutskiys' stylish new spot is all about crab: nine kinds, mostly from the Russian Far East. The crustaceans feature in dishes like fluffy crab and seaweed "baba" or playful crab "churros," and the 900-label wine list contains excellent Russian selections.
19–21 Nikolskaya
Danilovsky Market
Among its many stalls, try the baked goods from Baton bakery, homey Armenian stuffed veggies from Dolmaster, and dusky smoked Russian fish and beef from Schepka smokehouse.
74 Mytnaya
Chestnaya Kuhnya
Run by an avid hunter and pal of local farmers and fishermen, this laid-back restaurant with an open kitchen and a woodburning oven serves Russian game (boar patties, venison tartare) and pies filled with burbot livers (Slavic foie gras of yore).
10 Sadovaya-Chernogryazskaya
Lavkalavka
This restaurant's servers will namecheck the farmers who produce the brisket, lard, and sour cream for the borscht, and enthuse about the rye pasta with reindeer, which tastes at once archaic and zeitgeisty.
21/1 Petrovka