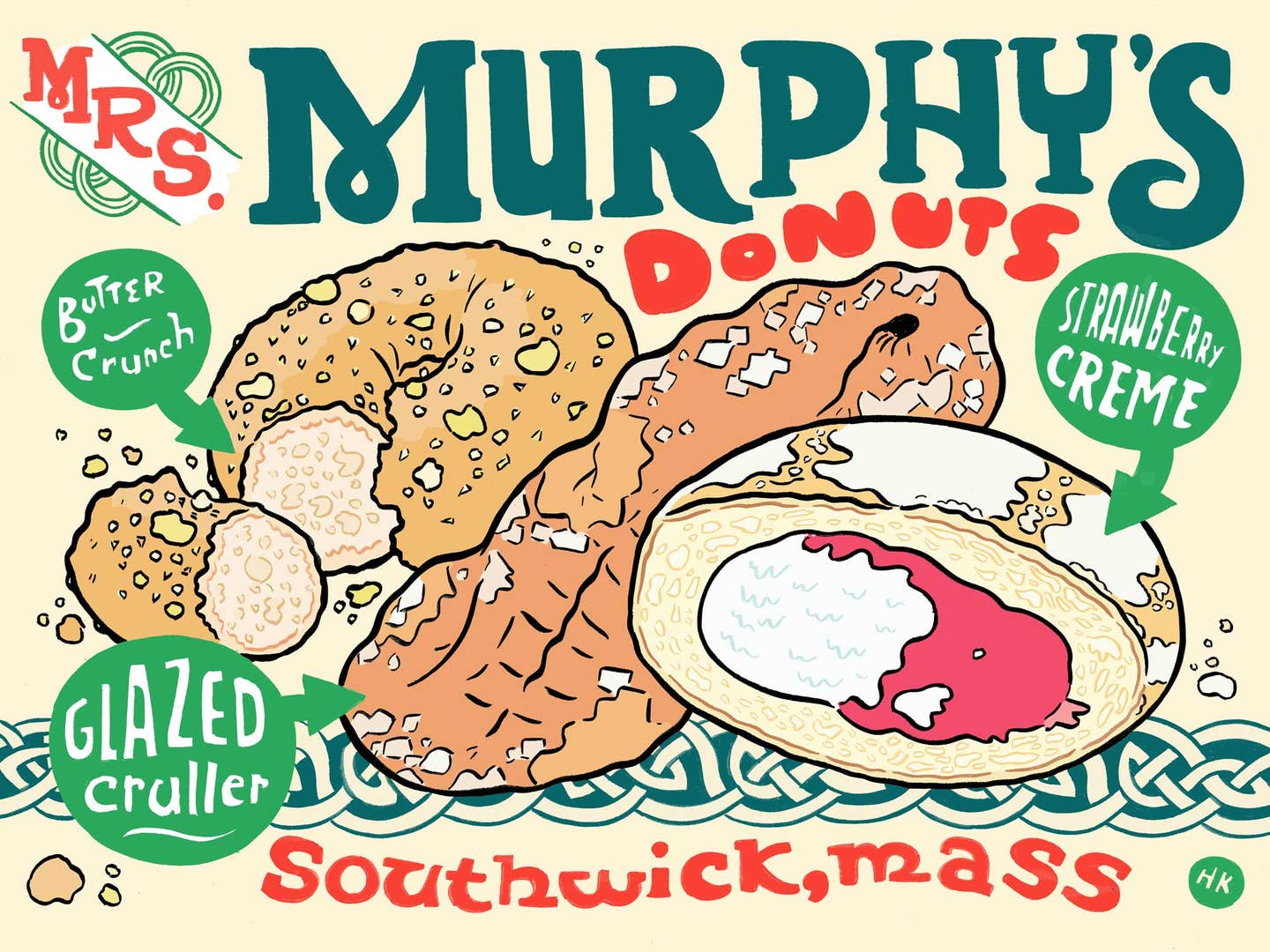 Travel
Why Is No One Talking About This Incredible New England Doughnut Shop?
Inside Mrs. Murphy's, the 40-year-old Southwick shop with a cult following and amazing crullers
Welcome to Hawk's Illustrated America, a monthly series following illustrator Hawk Krall's journeys through the back roads of the U.S. in search of our country's most obscure and delicious regional specialties.
Every New England small town seems to have at least one independent doughnut shop. In Southwick, Massachusetts, there's one people drive a hundred miles for.
Personally, I never leave Mrs. Murphy's without at least a dozen doughnuts. You need that many to taste everything the place has to offer: light and airy yeasted honey dips, perfect vanilla and Boston creams, the unexpected genius of a half-jelly, half-cream strawberry. Take a taste, and another, and another, and you'll see why Mrs. Murphy's has earned a cult following. In a town of less than 10,000 people, Mrs. Murphy's goes through thousands of pounds of flour a week.
Mrs. Murphy's hasn't changed much since it opened in 1976, and there are no special tricks, just big, fat doughnuts made fresh (ask for one warm from the fryer). The crullers (New England style, long and fried dark) and apple fritters are legendary. The "butter crunch"—basically a vanilla cake doughnut coated with sugary, buttery bits, almost like a coffee cake—is fantastic with a cup of coffee. These doughnuts transport you to that emotional holy doughnut place at first bite, in a way that neither chains nor those high-end "artisan" doughnuts ever could.
The doughnut renaissance of the past few years has left us with more $6 lemon verbena glazes than we know what to do with, but in New England, especially Massachusetts, a hardcore doughnut culture has thrived long before the fancy doughnut boom. Sure, that's part in thanks to Dunkin' Donuts' regional presence, but the soul of New England's doughnut obsession is mom and pop shops like Mrs. Murphy's.
Earl and Rose Murphy opened Mrs. Murphy's Donuts in the tiny center of Southwick, a small town in western Massachusetts near the Connecticut border, and still run the shop. Their Irish heritage runs into the food a bit with big icing-drizzled blueberry scones and homemade beef stew every Thursday. And their counter is a destination for more than doughnuts; with a menu of sandwiches, soups, and chili, it's a well-frequented community anchor. Most of the staff hails from nearby and grew up eating these doughnuts, a connection to the past that keeps quality high.
Almost-rural Southwick is just enough out of the way to keep Mrs. Murphy's off the national doughnut radar. It's rarely seen on national Best Doughnut lists, even though it stands just as tall. That's starting to change, though, so if you're in the area, get there before the crowds do. Mrs. Murphy's celebrates their 40th anniversary this year, which is as good a reason as any to pick up a few dozen crullers and butter crunches.
Hawk Krall is an artist, illustrator, and former line cook with a lifelong obsession for unique regional cuisine, whose work can be seen in magazines, newspapers, galleries, and restaurants all over the world. He focuses on editorial illustration, streetscapes, and pop-art style food paintings.