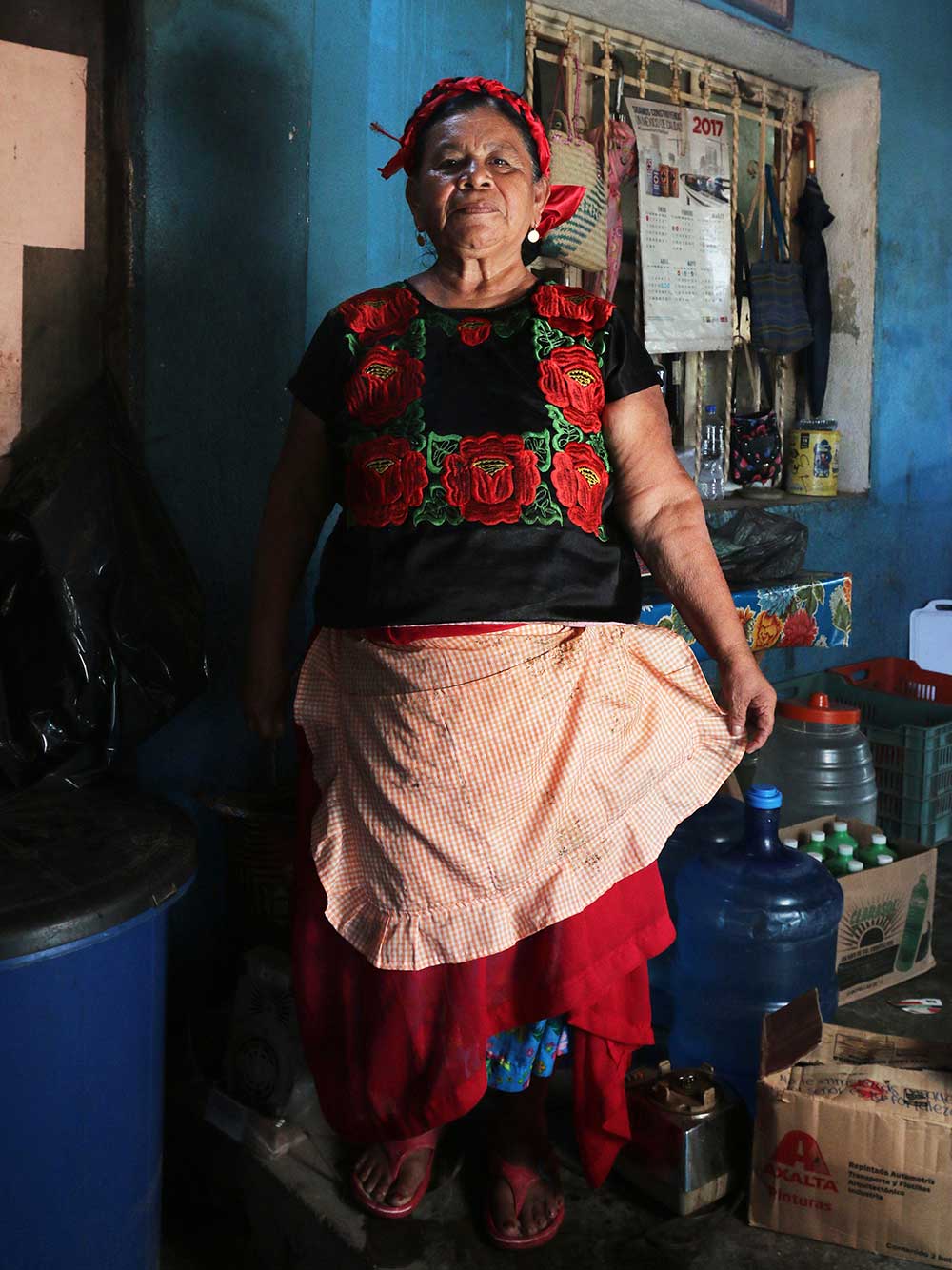 Travel
The Lady of the Istmo Has No Patience for Earthquakes
In rural Oaxaca, the village of Santa María Xadani is still reeling from September's devastating earthquake, but local icon and queen of the comal Vicenta Guzman Gutierrez is feeding the people's recovery
On October 4th, the Saint's day for St. Francis, the village of Santa María Xadani in southern Oaxaca should have been thronged with devotees. The narrow streets should have been lined with vendors selling sweet buns and crisp rounds of masa called totopos, pulled straight from the hot clay walls of a tandoor-like oven called a comezcal. There should have been paper flowers hung between the houses, cases of beer to stave off the afternoon heat, and music late into the night. Instead, a small crowd gathered at 11 a.m. under a covered patio alongside the church of St. Francis. A somber mass echoed through an empty nave. The streets were lined with piles of rubble and empty lots and makeshift encampments, the scars of an 8.2-magnitude earthquake that struck off the coast of the neighboring state of Chiapas on the night of September 7th, bringing down half the houses in Xadani and decimating much of the surrounding area, a region of Oaxaca state called the Istmo de Tehuantepec.
"We're holding this mass so that god will remember that we're here and that we have faith," a young woman said, nodding toward the small crowd of that had gathered around the makeshift church. Despite the scalding heat and oppressive humidity, the women wore heavy black velvet dresses, elaborately embroidered with roses and lilies, the traditional attire of the Istmo. "Today is the first day since the earthquake that we've worn flowers," the young woman said. Normal life was a long way off.
Except, that is, at Na Vicenta, a simple seafood restaurant a few blocks away. Named for its proprietress, Auntie Vicenta, it (or, perhaps, she) is closest thing this tiny fishing village of 4,000 people has to a landmark.
Vicenta Gutirrez Guzmán—"like El Chapo," she's fond of saying—presides over her restaurant like the den mother that, over the years, she has become. On most days, you'll find her seated near the entrance, supervising a small army of employees as they slip tinfoil parcels of shrimp and fish into the gaping mouth of a clay oven that blasts hot air into the even hotter streets. Even on 90-degree days, which are common in the Istmo, she dresses in a traditional black dress, matching the flowers stitched into its bodice to a colorful ribbon woven into her braids. She doesn't smile often, but when she does it's wry and conspiratorial. At 64 years old, she looks like she may never deign to die.
Na Vicenta's menu is simple. Every meal starts with a botana of melelas—thick rounds of masa baked in the comezcal—served with black beans and queso fresco and a dash of salsa verde. Prawns and whole fish are roasted in the wood-burning clay oven by the door under a bronzed and bubbling mantle of chipotle-garlic mayo. For dessert, there are totopos de crema, wispy rounds of cream-based masa, delicate as pizelles.
On some days, there are plates of tortoise eggs, served with lime and hot sauce and insouciant nonchalance. "If they find you with tortoise eggs on the highway, they'll throw you in jail," she said on that day in October, nearly a month after the earthquake, a seasoned gambler announcing a cavalier wager against the state politicians who fly down regularly for lunch.
For 30 years before opening her restaurant in 2008, Na Vicenta sold grilled fish from a small stall in the village market, one of just a handful of vendors offering prepared food. "There was never anywhere to eat in Xadani," says Josue Lopez, whose aunt sold meat in the next stall, "so when people came here, we would always just send them to Na Vicenta."
When the municipality announced its plan to tear down the market ten years ago, Vicenta remembers, "we were all running around like pigeons, looking for where to go." Na Vicenta's brother-in-law gifted her a small brick house that he owned a few blocks from the market. Vicenta bought a clay oven and a comezcal and started to cook.
In the years since, her restaurant has doubled in size. She's become an institution and a destination, attracting artists and politicians from Oaxaca's food-obsessed state capital, and local families taking a break from their own kitchens. In the last few years, as drought slowly gutted the local fishing industry, she has also become one of the only employers in Xadani itself.
As her influence grew, she started to throw her proverbial weight behind the people she cared about. From the restaurant's first days, she's made a point of providing work for members of Xadani's muxes, the term used for the Istmo's third gender and, increasingly, a catch-all for both queer men and trans women.
Though more visible and accepted than queer people anyplace in Mexico outside the capital, muxes are far from achieving full equality. When they started agitating for the right to hold a mass in the town's main church following their own annual vela, Na Vicenta fought alongside them. And when Josue holds his monthly meetings for Transformandome (literally Transforming Myself), a support group for muxes, he holds them, often as not, at Na Vicenta.
Following a second quake that hit the region on September 23, nearly everyone in Xadani moved outside, sleeping either in their patios or on the street. Na Vicenta had already opened her home, fortunately unscathed, to employees, neighbors, and family members who hadn't been so lucky. By October 4th, she had 15 people living full-time in her patio, a fact she mentions as though it were nothing at all.
It didn't take long—just three days—for La Chapa of Istemeño seafood to replace her broken clay oven (the only damage to the restaurant) and reopen for service. She still wakes up every day at 4 a.m. to light the comezcal and make the 20-minute journey by road to the fish market in the nearby city of Juchitan, the place hardest hit by the September 7th quake. "Everyone has to find a way to live, a way to fight," she says, "so you stick to traditions." Business as usual: Na Vicenta's decades-long tradition of survival.
As in the market days, Na Vicenta is, for now, the only place in town. Unsurprisingly, the big open dining room, with its high ceilings and sharp light filtering through smoke and dust, quickly became a gathering place for aid workers, teachers, and doctors. The day before the saint's day, the governor of Oaxaca state, a long-time customer, came through after delivering a perfunctory speech in Juchitan.
After mass on the 4th, local families, desperate for a taste of normalcy, filtered in for an indulgent family lunch. Later in the afternoon, local men came through in search of a cold beer. Following the earthquake, Josue said, the local municipal council had decided to outlaw the sale of alcohol, "but Na Vicenta keeps selling, which, well...it's very Na Vicenta." She's not just the kind of person who can go by only one name: she's the kind of person whose name becomes an adjective.
Na Vicenta's way of helping her town after the quake is much the same as it was before: she provides decent work, a safe space, and good food, exactly as she has for years. Watching that afternoon as customers came in and out, she commented with a typical touch of dark humor, and more than a little satisfaction, that the municipal corporation would have to bring down the new market building, the one that had replaced her former place of business, because of structural damages suffered in the quake.
That her place had survived with barely a scratch did not, a month later, seem to strike her as surprising in the least. She surveyed her domain with a quiet smirk as smoke poured out of her newly repaired oven and glanced off the soot-black eaves. "This place is old, but god is great," she said. "We're still on our feet."