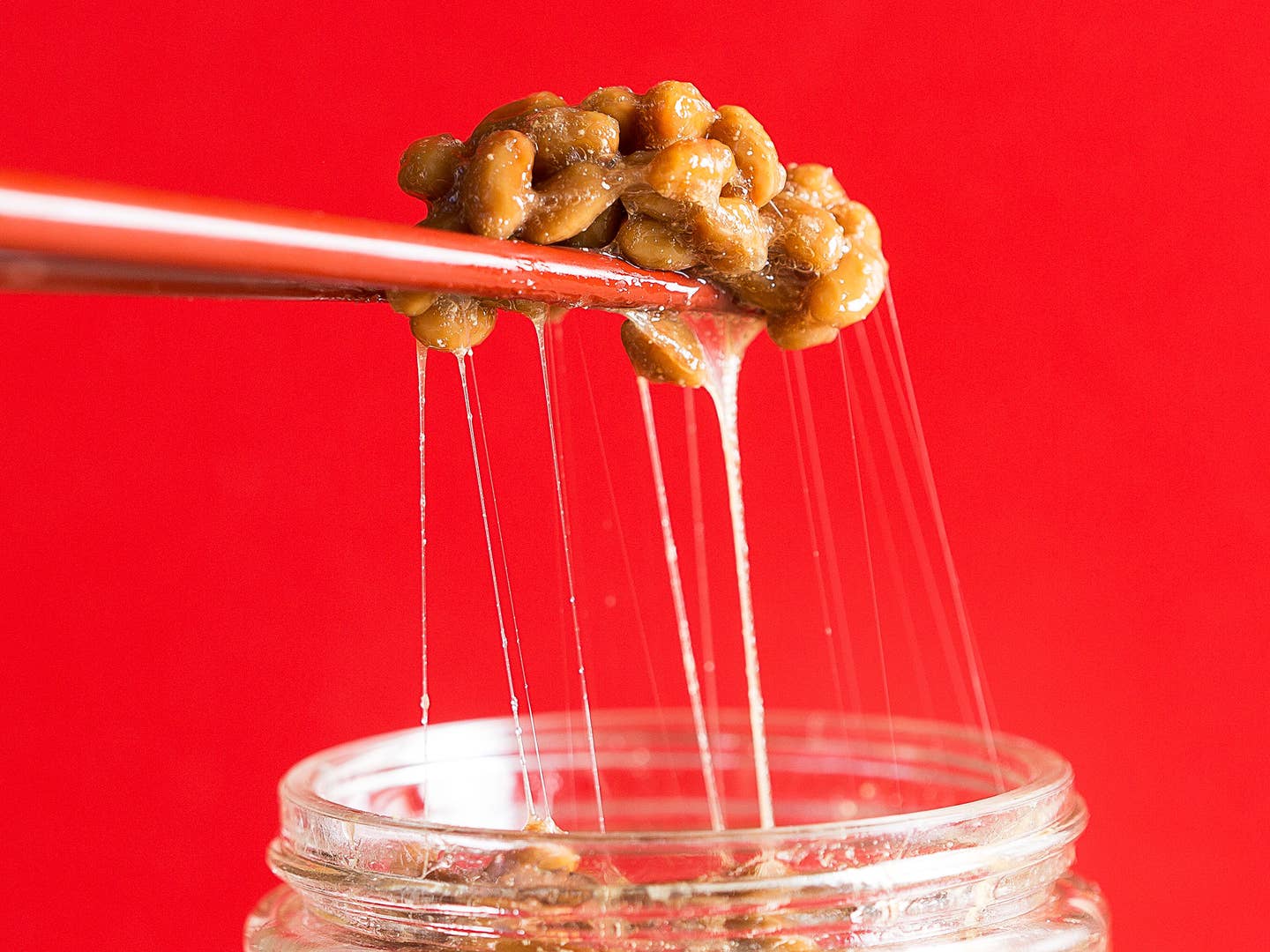 Culture
Who's the Natto Dealer Supplying Japan's Stinkiest, Slimiest Food to New York Chefs?
Ann Yonetani, the woman behind NYrture, wants to introduce America to the beloved Japanese specialty
Ann Yonetani teaches food science in the New School's Food Studies department by day, but for the past six months or so, she's been trying her hand at dealing. And she's good at it. With little marketing or self-promotion, her client-base has gone from nonexistent to receiving calls from the likes of Ivan Orkin and David Chang. When she was contacted by Masa Takayama, the sushi chef behind New York's super-high-end Masa, asking if he could try some of her product, she was completely blown away. Yonetani, the woman behind New York-based NYrture, is only the second person in the United States to make natto from scratch and sell it, and she had no idea demand would be this high.
A ubiquitous Japanese specialty that has yet to make its way into Americans' diets (despite our obsessions with Japanese culture and fermented foods), natto is made using two simple ingredients: soybeans and the bacteria Bacillus subtilis, which cohabitate for about a week before turning into a sticky, slimy, pungent tangle of fermented beans. In Japan, it's commonly consumed over hot rice for breakfast (which is how Orkin likes his), but Yonetani uses it like you a funky cheese, tossing it with pasta, eating it with crackers, and even topping her pizza with it. On a recent trip to New York City's Italian restaurant Bar B, she instagrammed a picture of scallops, uni, and natto, with the confession, "OK, #NYrture #newyorknatto was my own post-plating addition #dontleavehomewithoutit."
"In Japan, they joke that natto's one of those things that Westerners can't handle," she says. But because natto is the most concentrated known food source of vitamin K2, has a slew of other healthful benefits, like being full of probiotics, and is such an iconic Japanese food, she wants to make it less intimidating. The only other people producing it in the US are Megumi NATTO in Los Angeles, so Yonetani is attentive to the product she makes, knowing that her natto may be many people's first experience with it.
After inoculating the soybeans with the bacteria, she isn't done with the batch. "I'm very careful about what I put out there, so I taste every tray," Yonetani says. "These days, I'm eating quite a lot of natto."
Yonetani never planned on going into the food business. With a Bachelor's in biology, Master's in biochemistry, and PhD in microbiology, she had spent the past 12-plus years working in labs and studying microbiomes. But last summer she decided to book a trip to Tokyo, where she studied the natto-making process with a fifth-generation maker who thought it was strange that a culturally American woman would want to eat natto. She considers it "a coming-together of many interests and experiences"—her Japanese heritage, her studies about probiotics, and her fascination with how Japanese food is portrayed in the West. And last fall, NYrture was born.
"Natto is really one of the staples [in Japan], but for whatever reason, even though sushi is on every corner here, natto is socially, at least of yet, unknown here," she says.
Today, she churns out around 100 jars a month from the Organic Food Incubator in Long Island City, all of which she tries to deliver herself via public transportation—especially if the buyer is new. She likes to form a relationship with her clientele because the vast majority of her customers aren't Japanese who grew up eating natto; many of them are people who've never tried it before, a statistic that Yonetani didn't expect at all. And because a good batch of natto is like a fine wine or cheese, she feels connected to her product. It is living, after all.
"The human is not in total control, and that's kinda the beauty of it," Yonetani says.
Buy 4 oz. jar for $6 or an 8 oz. jar for $10 at NYrture.com. Only available for those in NYC.