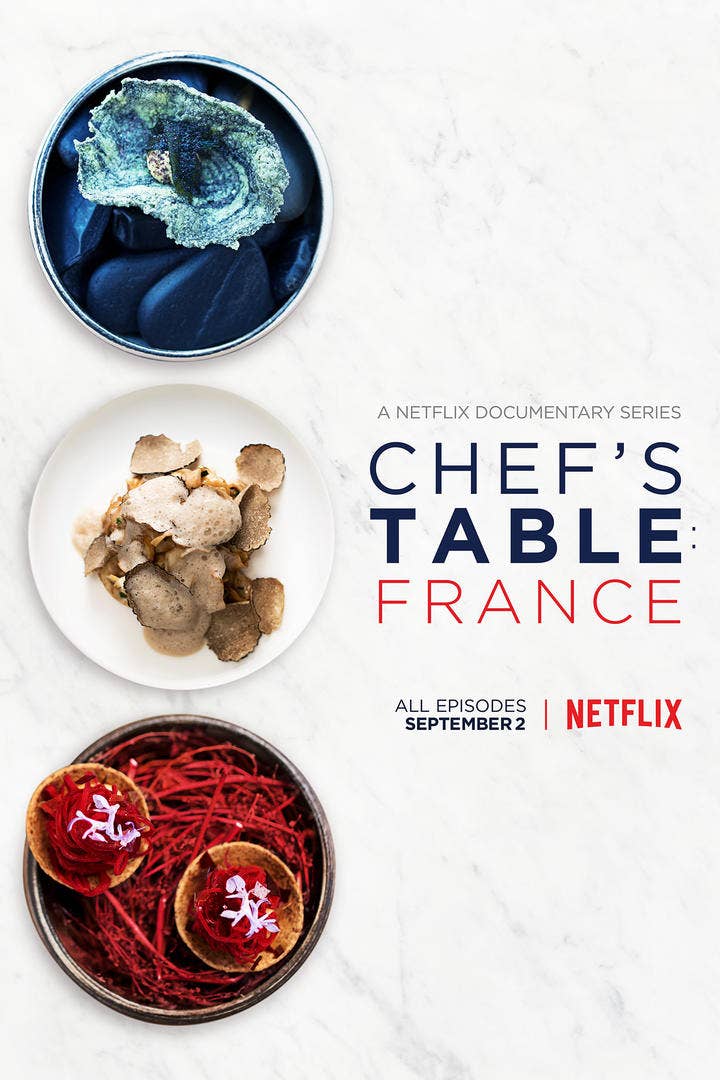 Culture
What Chef's Table's New France-Themed Season Says About the Western World's Culinary Juggernaut
Director David Gelb dishes on the current state of French cuisine
Maybe the most interesting thing about "Chef's Table: France," the third season of filmmaker and Emmy-nominated director David Gelb's hit documentary series Chef's Table, is what this artfully composed tableau doesn't say about the state of French cooking in 2016. Because implicit in the lush and narratively elegant profiles of the four chosen chefs who comprise the season devoted to France—Alain Passard (Arpege), Michel Troisgros (Maison Troisgros), Adeline Grattard (Yam'Tcha) and Alexandre Couillon (La Marine)—is Gelb's judgment on the state of Gallic gastronomy today.
In the cool of the private dining room with exposed stone walls in the ancient cellar at Arpege, chef Alain Passard's Michelin three star restaurant in Paris, Gelb recently explained the genesis of "Chef's Table: France" to tablemates during an intimate lunch cooked by the subject of this season's first show.
He insisted the absence of French chefs from the first two seasons was no slight against French cooking. Rather, "It was a question of finding the best stories to tell," he said, which is why the first 12 chefs profiled came from Argentina, Australia, Brazil, Italy, Mexico, Slovenia, Sweden, Thailand, and the United States, but not France. "Stories of chefs and their journeys are the core of our show, so the nationalities of our subjects are less important than the stories they have to tell," he elaborated.
But "the French season of Chef's Table," he went on, "is about telling the story of French cooking through portraits of four of France's greatest chefs."
How did he select this quartet? "For me, Passard is a genius whose cooking incarnates everything we want from French cuisine—its technique, its simplicity, its amazing produce. His style comes from the way he chases the tastes of his grandmother's cooking through emotional memory. In contrast, Troisgros is a great classicist but with a modern touch, and Couillon and Grattard show a France that has opened up to the world and embraces the cooking of other countries and new ways of cooking and new flavors," Gelb replied.
But just out of curiosity, what are the gastronomic memories that inform Gelb's own culinary sensibility, the one through which he anoints the chefs he includes in his hugely popular show? "My love of food is Franco-Japanese," he explains. "I come from a major food-loving family. During trips to Japan when I was still in my stroller, my mother fed me cucumber sushi (in homage, Alain Passard included his version of cucumber sushi in the tasting menu served at the July lunch Gelb hosted in Paris to present the French season of Chef's Table). And the other food that smote me forever was a cote de boeuf with lots of chopped parsley and crushed garlic that I ate at L'Ami Louis. I just love that amazing crusted meat."
But where does France, the lofty arbiter of western cooking for centuries, figure today in a discombobulated, more global gastronomic hierarchy? "Chefs come to France to learn, which is because the country has such a rich culinary history, plus an exigent and impressive system of culinary education and great produce. But I wouldn't say that French food is better than Italian food or Japanese food," Gelb offered, in a remark that raised more than a few of pairs of well-groomed French eyebrows.
"I find the idea of rankings sort of outdated and actually pretty boring," he went on. "In a world where you can eat well almost everywhere, trying to rank restaurants or cuisines is a dead-end game that doesn't interest me. So if I say France still comes first, which I think it probably does, this doesn't mean that there's a huge distance between it and the other countries anymore. That said, France has this amazing rich, deep history in food, and a very bright future, because it still produces generation after generation of brilliant chefs."
Then Gelb paused to taste the delicate multi-colored vegetable-stuffed ravioli in amber-colored vegetable bouillon that had silenced the table with their layered umami flavors and contrasting textures, and grinned. "Wow! Alain Passard really is an artist, because he knows how to make something this complex seem simple. I think simplicity and subtly are the cardinal points of French cooking, which might actually penalize the reputation of French food today, because we live in a noisy world where a lot of people don't have the patience to understand subtlety—they want big obvious flavors instead."
"But happily," he continued, "as I think Season Three of Chef's Table says, France remains the eternal guardian of a certain type of gastronomic refinement even when it's not in fashion."