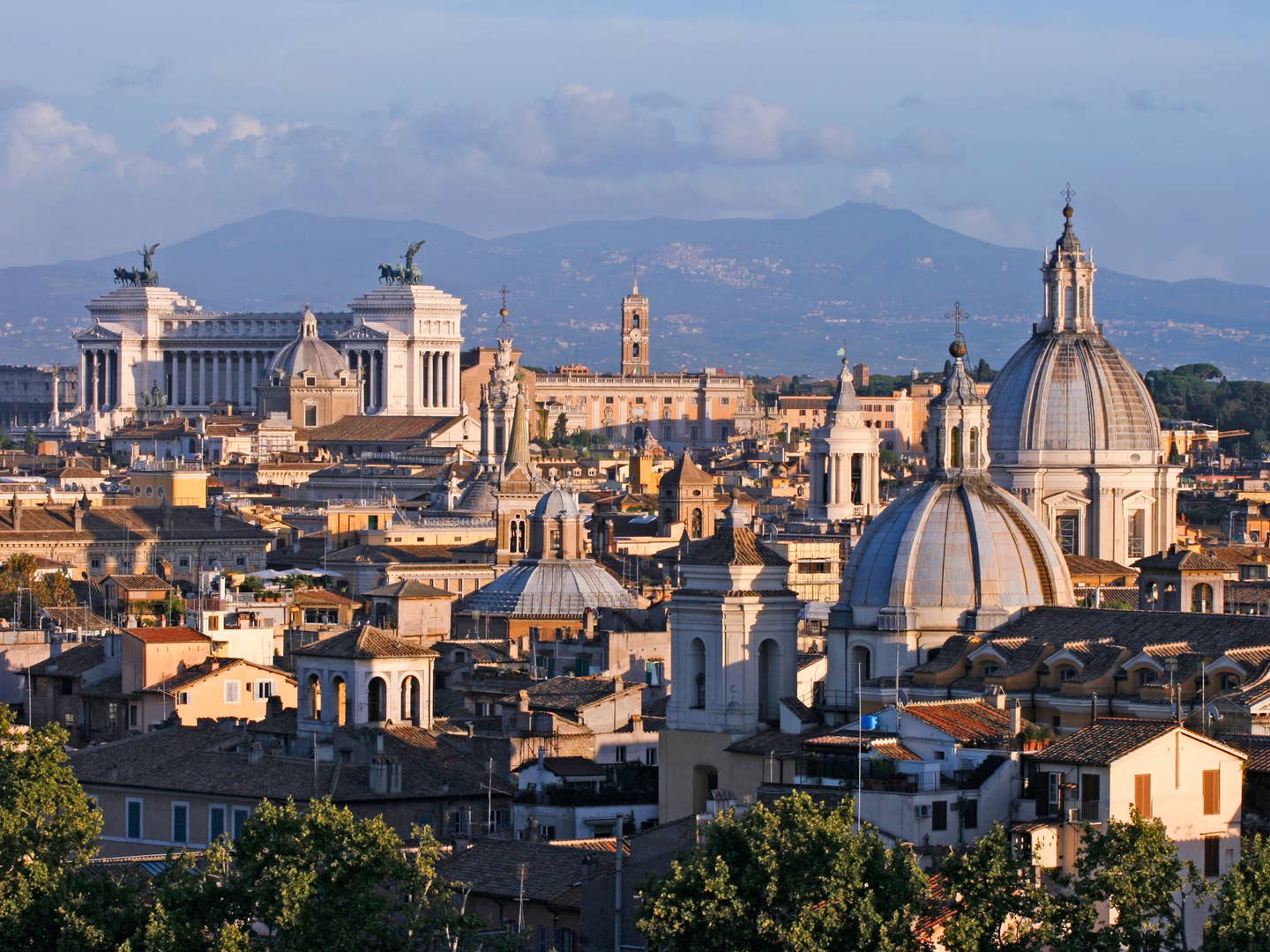 Travel
5 to Know: Nick Anderer's New Favorites in Rome
The chef of NYC's Maialino and Marta picks five spots worth a visit
Nick Anderer first arrived in Rome in 1997, as a college student studying art history; he got to know the city on daily, 3-hour walking tours that his program mandated. He would return many years later, while living in Milan, to stage in a number of Roman restaurants, learning the city's dishes at their source. When he opened up Maialino in New York City's Gramercy Park Hotel with restaurateur Danny Meyer, he went back once more to visit, eating around the city and taking notes for the Roman-style trattoria he'd soon be running.
Anderer now makes yearly trips to Rome with the team from Maialino (and now Marta, his latest venture), spending 3 or 4 days each spring "refreshing our palates and brains a little." He recently returned from this year's trip, and is sharing some of his recently discovered favorites—plus a few classics that no visitors to Rome should miss out on.
Da Nerone
This is a classic Roman trattoria, the sort of neighborhood haunt from which Maialino drew much of its inspiration. This particular place doesn't find its way into guidebooks, but you're guaranteed to see some of the Roman classics done extremely well: spaghetti alle vongole (spaghetti with clams), alici fritti (fried anchovies), abbacchio al forno (slow-roasted baby lamb). Generally speaking, people don't travel crosstown to visit a trattoria — it's not a destination restaurant but rather a spot for neighborhood regulars and familiar faces. Expect that scene when you stroll into Da Nerone.
Da Nerone
Via delle Terme di Tito, 96
00184 Roma, Italy
+39 06 481 7952
Trapizzino
This is a new place that traverses all kinds of culinary borders and demographics, and as a fast casual concept, it is breaking new ground for Rome. The name is a hybrid of pizza and tramezzino, the Italian word for triangle, which specifically references the triangular snack-time sandwiches popularized in the bars of Venice. The trapizzino is best described to the layman as a triangular pizza-pocket sandwich. Each morning they bake large rectangular pans of pizza bianca, a naturally leavened, Roman-style white pizza, brushed with olive oil, sea salt, and rosemary. They then cut the pizza bianca into triangular pieces and re-heat them to order in a primitive looking toaster oven which very effectively reinforces the crusty exterior. The crispy triangles are stuffed with traditional, home-style stews which range from spicy tripe to braised greens. My favorite filling is the pollo alla cacciatore—stewed chicken with vinegar, rosemary, garlic, and anchovy.
Trapizzino
Via Giovanni Branca, 88
00153 Roma, Italy
+39 06 4341 9624*
Gelateria del Teatro
This gelateria is in the historic center of Rome, at the steps of the Coronari Theater on Via Coronari. Once a bit of a hidden gem, this place is now gaining in popularity, helped by its relocation from its former nook (tucked under the steps of the theater) to its current placement with a prominent street-facing entrance. More than anything, I like the freshness of their gelato, particularly the flavors which utilize fresh fruits and herbs. And the cases of fresh fruit stacked in their open kitchen always persuade me to order in that direction. The salvia e lampone (sage and raspberry) is definitely my "go-to" flavor as a mid-afternoon snack.
Gelateria del Teatro
Via dei Coronari, 65/66
00186 Roma, Italy
+39 06 4547 4880
Roscioli
It's extremely popular, but it would be hard to find another eatery in the center of Rome that cares as much about their sourcing of fine ingredients. Roscioli is a one-stop shop gastronomia, where you can find the highest quality salumi, cheese, and wine from all over the country, albeit at a pretty lofty price. But so long as you're there, you might as well indulge in meats like the truffled mortadella or the hard-to-find cinta senese prosciutto imported from Sienna. The classic Roman pasta selection is also fantastic, and if you try their carbonara or amatriciana, you'll taste some of the most unctuous and crisp guanciale that the city has to offer. And the bread basket is one of the city's best since its contents are supplied by the Roscioli bakery right across the street. Be sure to reserve in advance because the sparse seating fills up quickly.
Roscioli
Via dei Giubbonari, 21/22
00186 Roma, Italy
+39 06 687 5287*
Bernabei
If you go to Rome, you have try some of the region's famed porchetta. Although seemingly ubiquitous throughout the city, it's very easy to stumble upon very poor preparations of this awesome roast pig dish. So steer clear of most salumerie and bars in the center of the city that have their porchetta on display and head straight to the Prati neighborhood near the Vatican, just northwest of the historic center. Vitaliano Bernabei makes it with a unique technique: He ties half of the pig (loin and belly) in its own skin and cooks it at a very low temperature with injections of steam for nearly six hours. After the slow steam treatment, he dry roasts the pig at a very high temperature to transform the soft skin into a bubbling crisp crust. You won't be disappointed.
Bernabei
Corso Vittoria Colonna, 13
00047 Marino RM, Italy
+39 06 938 7897