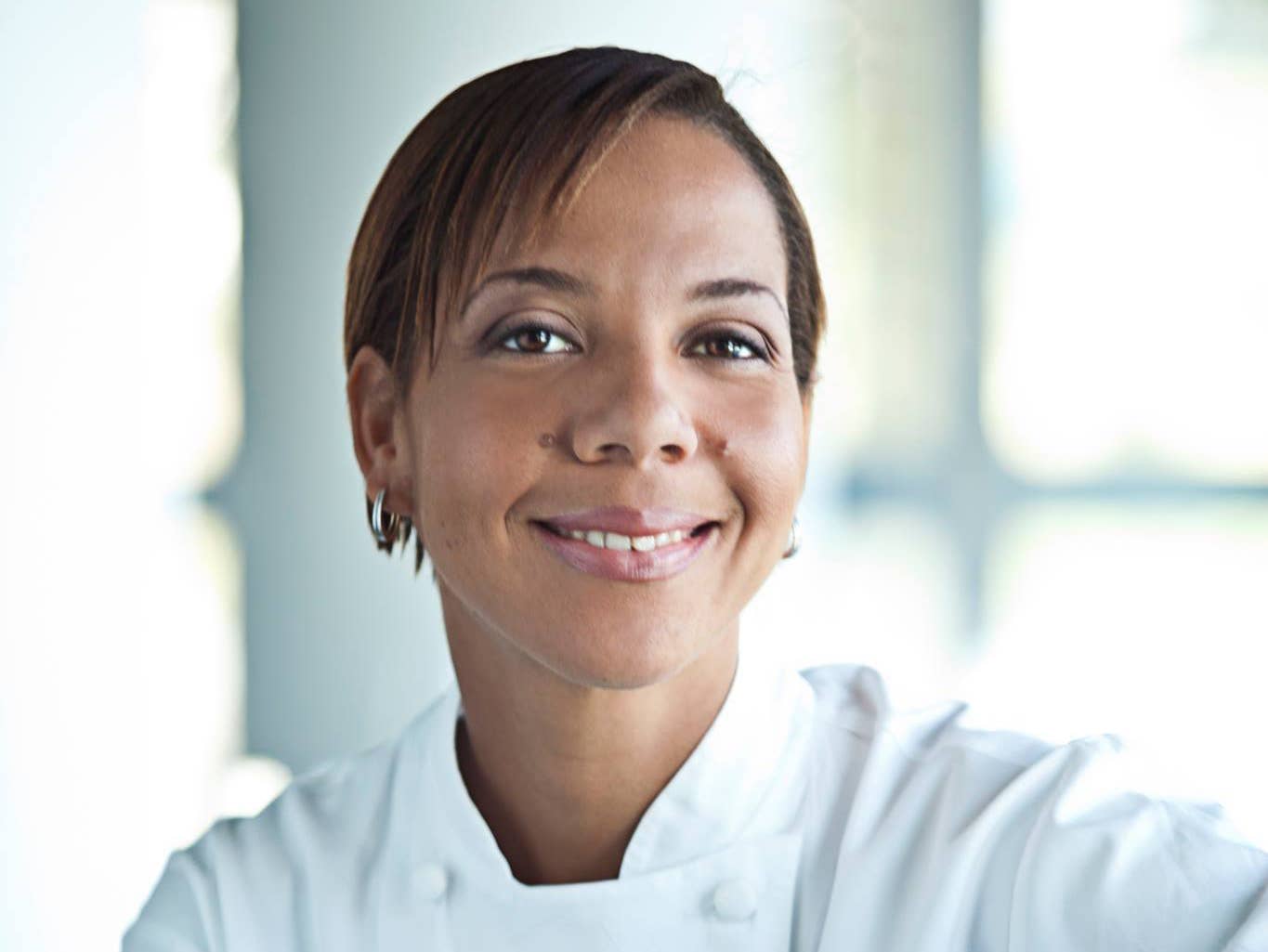 Culture
The Queen of Caribbean Cooking Would Like to Show You the Food of St. Lucia
In New Orleans, Nina Compton is exposing eaters to the food of her home well beyond jerk chicken and rum
Pillowy sweet potato gnocchi peek out underneath chunks of tender curried goat, all of which is suspended in broth, and all of which is topped with chopped cashews and sprigs of cilantro at Compère Lapin, Nina Compton's year-old restaurant that pays homage to both her current home, New Orleans, and her home home, St. Lucia. After passing the first 18 years of her life on the island (where she's the culinary ambassador), she spent time in both Miami and New York City: two cities she loved, but neither of which felt like the right place for her to take a chance by opening a restaurant dedicated to upscale Caribbean cuisine, with a focus on the food of St. Lucia.
It was a risk: Few chefs are trying such a thing, and few American eaters know much about the food of the Caribbean beyond jerk chicken. But something about New Orleans, with its natural beauty, access to fresh seafood, and people who Nina finds to be "open-minded, friendly, and love eating out" felt right.
"There are a lot of traditional [New Orleans] restaurants here that people gravitate toward, and I'm coming in doing a different cuisine," Compton says, adding that she felt like she was starting at zero in the city with restaurants as institutions, like Commander's Palace and Brigtsen's. But on the one-year anniversary of Compère Lapin's opening, she's feeling great. It seems America might be ready to try conch and fried pig ears after all.
"St. Lucian food is very rustic, which has a lot to do with the slaves that came over," Compton says. So much of Caribbean cooking involves eating the cuts of meat and quick starches that American eaters often—unjustifiably—ignore or disdain, like chicken backs, pigs ears, and fried doughs. One traditional dish is the float, which Compton describes as a yeasted, fried pita that's often stuffed with cheese and the Caribbean mainstay of saltfish.
Situated in the east Caribbean, about halfway between French-speaking Martinique and the English–creole-speaking St. Vincent and the Grenadines, St. Lucia is a sovereign island that's heavily influenced by those who have settled there: the native Carib Indians as well as the French and British who traded ownership of the island from 1660 until it gained its independence from the United Kingdom's West Indies Federation in 1979. Today, African and mixed African-European descendents are the island's biggest demographic, and they have a culture that's uniquely St. Lucian. Most people speak English, but also Saint Lucian Creole French; the majority of the population adheres to Catholicism, but they also listen to funky music genres like Calypso and Soca. The island's food, however, has really preserved its original African roots, dodging much of the cultures that colonizers forced upon the natives.
At Compère Lapin, she's reinterpreting these dishes and traditions with a more upscale spirit. She serves croquettes, the breaded and fried cheese-and-potato rolls popular in one iteration or another around the world, and stuffs them with meaty conch; she pairs arancini, made with Louisiana-esque dirty rice, with mojo made from sour orange, a fruit commonly used in Caribbean marmalades and drinks; and she even finds a place on her menu for pepper pot, a traditional stew found in Jamaica, Guyana, and throughout the islands. Her signature curried goat and sweet potato gnocchi even nabbed a spot of GQ's 8 Favorite New Dishes of 2016 list, earning the title of "Comfort Food of the Year." While her food doesn't mirror exactly what is eaten on St. Lucia, it begins to address a gap in the culinary world: We don't understand St. Lucian food, let alone Caribbean food.
"People think of Caribbean food as grilled fish on the beach with lemon, but there are a lot of layers that people don't know about," Compton says, despite the more than 3.5 million Caribbean immigrants that call the U.S. home.
There are plenty of Caribbean neighborhoods around the United States, from Crown Heights, Brooklyn to Hialeah, Miami, and if you visit these places, you'll find where locals go to pick up fish-filled bakes, dense slices of macaroni pie, and saucy chickpea doubles. But outside these neighborhoods, you'll be hard-pressed to find higher-end restaurants bringing the islands' cuisines to the larger public; JJ Johnson of The Cecil in Harlem, Nigel Spence of Ripe Kitchen & Bar in Mount Vernon, Gary Sanon-Jules of Tap Tap in Miami, Norman Van Aken of Norman's in Orlando, and Compton herself are among the few doing so. And because diners aren't seeing pot fish and fungi at their go-to white tablecloth restaurant, they don't understand Caribbean cuisine.
Compton is doing just that, with the authority of a local who knows the nuances of the food she's cooking from the inside out. When she competed on season 11 of Top Chef and took runner-up, not first place, fans were shocked—they believed she—and her work to make the food of her home as vital and relevant to globally-minded eaters as Italian or Japanese—was special. But just over two years since her shocking lose, even without the Top Chef title, she's proved that with hard work, passion, and a belief in her roots, she can do just fine.
"I go to the dining room and people are saying the food is so amazing," Compton says. "We're at a great time in the culinary world because people want to try new things and see new things, and it's great getting that kind of cuisine out."