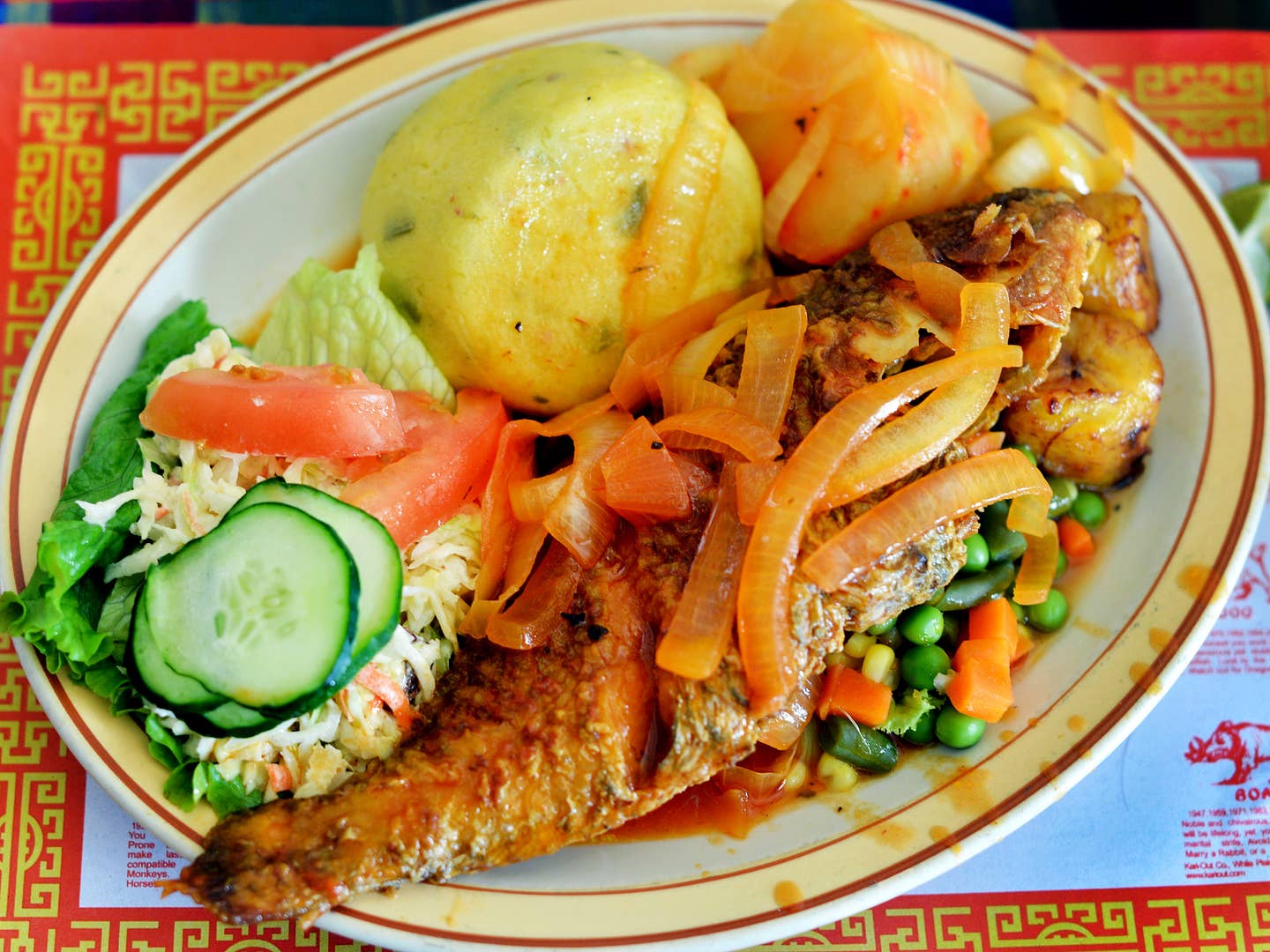 Travel
The Essential Meal of the Virgin Islands
Get a craving for Crucian cooking with pot fish and fungi
If you're wandering through the pastel-hued Danish arches in Christiansted, St. Croix, you'd likely walk right past Harvey's, an unassuming local's restaurant adorned with sun-bleached newspapers and wooden bead curtains. Those Obama election-era clippings don't do much to suggest that the kitchen makes one of the best meals on the island: a superlative pot fish and fungi.
That's pronounced foon-ji, and it has less to do with mushrooms than okra, cooked into a thick, smooth mash with cornmeal and water. Then comes the pot fish (so named because it was traditionally caught with a pot), a whole bony reef fish deep fried until crisp and topped with sweet onion gravy. The fish is crispy and showy, with the salty, spicy sauce seeping into every cavity; the fungi, mellow and nutty, is perfect for catching all the flakes of fish and gravy that go astray. Digging your fork into the center of custard thick fungi, you begin to understand the flavors of St. Croix.
Situated just southeast of Puerto Rico in the Caribbean Sea, the island is the largest of the three U.S. Virgin Islands, and one that receives its fair share of tourists but relatively few mentions of its distinctive cuisine. For breakfast, think saltfish, hardboiled eggs, and freshly-fried johnny cakes. For lunch and dinner, goat curry or stewed conch in butter. And for dessert, rum cake or red grout, a guava-flavored tapioca sweet. But what Crucian cuisine also embodies is the food of 20,000-plus slaves who lived there in the 1800s, harvesting sugar cane and cooking dishes with what was available. To these cooks of limited means, seafood and inexpensive grains were main sources of sustenance. Enter pot fish and fungi, unofficially recognized as the dish of the US Virgin Islands.
And if you're going to get it, get it at Harvey's. While you can order pot fish and fungi at nearly every Crucian restaurant around the island, Sarah Harvey and her husband (known locally as "Mr. Harvey") have been serving Crucian cuisine for the past 30-some years how it should be: unpretentiously. The tables are covered with checkered cloth and paper placemats, the homemade Scotch Bonnet hot sauces are housed in old liquor bottles, and the Harveys are always there, stirring the fungi, manning the bar, and laughing with the locals both sitting inside the building and walking past the open windows.
When you find a seat at one of the tables, start with one of her own homemade juices. For something fresh and sweet, go for passion fruit or guava; for something less expected, try sweet-tart sorrel, bitter maubi, or nectar-thick soursop. When you receive your order of pot fish and fungi—with "provisions," a.k.a. sides—reach for the hot sauce, give your fish a nice douse, and grab a few napkins.
While you'll start eating with a fork, you'll end finish using your hands, using your fingers to pull out pin bones that inevitably end up in your mouth and breaking open the fish head to suck out all the little bits of flesh nestled inside. You will make a mess. Your fingers will smell like fish. And you won't want to miss a morsel.
Harvey's Restaurant
11B Company St.
Christiansted, St. Croix 00820
340-773-3433