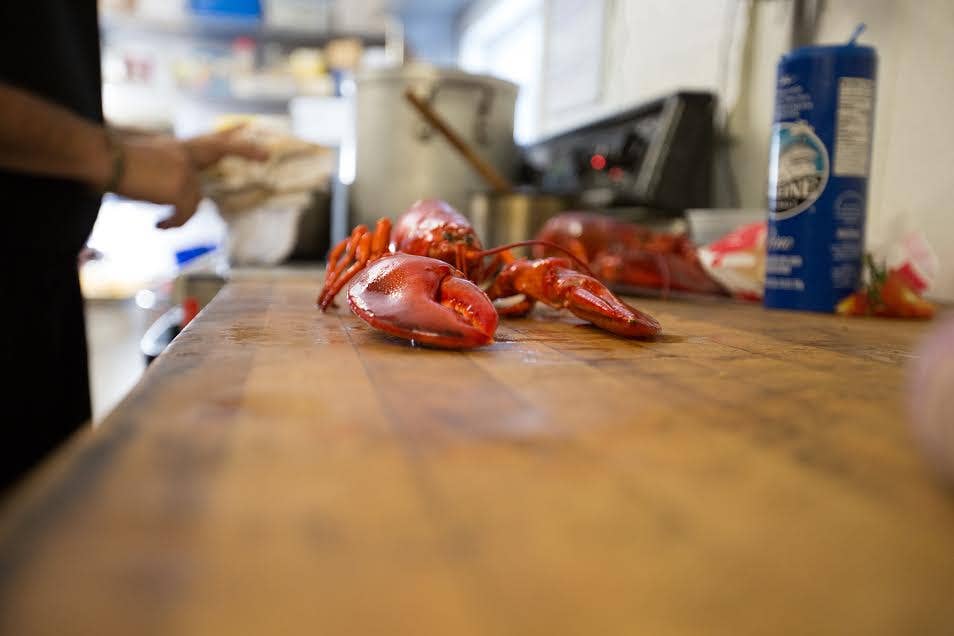 Culture
NYC to CSA: Finding Vegetable Zen in Asparagus Cream Sauce
How one Connecticut restaurant disguises the green with cream and ladles it over lobster
I was starting to feel unmoored.
For months, I'd been existing on delicate lettuces, sunny galettes, oodles of zoodles, smoked eggplant whipped lighter than air, vodka with basil, water with mint, mint with strawberries, strawberries with strawberries. I'm not trying to make you hungry. And I'm not trying to brag. In fact, forgive me, all the freshness was beginning to feel a little too fresh, a little too bright. I needed sunglasses just to digest and I needed some heft. I needed too much butter and salt and for something to sit dense and gloating in my belly. I needed the anti-kale, the anti-radish. And I needed, just for a moment, to not feel like I was inhabited by dancing fairies.
But it's summer on the East End. I'm part of a CSA and a CSF. I have an herb garden to attend to and a husband who, bless him, keeps bringing home black bass. Bless the bass, too. They are delicious. The corn has exploded and is sweet and perfect—and what sort of person turns her back on that? What sort of demon needs a break from the summer bounty?
A couple of weeks ago, my husband and I went to the Oyster Club in Mystic, Connecticut. It's a special place because of the kindness of the staff, the beautiful treehouse, the genius cocktails, and the genius chef, James Wayman. Nearly everything is local, organic. They've got a cheese guy, a bread guy, a blueberry farmer. They butcher in-house. The nice thing is that you won't hear them broadcasting any of those facts. How they do things is quite simply who they are.
I ordered lobster. "Wow," my husband said, eyebrows raised. I usually go vegetarian or for light fish. But the time for gluttony was now. If I'd been a person who ate red meat, I would have ordered a T-Bone and fries. This lobster promised cream and I didn't know what else because I had no patience for small talk. Bring on the bloat, I thought, and if there are any greens in that kitchen, tell them to stay off my plate.
The lobster was just what the doctor ordered: rich and deluxe and nuanced but not precious. As I ate it, for the first time in a long time, I stopped craving grilled cheese on oatmeal bread. Something vital was being satisfied. And I spied some beets, some asparagus, in there too, the fresh stuff I'd been so clearly trying to avoid. But I gobbled that up too.
And as I was scraping up the last bits off the plate, I mused a bit on balance: how it's key with every sort of ingredient and how some chefs get it. James Wayman, for example, has that whole sweet vs. salty, creamy vs. crunchy thing on lock. In a way, his appetizers aren't terribly different from his desserts. He doesn't do sweetness for sweetness' sake or raw for rawness' sake. He does right by whatever he's using, whatever that means. In all my farm freshness, I'd lost sight of that. I'd been so busy either putting my produce on a pedestal (not oversalting or over-oiling or making it too crispy) that I'd forgotten how well it can play with others. It doesn't need to be unto itself. And though there is a place for raw kale, there is also a place for that kale on grilled cheese.
Jessica Soffer is a novelist whose work has appeared in Granta, The New York Times, Martha Stewart Living, Real Simple, The Wall Street Journal, Vogue and on NPR's Selected Shorts. She teaches fiction and food writing, and doesn't eat red meat or French onion soup.